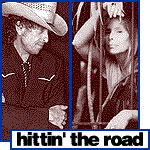 Two of folk rock's biggest icons, Bob Dylan and Joni Mitchell, will be teaming up for a mini-tour this spring. The Dylan/Mitchell tour, Mitchell's first in 15 years, is set to kick off on May 16 at the Gorge in George, Wash. It will hit large arenas and amphitheatres (18,000 - 20,000 seat capacity) up and down the West Coast through May 23. Tickets are scheduled to go on sale this weekend for most of the shows.

Although earlier reports had Van Morrison as Dylan's co-headliner, those plans never materialized.

JAMTV talked with a spokesman for Morrison late Wednesday afternoon. He told us Van the Man and Dylan hit it off during their January shows at the Theatre at Madison Square Garden in New York and the Fleet Center in Boston. The two timeless rockers did talk about maybe playing some shows together in the future, but the West Coast run was never confirmed.

A source at S.L. Feldman & Associates, Mitchell's management firm in Vancouver, told us Wednesday afternoon they were talking to Dylan's people but that nothing had been confirmed. But now that has all changed.

On Wednesday night, just as we closed the day's news, we were notified by a source at Columbia Records, Dylan's label, that Mitchell would share the stage with the recent Grammy winner at the two Los Angeles shows at UCLA's Pauley Pavilion (May 21 and 22).

On Thursday, JAMTV spoke with a representative at Reprise Records, Mitchell's label, who told us the female folk icon would join Dylan on the entire tour.

Also, Mitchell's forthcoming Reprise album, Taming The Tiger, is tentatively scheduled for an early September release. Mitchell will embark on a tour of her own to support the album, however no details have been announced. Mitchell will also appear in a live broadcast on a to-be-determined cable network around the time Taming The Tiger is released. Stay tuned for more details. (Ari Bendersky)

Bob Dylan/Joni Mitchell confirmed tour dates:

May 16 - The Gorge, George, Wash.
May 18 - San Jose Arena, San Jose, Calif.
May 19 - Oakland Coliseum, Oakland, Calif.
May 21 & 22 - Pauley Pavilion, Los Angeles
May 23 - Arrowhead Pond, Anaheim, Calif.