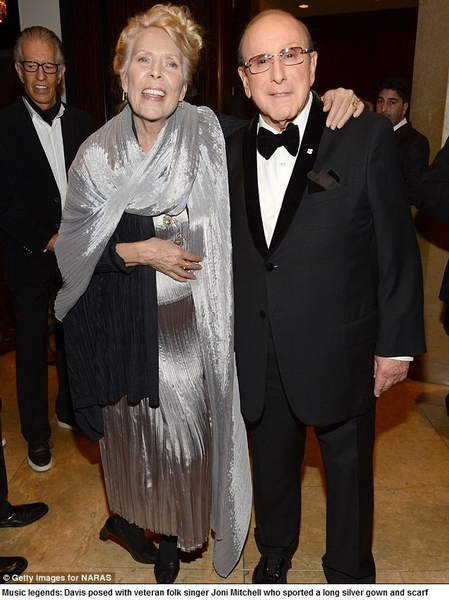 For Jordin Sparks, it must have been a bittersweet moment.

All guests at Clive Davis' annual pre-Grammy bash will have spared a thought for the late Whitney Houston, who died at a hotel room at the party venue — the Beverly Hilton — just hours before the festivities commenced last year.

But 22-year-old Sparks was close to the great diva, who died aged just 48, working with her on the film Sparkle.

So in memory of Whitney, the star did just that as she appeared on the red carpet wearing an eye-catching teal gown and a broad smile.

At one point, she flashed her leg through a slit in her dress.

Keeping the upbeat tone going was Jennifer Hudson who famously performed on Grammy's night last year in a hastily arranged tribute to Houston.

Hudson showed off her svelte figure in a stunning floaty Maria Lucia Hohan dress teamed with black strappy sandals.

Houston tragically passed away on February 11 2012 when she drowned in her hotel bath tub prior to the Davis party.

The following month, the Los Angeles County coroner's office reported the cause of Houston's death was drowning and 'the effects of atherosclerotic heart disease and cocaine use.'

Davis, the 80-year-old founder of Arista Records and current chief creative office of Sony Music Entertainment, was considered a mentor to Houston throughout her tumultuous career after he discovered her when she was just 20.

At her funeral, he talked of how he remained close to the singer — who was 48 when she died — throughout her career and through her battles with drug addiction.

And on Saturday, he paid a brief tribute to the star at his annual party, playing a rarely seen video of her performing All The Man That I Need during a concert for the troops.

'She was the greatest contemporary singer of our lifetime,' he told the assembled star-studded audience.

Houston's brother Gary was at the party as was Pat Houston, Gary's wife and Whitney's manager.

The star's mother Cissy declined to attend, saying last week: 'I don't know why they would want me to come to the party in which she died, you know? Unheard of.'

Davis took the arm of veteran folk singer Joni Mitchell at the event, which also honoured record producer and X Factor judge L.A. Reid.

A slew of stars stepped out at the bash on Saturday night, which is considered the hottest pre-Grammy ticket in town.

Katy Perry was unusually demure in a sequinned white and cream floor length long sleeved number.

She happily posed with new beau John Mayer who seemed to match his girlfriend in a white dinner jacket and black bow tie.

The Firework singer seemed in good spirits as she jokingly puckered up to fellow attendee Miley Cyrus who poked out her tongue at the star.

Miley was a little more revealing in her choice of outfit, flashing a great deal of the side of her cleavage in her daring black gown with gold detail and sheer panels.

Melanie Griffith also stuck to black, sporting a slinky long sleeved number which clung to her slim figure.

Call Me Maybe singer Carly Rae Jepsen seemed determined to turn heads, arriving in a striking red leather studded dress which showed off her svelte figure.

Also along for the musical night of back-slapping was Foo Fighters and Nirvana legend, Dave Grohl who arrived with his stunning wife Jordyn.

Nicole Richie plumped for a boxy severe look with slicked-back hair and a textured black clinging dress with shoulder pads while Ashanti also looked striking in a tangerine draped gown which flashed the flesh.

Singer Ciara also went for a classic look in a sweeping biscuit coloured backless gown teamed with crimson lipstick and a swept over hairstyle which made her look like a classic starlet.

John Legend's fiancée Chrissy Teigen joined the legions of glamorous ladies at the bash, looking beautiful in a simple but striking pink dress.

Blonde British beauties Natasha Bedingfield and Ellie Goulding arrived in contrasting black and white gowns, with Natasha cheekily flashing some leg towards the photographers.

They were joined by rising British singer Cher Lloyd who clearly was keen to make an impression in a striking dress with sheer panels which only just covered her modesty.

But the bash wasn't just for the younger generation.

Rocker Sting arrived with wife Trudie Styler arrived looking decidedly more casual than the other attendees in shabby bottle green trousers and a blazer.

He was later seen inside the event having a chat with John Mayer before taking the stage to perform.

Despite being best known for his TV roles, Kelsey Grammer, was clearly keen to rub shoulders with some of the music industry's finest and arrived in a smart suit with his wife Kayte.

The couple even shared a smooch on the red carpet, while talk show host Larry King also puckered up to wife Shawn Southwick.

Joan Collins was another legend from the acting world to enjoy some dinner and drinks, and arrived looking far younger than her 79 years in a glittering black biker jacket and black gown.

Wannabe rocker Johnny Depp represented the movie world at the bash and sat next to music legend Alice Cooper over a dinner of what appeared to be a healthy salad.

Even reclusive punk rocker Patti Smith made an appearance with her daughter Jesse, although the singer songwriter typically stood out in a suit and tie.

Patti later took the stage inside the event, giving a memorable performance before R&B singer Miguel sang a number.

Trendy dance floor favourite Skrillex also performed inside the venue, although the cool customer kept his sunglasses on while walking the red carpet.

Meanwhile, there was a slight wardrobe crisis between rapper Wuz Kalifa and Ne-Yo when they both turned up in the same black and white pleather blazer.

R&B star Akon, meanwhile, looked particularly striking in a gold jacket.

The 55th Grammy awards take place on Sunday in The Staples Centre, Downtown Los Angeles.