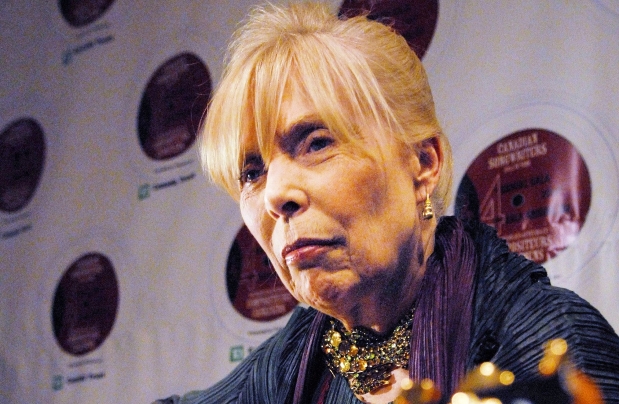 SASKATOON - It has to be said: You don't know what you've got 'til it's gone.

If Saskatoon can't find a home for one of the largest collections of her personal artifacts, Joni Mitchell is going to move it elsewhere, according to a close family friend who spoke to the legendary singer earlier this week.

"The very last thing she said was, 'Well, if Saskatoon is not interested, basically it's going to go,'" Ron Lamb told The StarPhoenix.

"It's kind of devastating."

Lamb has the been in possession of the collection - including Mitchell's graduation dress, personal scrap books and years worth of tour diaries - for several years, but since it's not on display anywhere in the city, hardly anyone in Saskatoon even knows it exists.

Mitchell spent much of her childhood in Saskatoon and considers the city home, but leaders here have not done enough to honour her, Lamb said. The snub goes beyond the personal artifacts, he added.

"Joni herself personally, I think, is distraught that Saskatoon is not recognizing her. This is her hometown and she would like to donate and have her life's work in Saskatoon. She is pretty devastated, I think, that this hasn't come to pass," Lamb said.

The singer, who for years has shied away from the media spotlight, opened up to interviews with CBC and the Toronto Star last week in advance of the Luminato Festival being held in Toronto to honour her life's work as a singer and artist.

Lamb says with Mitchell being recognized elsewhere, it's time Saskatoon steps up to the plate.

"She mentioned this a lot, 'This is my home, this is where I grew up.' This is where she wrote a lot of her songs, believe it or not," Lamb said.

"I think influential people in Saskatoon, if they were to talk with her personally and say, 'Look, we really need to do something for you in Saskatoon, Joni,' that would really help. This is how Joni operates."

Lamb was a close friend of Mitchell's father, Bill Anderson, and was given a large collection of personal artifacts for safe keeping when her parents moved out of their family home in Saskatoon. Anderson died last year, but Lamb has kept in regular contact with the singer.

In 2005, Lamb and others had plans to create the Joni Mitchel Centre for Creativity at River Landing. The centre would have been a permanent home to display the Mitchell artifacts. Those plans, however, fell through after federal funding was allocated elsewhere.

Randy Fernets of Tourism Saskatoon was also heavily involved in the push for the centre. He says he's disappointed, but not surprised that Mitchell would consider moving the artifacts elsewhere.

"She is recognized in Europe and around the world in other places, but at home here, we are more laid back," Fernets said. "We have potholes and bridges to worry about and that seems to overshadowing everything else."

Lamb said the new Remai Art Gallery of Saskatchewan could be a great location for the collection. It would not only be a great tribute to the singer, but also a boon for Saskatoon's tourism and cultural industries. He hopes Saskatoon's elite will approach the singer to ensure the collection remains in the city.

"What a wonderful thing, to say Joni Mitchell is from Saskatoon ... whenever I talk to people from out of town, they just can't believe this is her hometown," Lamb said.