Mags-n-Brei: two thirty five a.m...cannot go to bed without saying something and yet I cannot find a way to articulate what it meant to us, to all of us who shared this incredible and very intimate evening celebrating the life of Joni.
I felt like I was sitting in the livingroom with Joni... she was so relaxed and beautiful and obviously having the time of her life.
Her voice is in fine form and her piano playing... yes you are reading that right...her piano playing... that's where the omfg comes in. She sat down at the piano and graced us with compositions from her heart and soul.
and then came the demo tapes.
okay, i think that's enough of a tease.
i am certain that our roving reporters will tell all...
and just wait until Janine tells her story!!!
and Stephen...
and Ashara...
and jimmmmmmyyyyyy omfg....
love to all....
Nyrogrl: Got in Thursday night, and went off to the critique and the film. I missed most of the critique but imagine it was great, because I was totally into it for the last ten minutes. Did not make the Walk of Fame because I had work blow up on me, and had to be on the phone all day long....Joni took great care of me Friday Night. We walked in and were greeted by martini's and wonderful hors dourves at the Liberty Exhibitions Hall. Beautiful rehab, done in elegance and charm. I walked away from my friend for a minute, and all the sudden, she is like! Joni's right over there...You have to meet her. I did not want to. I got the shys. The ones that will and cannot believe that I would not just walk up to her and cry or something stupid. You see, when I had the chance to really meet Laura Nyro, like up front and personal, I did not, and within a few years she was gone. So I step out. I see a wisp of blond hair, and am being lifted over to where she is. I just walked up. I just could not wait in line, if there was one, and walked over to her and Larry. I looked right at her, about a foot away, and said, "so are you here to see this deal this evening? She looks at me like, "Who is this idiot" to know me, is to know that this is my way of breaking ice, and twirling in my shoes...She "gets it" laughs and we are off and running. Larry is very present with me. He is totally adorable. Completely charming. She and I share a moment, a moment of forever, and I say that she has raised me as a young woman, and we are growing up as older women, and how much her work has ceased me as long as I can remember. She is gorgeous, and shy, and kind of meek in a funny way, awkward, and awesome. People everywhere. Larry, says to me " I know you right?" I tell him no, but I have seen him so many times with Joni and with Shawn Colvin. Close to him. We share a Jewish New Year salute, and I turn around only to be face to face with Kilarian. She says " I'm Kalarian, I say, Oh God, you are so beautiful and she is. Joni, laughing and smoking, is now a moment with her daughter. Wally Breese, many years ago, called me right after she called him, and told me the tale of this young woman who has called him, and wants to meet Joni, because she thinks that she is her mother, and he and I are unsure what to do, and I tell him to tell her to call Joni's agency, and tells her to call the number he gives her, and calls me to share this, and soon there is a daughter and a mother, soon after, and I have always felt a small small part of that moment....god she is just gorgeous, and vivacious, and ambitious and a little too too, if you know what I mean, but hell it is her daughter, and she introduces me to her step mother, and I am now in the family some how. It is just wild. I leave, having my moment, and soon after, and again in Larry's company somehow, and he and I end up cutting it together, and my friend is taking pictures of us. Awesome. Later, in dinner, I glaze right into Joni again, and we smile, and I move on to a table, and the exec chef's wife is at our table, and we get the best service, and huge portions, and all this time, I am hunting for Ashara, who I do not know, but know from pictures, and then the show, a celebration of Joni, some of it great, other parts not, but Joni comes to the stage around an hour later, with the Pres of Sony Music, a lovely lady who I have said hello too earlier in the eve, and Joni talks the talk, and then plays some of the original Paprika Plains, which of course, is one of my absolutely favorite songs, and then off to new recordings of a soon CD, and the night is just too much. After all of this, Kruetzman her teacher, presents her with her honor and he and she do another half hour and that is incredible, and I am exhausted, and so filled, and so exhilarated. Later, we wait outside for a cab forever, and I am getting slightly annoyed and go back into the building to call, and a woman passes me, and I think it may be and it is Ashara, and I cannot believe I finally meet her as well.
phewwww Nyrogrl.
Oh, by the way, Joni mentions Laura in her interview, and I am floored totally. I could die after this night and have lived my life exactly fine.....
Mags-n-Brei: in this moment i will try to share an image or two..the feeling of electricity in the air...we speak with the people around us...when and how did you find Joni...what does she mean to you and why....oh we all have our "why I am connected to Joni stories". I love to hear them all.. .
The lights go dim...a hush moves across the crowd like a magical, mystical fog rolling in .... and we know that there is a large group of people headed for the front of our side of the stage and suddenly, there she is. Joni. Cheers, applause, shouts, gasps....everyone focusing their energy and love upon her. What a moment for her. She is so very loved. It is obvious as the audience stands up and gives her a well deserved ovation which lasted for quite some time.
I will touch ever so briefly upon the beginning of the evening for now with just a quick mention of the amazing and gifted Rebecca Jenkins who was absolutely brilliant .. she performed heart wrenching, soul gripping interpretations of Blue and Two Grey Rooms which made us cry..and Joni stood up at the end of Blue and gave Rebecca a very exuberant standing ovation of her own.
if only I could take you there...let me try....... imagine.......
....Joni sitting on stage sharing stories ...she is absolutely beautiful, radian, magnificent.... Joni speaks to us in rivers. Her brilliant stream of consciousnesss talk talk and more talk when all of a sudden there is mention of Joni doing something and she gives us a choice....piano or the demo tapes....and Polifka, beside me hollers PIANO!!!!!!!!!! as did Stephen Epstein... and omggggggggg she stood up and walked toward a grand piano on the side of the stage right where Stephen, Ashara, Sal, Jimmy, Rick and Jim Johansen were sitting! I thought I would burst.
Joni seemed a little shy or hesitant at first...she told us her piano chops were a bit rusty or something like that....and as we all sat there collectively holding our breath....already overwhelmed with her very presence....she walked over to the piano like she was going home to an old friend who had been patiently waiting for her, knowing that one day she would return. And return she did.
Through the touch of Joni's hands, we were transformed. If I could only find the words...if you were there, you would understand how difficult it is to explain...unplanned... she created her shapes and colours which I am certain came from deep within her. Joni at the piano...something I thought I would never see...and a wonderful gift for Brian because it was so much a part of his heart's desire to see Joni play piano just one more time. That was so special for me, knowing that one of his dreams had come true.
Joni's voice is in fine form. Incredible. Images of the bits and pieces that she sang are swirling around in my mind. The passion she exudes with each note..her whole body sings. Truly incredible.
A moment in time. Thank you Joni, again and again. Because of you, Brian and I are.
love and hugs to all with a promise for more. I still need to talk about the Thursday night lecture/video...the lecturer Rob Bowman was my music prof at York University in Toronto...a vibrant, incredibly passionate person whose warmth eminates in such a way that he takes time to listen as well as share his indepth knowledge of Joni. He has such a deep respect for Joni and her music and from what Jimmy told me, he went into such depth and expressed so much in such a short time. Wondering if we can get a hold of the tape that was running that night. I will try to reach Rob by email and let you all know.
and the videos were incredible...I especially loved Two Grey Rooms.
Tired again, still, and yet so filled with all the glorious images of Joni which we are holding close to our hearts. In this moment I know that this was one of the most precious, special evenings I have ever been a part of.
Ashara: We arrived at the Liberty Grand, a large stately building, to see a very large banner in front announcing what was in store for us that evening: An Hommage to Joni Mitchell as part of the 6-week long World Leaders Festival. The evening began with cocktails, and Joni made a short appearance during the hour. Then a wonderful sit down dinner of Elderflower Cured Atlantic Salmon, Pecan Crusted Yukon Caribou with Saskatoon Berries, Goat Cheese and Butternut Squash, and a delicious White Chocolate Cheesecake with Blueberry Cassis Sauce. Executive Chef, Anthony Walsh from Canoe Restaurant and Bar wanted to capture the brilliance of this country through the flavors and textures of regional cuisine. He even had a substitute for this vegetarian diner!
As we made our way into the theater, it quickly became apparent that this would be a very interesting venue, with the stage in the center and seats to either side of it. Not a traditional theater nor theater in the round, it would be curious to see how this would work for the audience.
The darkened stage started to glow a soft blue as Both Sides Now was played by the band, which consisted of a piano player, a cellist, and two other musicians that were playing Indian type drums, bells, and a xylophone. Brent Carver, Ann Marie McDonald, and Rebecca Jenkins came out to guide the audience through a multi-sensory evening consisting of live performances, media clips, and special presentations by many of Joni's friends and influences. Brent painted the scene with a narrative of Joan Anderson's early life on the prairie, while the cellist accompanied him with a soft version of Both Sides Now underneath, and the two large monitors above went through a slide show of Joan as a young girl. Of course, he mentions a huge influence of Joan's, Mr. Kratzman, who told her, "If you can paint with a brush, you can paint with words." Next, Brent sang a beautiful version of Night in the City.
More anecdotal stories, such as her Grade 4 report card saying, "Original ideas with a gift of interpretation." And another Mr. Kratzman piece of advice, to "write in your own blood." This was followed by several of Joni's poems including "The Fishbowl" and "I Am a Guitar." While listening to these poems, we were treated to a slide show of many of Joni's early felt-tip pen drawings on the monitors, including many that are in the book "Star Art."
Gordon Lightfoot was next invited to the stage to talk about the early days, when Joni was first getting started in the music business. He brought us back to Detroit in 1965, when Joan and Chuck Mitchell were playing at the Chess Mate. He reminisced about being invited up to their apartment, and having to walk up 5 flights of stairs carrying guitars. He knew even then that she was a quality songwriter. He also talked about the Beatles coming onto the scene, and how every time they each had a new album to promote, there was a new Beatles album on the shelf next to theirs. He ended with how happy he was to be there and how he hadn't seen her since 1976. Then off the stage he went to receive a hug from the honoree.
Joel Bernstein was next to honor Joni, in his "disembodied voice." Pictures of Joel and Joni on the monitor gave way to pictures that he had taken of her over the course of knowing Joni as her friend, photographer, and music transcriber for over 30 years. He explained the difference between standard tuning and open tuning. He said, "When the young Joni Mitchell was first introduced to these open tunings, she coaxed some very different sounds from the guitar strings." He went on to say, "And one day long ago, while retuning her guitar from one open tuning to another, she stopped someplace in between and listened. 'Ooooo…….delicious!!' thought Joni. 'I think I'll stay here a while and explore.' And so she did, coming up with both a new and original tuning that wasn't standard or open and the new and original chords to play in it. This was the musical equivalent of Alice opening the little door and glimpsing an entirely new world beyond. From that day to this, Joni's curiosity, sense of adventure, and unique sense of what composers call 'tone color' have resulted in her own very personal discovery and deep exploration of literally dozens of these new worlds."
Joel mentions that he is currently completing a project of many years- a 2-Volume set of arrangements of every one of Joni's released songs, complete with carefully transcribed tunings and chords for each. Hoping to be released next year, he says it will provide a "detailed map of where she has traveled musically over the years." He says he hopes it will inspire others to explore her songs and finishes with, "But you know what? Even with the book, when it comes to playing Joni Mitchell songs, nobody can do it like 'The Mitch' herself."
Next, the three performers introduced "The Mitchell Effect." Noting that Joni has been covered by more recording artists than any single composer, with the exception of Mozart, we were treated to impromptu "interviews" of people on the street, including song clips of everyday people singing the lyrics to Joni's songs. It was really fun and good placing in the program. That was segued into Rebecca Jenkins singing Blue, with an honest and heartfelt interpretation of the song.
We then looked again to the monitors, where Angelica Huston and Joni's best friend, Charles Valentino, were expounding on Joni's virtues. Angelica said that she is "one of those people who makes you happy to be alive because you feel like she's always taking a big bite out of life." Charles said to Joni how much she deserved this honor, and that he and Angelica were going to have a dance in her honor.
In the introduction to his next song, Brent says, "Michael…Willy…Richard…Carey… Beautiful, beautiful Marcie…Cherokee Louise…Ron…Chikie…Lead Foot Melvin. With every one of these people, Joni Mitchell seems to have reintroduced us to some part of ourselves. And in the brevity of one song, she paints an entire life...like that." As he sang Shadows and Light, Hejira was somehow sandwiched between the beginning and end in a fluid, mellifluous way.
Moving forward in Joni's career, the next subject was about charting new territories. Herbie Hancock was now on the monitor, talking about how he "happened" onto the Mingus album. He wasn't originally scheduled to be on it, but his friend, Jaco Pastorius, called him and said they were in the studio, and invited him to play. From that point on, he and Joni became friends. He says about Joni, " Her normal mode of conversation is so graphic and full of symbolism, just like her poetry. She speaks poetically." Wayne Shorter was on the monitor next, saying that she is a person who was willing to take chances, one of the few who were willing to put her career on the line. And by doing so, she proceeded to "break sound barriers."
Rebecca Jenkins came forward to sing a really lovely version of "Two Grey Rooms." Following that were humorous anecdotes, including the fact that Joni Mitchell has been the answer to 42 Across in the New York Times Crossword Puzzle, and her lyrics have stumped a contestant on Who Wants to be a Millionaire. Stating that Joni Mitchell is an "icon," our eyes went back to the monitor for video clips of Joni references, including Chicago Hope, You've Got Mail, Down to You, and Robert Downey singing River on Ally McBeal.
Another sandwich follows of Brent singing Sunny Sunday, pausing long enough for Anne Marie to powerfully recite the lyrics to The Magdalene Laundries, and Brent finishing with the remainder of Sunny Sunday. It was a very powerful combination, with perfect timing.
Finally. We are introduced to the Lady of the Hour, Joni Mitchell. She approaches the stage radiant in a two-piece Issy Miyake green and blue outfit. She is joined by Denise Donlan, the president of Sony Music, Canada. Before Joni can even sit down, she is rushed by Brent, Ann Marie and Rebecca, each offering a pack of her favorite cigarettes, American Spirits. All that is left is a light from an audience member, and she comfortably settles into her chair next to Denise. When asked about her "creative genius," Joni says she collects all kinds of ideas and stores them away, including a lot of cinematic ideas and short stories. She added that they always seem to "sort themselves out." She said as a child, she wrote in rhyme. When she was upset, it gave her a structure to work things out.
As far as painting, she says, "I used to carry a sketchbook everywhere. Every time I sat down, I used to draw what was in front of me. I used to sketch everything." She did this while "getting her craft together in a certain way." Joni continues, "I would draw the people at my concert before I went on. They would have to take the pen away from me." (So she could go on stage.)
She says she has been approached several times to write a song for a movie, but she always ends up telling the whole movie, so they never use it. She calls herself a "musical illiterate," not knowing the "language, but she adds, "a sophisticated musical illiterate, kind of like an idiot savant of sorts." She says she likes to move around in keys, and gives "metaphorical instruction" to her players. She gives an example: "For instance, in Trouble Child, the piano player was just playing notes, and I told him to play a Japanese wave- it arcs up and then sucks down on itself. Whereas Wayne (Shorter) came to me the first time I played with him in London, he said, 'It's like you're in Hyde Park, and there's a nanny and a baby, and the baby has a boat, and the wind is nudging it- (she makes a sound-do, do, do), it's nudging it, (do, do, do) I'm going to play it like that.' (do, do, do.) and I just thought, 'Oh, I love this guy!'"
On the question of how have your paintings changed since September 11th? Joni says, "There were two wars in my life on September 11th. I broke up with my boyfriend. He complained that I repeat myself too much, and I 'do' repeat myself too much. Especially now because I'm writing my book, so I'm writing a lot of my yarns in the oral tradition." She said she took a lot of pictures with a paper camera on September 11th, and she saw a lot of figures in the smoke. She started painting what she called "repetism," doing 5 double images. She said by painting, it helped her to become emotionally detached.
Joni moved on by talking about her involvement with singing with an orchestra. She says when the orchestra starts to swell, it's like "surfing a pipeline," and pushes out a certain kind of performance. She adds that since there are such dramatic intricacies to her songs, you have to be more of an actress to sing them. She just wanted to sing and "sustain one nice mood" which she could obtain by singing the standards, and she was hooked.
Denise tried to wrap up the evening by saying there was only 10 minutes left, and would she show us an example of her creative process? Joni then asked the audience if we would like to hear her improvise at the piano, or sing with the practice tapes of the orchestral background of the new CD's she is working on. Of course, everyone yelled, "BOTH," and she was glad to oblige, although I think Denise was a little concerned of the late time. No one in the audience seemed quick to leave. We were more than content to stay as long as Joni would have us. She moved over to the piano, right where we were sitting, and it was a truly rare treat to witness her at the piano again. She improvised chords, much the way Paprika Plains was written, and we were spellbound.
When she finished, she moved over to the stereo that was set up by her chair, and pushed a button. Joni explained that these were demo tapes, made by the orchestra for her to listen to at home. She said she often listens to them while walking around her house. The first strains of The Circle Game came through the speakers. I have to say that for me, this is one song that I have heard too many times by too many people, and I was a little tired of it. But, when Joni opened her mouth to sing, it was fresh and new, and I listened to the words in a whole new light. She radiates beauty and her mature voice was perfect for this piece. Her whole being lights up when she sings, especially her own material. She "owns it" in a way that I find rare in singers. She has the ability to move through your soul when she sings, and speaks to you in her music as if she wrote the piece solely for you.
She followed The Circle Game with Be Cool, a slowed down version of Borderline, taking a moment to explain that she had just received these tapes 6 days prior, as she kept looking to Larry (Klein) to help recognize which song it was, Cherokee Louise, Coyote, For the Roses, and ending with Slouching Towards Bethlehem. It was an incredible joy to watch her in the creative process.
The evening came full circle as Mr. Kratzman, her 7th Grade teacher, came up on stage to present her with her World Leader award. We witnessed an intimate moment while Joni reconnected with the person she credits as being such a large influence in her life, the teacher who gave her an A- instead of an A+ on a piece of poetry that she thought was very good. When asked why another boy received an A+, Mr. Kratzman answered, "because that is the best poem he will ever write."
Jimmy: I can now imagine what it must have felt like to be in the audience during the taping of PWWAM. I've only been to two of Joni's concerts, but this homage to Joni Mitchell outshines the concerts by far. Ashara did an excellent job of documenting this wonderful evening, so you already know the details. It was an amazing night in such an elegant setting. Men and women dressed to the nines to honor Joni. The reception, the dinner, and the actual tribute were 5 hours of total bliss for me. To be surrounded by such good friends from the list enhanced this evening even further. I could tell that Joni was really enjoying herself. She sat undisturbed with her good friends and family throughout the evening. No pesky reporters or photographers in her face. No adulating fans seeking autographs or as Bob Murphy so humorously mentioned "I wouldn't put it past any one of them to slap an inebriated arm around poor Kilauren and ask the nearest photographer to, "Get one of me and 'Little Green' here." LOL!! If any of this was going on, I certainly didn't see it. I had the privilege of finally meeting JM.Com's very own Jim Johanson. What a wonderful man! He showed what class he has when he sent a short note to Joni through one of the waiters which read something like : "Congratulations Joni, I know you are having a wonderful evening with family and friends and I don't want to disturb you. Just letting you know I'm here." (I know I didn't get the wording correctly Jim, and I hope you don't mind my mentioning this) Anyway, I'm just saying to the list what a gentleman you are, and how you exemplify this great Internet community.
back to the tribute................The big event was a blend of Joni's peers showing their appreciation and respect by way of songs or short speeches. To see Gordon Lightfoot up on stage, to watch Mr. Kratzman sit and chat with Joni about her school days, to listen to Joni talk about her life, and then to top this all off with Joni playing the piano and singing bits from her upcoming album. This was an incredible evening of all sides of Joni which I shall never forget.
SPECIAL NOTE: I must apologize to my dear friend Coyote Rick. He purchased our tickets the day they went on sale. Rick told me we were in the first row, but seats 34 & 35. Knowing this was a small venue, I figured we would be way to the left of the stage. The day of the tribute I told him I would rather have seats on the fourth or fifth row and be in the middle. (Here's where I eat crow.) We were ushered to our seats 34 & 35, but they sat us in the second row. We were right in the middle, but in the second row! Sitting next to Rick was jmdler Janine Sherman. I was happy with our center seats, but why this row of empty ones in front of us? WELL, in they walked, one after the other as my jaw hit the floor. Kilauren sat in front of me, Larry Klein in front of Rick, and Joni sat in front of Janine! It was the closest I've ever been to Joni.
Don't worry folks, we did the JMDL proud. The three of us showed class. I only took the Altoids from Kilauren's purse. Then, using tweezers, Rick yanked a neck hair from Larry. (Larry slapped the back of his neck thinking it was a mosquito) AND lovely Janine kept kicking Joni's seat saying "Now, how do you think your housekeeper felt Ms. Mitchell???" :~D
So, there Coyote Rick! I'm sorry I complained about our seats. Are you satisfied now????
Thank you Toronto and Joni for a wonderful evening!
Mags-n-Brei: cannot help but write some more thoughts and feelings... the bonus of this tribute was sharing it with other jmdlers...some Ive met in person and some only through various emails. It was so good to see everyone again and witness this incredible evening. (almost too good to be true!)
I believe that our jmdl connections are deepened because of this rare and amazing tribute to our Joni. Thank you to everyone for your friendship and love.
We all met on Queen Street West the next day and just kept looking at one another ... speechless... how is it possible??? how can we possibly relay how it felt to be in the presence of Joni, let alone what she gave to us that night. Certainly a piece of her heart, at the very least. I am eternally grateful to Brian for this the best birthday gift ever.
Joni was gracious and beautiful and she had so much fun and was obviously moved to the core by everything that happened in her honour. It was especially wonderful to see her face when they announced that Mr. Kratzman himself was there to give her the award at the end of the evening.
In that moment, I watched the transformation as she became young Joni in the classroom sitting up and taking notice of this man who was definitely 'not' like the rest of the teachers in her experience. They greeted each other like long lost friends and held each other close in a warm embrace. They had a looooong and memorable talk about those days...eyes glistened brightly as Kratzman read something he had written for her. Yes, it made her cry, and pretty much everyone else in the audience. To see that others 'get it' had to be such a joy for Joni...finally.
I also enjoyed seeing Gordon Lightfoot and Loreena Mckennitt in the audience...Gordon of course got to go up on stage early on in the evening to say some wonderful things about his memories of Joni in the early days of coffee houses here and south of the border. I understand that Gordie and Joni have been long term friends. Ive been a fan of Gordon's for a very long time and it made me so happy and proud to see him share in Joni's tribute. He is quite the performer himself and has had long standing gigs at Massey Hall in Toronto.
While the Liberty Grand was quite innovative, I would have liked to see this take place at either Massey Hall or else at the Festival Theatre in Stratford, Ontario. Just my humble opinion of course.
I cannot help but say how very special it was to sit beside and share the evening with Brian. I said this in my other post and I cannot help but say it again...it really is because of Joni that Brian and I found one another in this space..and of course that leads me into a big thank you to everyone for your support of 'us'....oh it takes a village.
And to our very own Jim Johansen...while I did get to meet you finally and tell you how I feel in person, I wanted to reiterate how much we appreciate everything you have done and continue to do for all of us and for Joni .
thanks for listening to me gush some more.
loving the stories from all sides, now and then.
love, Mags and Brei
Stephen: I am still reeling a bit from the events of last weekend- wonderful, surreal, magical- a night I will never forget!
Firstly, let me talk about the "unveiling" of Joni's "star". I had second thoughts about attending this event- having just met Joni a few weeks ago with Kakki, I was concerned about her perhaps recognizing me and thinking I might be a stalker! But, of course, I went, and glad I did! There were barricades around and behind the seating area for family, friends, and dignitaries- but we were still pretty close. Ashara, Sal and I were there 3/4's of an hour beforehand, so we were right up against the barricade- great view. The details of the ceremony have been posted already by others. There were probably not more than 200 people there- thought there might have been more. And we were all there! Jimmy, Coyote Rick, Janine, Lisa, Yael, Jim Johanson- so great that you were there Jim! Quite a meeting of family it was. Lots of hugs!
Joni and Margaret Atwood arrive after the family and friends were seated. Larry Klein, Kilauren, her two children, her biological father, director Norman Jewison and David Cronenberg, the mayor of Toronto, Ed Mirvish who owns the Royal Alexander Theatre where this was held- and a HUGE patron of the arts in Toronto for decades....... many more- most I didn't recognize, Jimmy and Rick pointed out that a couple of singers from the musical tribute a few nights before were there.
Joni looked fabulous! A floor-length dress in plaids of blue, green, brown, with a jacket overtop and a black beret! Too cool! She spoke so eloquently, as has been reported. Her comments about people stepping over her star and stopping for a moment of pause, were lovely. Don't let your dog shit there, and don't spit on it! LOL! She is too brilliantly funny. Think about someone you love. How sweet!
Later in the day, Ashara, Sal, Jim and I taxied to the venue. It took some time to find the right place! And poor Jim realised he had left his ticket in his hotel room! ACK! He returned a while later, so cool, calm and collected! The venue was wonderful. A beautiful renovation of a huge building that had been vacant for years. Tastefully done. We were shown around the venue, and given instructions on the do's and dont's in terms of photography, etc. The doors were opened and in we went to the cocktail reception. Martini's provided by Absolute, no charge. Finger food on trays walking around. I was at one point, out in the courtyard having a smoke with my friend Barbara, and all of a sudden Joni is walking towards us with her entourage. We had to move out of the way to let her pass. I must say the security was extremely well handled. Ushered in, ushered out, no pics during dinner- I'm sure the same level as was provided for all other honorees at this tribute.
JOni made a short appearance at the cocktail reception and then was ushered out the back door. Shortly thereafter, I run into the Russian! Mr. Klein. I ask for a couple of pics, which he obliged. He is tall! Man! I would think at least 6'3" as I had to tilt the lens upwards. He seemed out of sorts, and I asked if he was looking for Joni. Of course he was, and I directed him towards the door she left thru. My personal hunch- he and Joni will get back together!
Dinner was fabulous, as so nicely posted by Ashara.
The actual theatre venue was extraordinarily unique. A long narrow room- maybe 300 feet long. A thin but lengthy stage in the middle that went from one wall to about 4 feet from the other. Seats on the floor either side, and then rising seats behind. The stage was beautiful. A piano, and a long length of Chinese golden bells and such. Two German designed chairs in white mesh were at the other end of the stage, with a small table between, and on it a Boise player and 2 speakers.
All that proceeded Joni's appearance has been well posted by Mags and Ashara. This Rebecca Jenkins has an incredible voice. She is an actor by trade, but what a singer! Her version of Blue had Joni standing and giving her a solo standing ovation! And then she sang a version of Two Grey Rooms that had many of us in tears. Brent Carver, as well, an actor- Shakespearean- sang a number of Joni's tunes.
Joni arrived on-stage and looking and feeling radiant! I truly believe this event affected her. As has been posted, this was VERY much a family reconvening for her! Well, Denise Donlan from Sony Records, played the interviewer role. But we all know, all one needs to do is just ask Joni that one correct question, and she will talk! Denise is the wife of Murray McGlaughlin, a Canadian folksinger of the Bruce Cockburn era. She was good, but I felt a bit too rehearsed contrasted with Joni's openess and free form conversation. Talk about repetism! Many of the things she and Kakki and I talked about a few weeks ago were chatted about- break-up w/Donald, the events of Sept 11th and how she was affected, painting...... The audience was enraptured, self included! Then she gets up and goes to the piano!!! I thought I had died and gone to the other world! Very Paprika Plains-ish- no singing, just wonderful improvisation. Following, she played the demos from the upcoming album by the London Symphony and sang along. What an absolute incredible treat! She said she was practicing! And, indeed, it felt, from my first row seat, as if we were in someones living room and Joni serenading us! Absolutely remarkable!
There has been much comment on this list of Joni's failing voice- BSN was not a thrilling album for some of us. Let me tell you, her voice is in incredible shape! Truly wonderful. I cannot tell you in words, how wonderful it was to hear Circle Game, Cherokee Louise and all the rest, in their new form. This upcoming release can only be incredible- please trust me on this! She is at the top of her game!
Perhaps the crowning glory of the evening was having Mr. Kratzman arrive onstage. Big hugs between the two of them. He is a gentleman, articulate, loving and kind and far younger looking that I thought was possible! Joni was in tears, as was most of the audience. It was a loving tribute from him, to her!
The next afternoon, Saturday, Ashara, Sal, Mags, Brian, Jim, Steve and I were walking along Queen ST. West- Toronto's funkiest area. A guy comes up to us and says, Hey, I recognise you, you were at the Tribute last night! He is a young lawyer from Conn. Found out about the tribute from jonimitchell.com! Decided he had to come! It was brilliant! He was so in awe of the night before, and that he had just met a group of like-minded people! He had a personal moment w/Joni @ the tribute and shared with us. Needless to say, we encouraged him to join the JMDL- he was thrilled to meet our webmaster Jim! I was happy to see that we had made another convert! He was a wild young guy, full of energy. Lots of hugs between us all- someone we just met, but felt at home with.
That's how this list is wonderful.
Coyote Rick: My gosh. Giant happy thanks to our own JJ at JM.com, Ashara, Jimmy, and Mags for their eloquent posts and JM.com entries about the Hommage. You guys did a great job in giving the list the details and your personal experiences. I am still waiting for the rest of you! Okay, Brian, Stephen, Steve (and you gorgeous lurker you, Julius) -- fess up!
In terms of my experience, I have a few smallish items to report.
No one mentioned Joni saying she was working on her book! Did I imagine this or did I hear this right? Maybe that's why Karen's book in unauthorized? (Note: My copy was awaiting me on my return). Maybe someone who has a permanent recollection (I am certain someone out there has one of these?) of the Hommage can do some research. I swear I heard her say she was working on her book. Please someone assure me I am not going crazy (El Coyote feeling somewhat insecure after his earlier inaccurate Teena Marie post -- especially in this group of experts).
I also just have to mention my new girlfriend, Janine Sherman. She sat right next to me -- right behind Joni (I was behind Klein). This poor girl (yeah, right!) was so moved by our whole experience it warmed me to the depths of my soul. Yeah, Janine, so you sang a little, but you can hold my hand anyday, anywhere. You looked so pretty inside and all dressed up, making my Joni experience even more exciting. You gotta tell people that you have Joni's sticker!
Now, about Ms. Mitchell. As I have told my non-Joni friends and family, Friday night was like being in her living room. The way she fiddled with the BoomBox, looked to Klein for help (and I was right in eye shot of that), and sang from her soul. This was totally unrehearsed Joni magic. Someone (maybe my sistah, Jimmy) said it must have been like being at PWWAM, I would have to argue it may have been even better. This was Joni unplugged - Joni creating. Kakki has often mentioned the Cafe Les Deux here in Hollywood. I hear Joni liked to try out new material on the cafe's intimate audience. Never saw it happen and I live two miles away. Well, folks, to me, that's what we saw and heard, and I traveled thousands of miles to see it. Regrets? You gotta be kidding.
For a guy that came on late to following her career this closely, I can say it was the experience of a lifetime for a Joni fan. And she sang my song.
Jimmy: A couple of things that I remember from the conversation between Joni and Mr. Kratzman (who did look quite good for his age).
He said that he remembered Joni always sat in the back of the class to the left. She picked people from the class that she wanted to sit around her. They even mentioned names of a classmate or two.
Joni said she knew Mr. Kratzman was cool when he said "you can chew gum in class, as long as you bring enough for everyone". I could be wrong on this, but I believe she also said that Mr. Kratzman didn't like the text books they were using in the class and told everyone to disgard them. Since he was from Australia, he was going to teach the class about that! (Did I dream that last part? Help!!! Rick, Janine, Ashara, Pearl, Mags, Brian, J.J., Polifka, Stephen, someone???
Steve P: After a long arduous Amtrak journey, I managed to reach Jimmy and Rick, and we cabbed it to the Theatre where Joni was to get her star on Canada's Walk of Fame. We found fellow JMDLer's Ashara, Sal, Stephen, Yael, Jim Johanson who I was so happy to meet, and some new folk whose names escape me right now.
Of course, the theatre was roped off in red velvet, making room for dignitaries, and special guests and of course the press. A fabulous mixture of her songs played on the outdoor sound system, and people trickled to the event from the streets. Eventually, some bagpipers came out with pipes ablarin' and out came the goddess, following several others inclucing the mayor(is he the mayor? sorrry Mags, I don't know his title!)
Margaret Atwood recieved her award first after an intro by the mayor, then Joni, who radiated warmth and beauty as usual. When she was given her key to the city, she asked "So what does it open?" Only our Joni! (The response was- t'he hearts of all the people of Toronto', BTW) Then she got her award, which looked like an asymmetrical star with a hole in it- made out of granite no less- she handed it to the mayor like it was in her way,and stepped up to the podium. After a few sentences she asked that folks curb their dogs and not to litter on the star- getting chuckles from us all, but she really wanted everyone to think of a light hearted moment that made them laugh or chuckle when they passed by it. "That" she said, "Would please me..."
At one point I yelled out "Joni Rocks!", and she looked over to see who it was. I waived a little special wave, and she waved back to me with a smile. My only real Joni moment, sigh...
So she and Margaret walked over and unvieled the walk, posed for pics, and the press flocked to her, leaving poor Margaret all alone with one reporter... lol (and ironic lol, at that...)She dissapeared whence she came, and eventually we looked at the walk ourselves.
Right before that however, I was standing with Jimmy and Yael, and we were singing along to Chelsea morning, and a crew turned to us and shot a bit. With our stopping upon embarrassment, they encouraged us to sing more, and asked us what are favorite Joni lp was. I said "Depends on the day of the week..." So we all listed as many albums as we could, and the question was asked "why Joni?" I replied, "Who else is there?" I went on a bit, but don't recal my exact words. Didn't see it on the news, and did not recall which station caught us at that moment.
I then headed back with most on the subway, waiting to get ready for the evenings festivities... So now here's the rest of the tale of coming home from Toronto.
We left Union station on time, only to get near Port Huron when we find out that there was a freight derailment in the states. We are going to be bussed across the border and around the wreck.
At customs, the Canadians and US citizens are separated. The Canadians get back on the bus after a couple of questions, and we have our bags checked! (Good thing I am a neat packer...lol) A big guy escorted me to the counter, and overlooked the line of us, having a very pleasant attitude about the whole thing.
So this blonde woman in her 50's with her hair pulled up acting like a tough broad askes me why I went to Canada. I said to see Joni Mitchell. She replies, "So you went to Canada to see a person named Joni Mitchell..." Before I could respond, The big co-worker steps up and says,"You don't know who JONI MITCHELL is???"
Woman: "No, who is she?"
Man:"She's a singer!"
Woman to me: "She's a singer, so what does she sing?"
Me: "Both sides now, Chelsea Morning, Help me,- she has 20 albums-"
Woman: "So sing me something."
Me: "Woke up, it was a Chelsea Morning and the first thing that I saw-"
They both laugh and she says okay okay, and doesn't really go through my bags other than a light inspection, tels me I can zip it up and go...
LOL!
So now we go to ANOTHER bus to take us to the train heading towards Toronto, so they can turn it around and head back to Chicago. We sit at this station with no food or water (It was turned into a RR museum) for an hour. Made a few more friends there.
We get to Chicago a half hour AFTER my train for Milwaukee left, so Amtrak put me up in a hotel and I caught the first train home in the morning, just to get to work in time Tuesday... Argh!
But after Joni, it was sooooo worth it! by Jim Johanson
Friday, October 19. Toronto is without a doubt the perfect place for a Joni Mitchell fan today. Event #1: the noontime dedication ceremony at Toronto's Royal Alexandra Theatre, where Joni will unveil her star on Canada's Walk of Fame. It's a cool day in this clean, friendly, cosmopolitan city, reasonably good weather for an outdoor event. Emerging from the subway tunnel and turning the corner onto King Street West toward the Entertainment District, I notice that the street is blocked off about two blocks down; that must be the place. Early, and relieved that I'm not hopelessly lost, I stroll casually to the theatre, taking in the flavor of what is, to me, a new place. Old St. Andrew's Church offers an old-world contrast to the shiny glass buildings around it; the huge CN Tower looms in the background. I'm looking around to see if I recognize other Joni fans on the street -- there are sure to be plenty of them in the area.
There are roughly 50 stars on the Walk of Fame right now. The Royal Alexandra Theatre is an ideal place to enshrine great Canadian artists; the beaux-arts style theatre has been a center of activity here since it first opened in 1907, hosting everyone from Edith Piaf (who Joni has cited as an early influence) to the Marx Brothers to Helen Hayes. Good company, I think to myself.
Preparations are still being made at the theatre entrance when I arrive. Forty-odd chairs are set up at the foot of the stage for VIPs: daughter Kilauren and her two children, ex-hubby, friend and co-producer Larry Klein, directors Norman Jewison and David Croenenberg will be among them. We've gathered outside the barriers that have been put up about six feet behind the chairs, giving photographers and reporters room to scurry about in search of the perfect shot. I tell the gatekeeper that I'm in Toronto to cover the event for Joni's website; she doesn't seem to understand and tells me that she'll "go check." After explaining to her what I'm doing there for the third time, it's obvious that she's going to bungle it and the jm.com people are going to be stuck behind the barriers, attempting to snap pictures over the heads of the other reporters. Oh well. Maybe she'll learn about computers next year.
A crowd is starting to gather now, and the excitement is building; Joni's music is playing on the public address system (at the moment it's "Carey"). This is her first public appearance since the Grammy Awards presentation on March 4, and the first "Joni event" since the opening of her retrospective at the Mendel Gallery in Saskatoon in June 2000. I've managed to connect with Ashara and Stephen, the jm.com photographers for today's events, also Rick and Jimmy, whose review of "Joni Mitchell: A Tribute In Song" was posted on October 16. Most of the crowd of a few hundred people is, I think, here to see Joni; there are numerous fans of acclaimed author Margaret Atwood to be found as well, along with a gaggle of lunchtime curiosity seekers. Joni, actually a 2000 inductee, was unable to attend the ceremony until now. The event is taking place on very short notice to the public -- Joni's appearance was announced just three days ago.
Noontime arrives and I'm surprised by two bagpipers marching out of the theatre to begin the ceremony (I later find out they're Rob and Sandy Campbell, brothers from the rock group Mudmen). As the pipers pipe and move to opposite sides of the door, the presenters and guests of honor file out between them onto the small stage: Joni, Margaret, Toronto Mayor Mel Lastman and the emcee. Joni looks great in a long, lightweight brown coat, worn over a longer dress that has a large checked pattern of earthy green, blue and gray hues. She also sports a dark brown beret, and is wearing a pair of comfy looking rubber-soled shoes. She removes her dark grey silk scarf with gold embroidery early in the ceremony; it spends most of its time on her chair.
All remain standing for a moment of silence honoring the victims of 9/11/01 -- everything stands still for a moment, as we observe the horrific event that ushered in a new era Joni recently described as "a world turned upside down." The silence is broken by the pipers playing "Amazing Grace," Camilla Scott (currently appearing at the theatre in the ABBA musical Mamma Mia) sings the American, then the Canadian national anthem and, from this somber note, the proceedings continue.
After a short welcome by the emcee, Mayor Lastman moves to the podium. "They made me promise to keep this short," says the Mayor (a self-effacing gag about his stature). "Could I keep it any other way?" he quips. He does, in fact keep it short as he congratulates the two honorees on their accomplishments; Joni and Margaret are sitting behind him, occasionally whispering back and forth to each other.
Margaret Atwood is up first, stepping to the podium to polite, appreciative applause following her introduction. Accepting the brass and granite award, her black humor gets a laugh out of the crowd as she tells everyone that "We have a kind of running contest going on as to which award makes the best murder weapon -- this wins." Thanking the presenters, Margaret heads back to her seat after a few more remarks. It's Joni's turn.
"Joni Mitchell." Those first two words of the Mayor's introduction speech are greeted with enthusiasm -- loud applause is punctuated by calls of "Joni Rocks!" (I'll bet I know who that was.) The applause dies down and the introduction continues; Joni approaches the podium to another big round of applause as the mayor presents her with the key to the city. "What does it open?" Joni asks, accepting the key.
"It opens the hearts of all the people of Toronto, and it is given on behalf of all the people of Toronto," replies the mayor.
"I'm not certain what committee or voting system brought me to this podium, but I'm very honored," Joni began. "I didn't have to pay for this star on the sidewalk. They buy them in Hollywood. This is not corrupt, so I'm very honored for that."
"For my star," Joni joked, "I'd prefer you don't spit there... curb your dog elsewhere..." She pauses briefly as a few chuckles drift out of the audience toward the podium.
"I hope if you're crossing over it, since the world is moving so fast and has gone so mad, that you would slow down a little bit as you would cross over it, think of something funny, or something kind... think of someone you love. If you're thinking of someone that you don't love as you're crossing over it, put them out of mind -- just use it as a little contemplative place. Sit there and have a private chuckle, and that would make me very happy. That would make it practical and useful."
With that, Joni and Margaret are off to unveil their respective stars, concealed under bath-towel sized white plastic sheets on the sidewalk, to our left of the stage. They kneel down behind their stars, hugging; every camera clicks at once. The covers come off to reveal the stars, and there's a final round of applause as "Chelsea Morning" plays over the sound system to end the event, scarcely half an hour after it began. As the crowd begins to scatter, reporters rush toward Joni for a comment. She stays for a minute or two to talk with a few of them, but soon disappears into the theater. I'm sure she's got things to do. She has a busy evening ahead of her.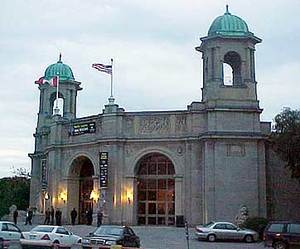 The Liberty Grand
Photo: Pearl Weisberg
Our Dinner With Joni: The Pre-Hommage Reception and Banquet at The Liberty Grand
By Jim Johanson
I'm headed out of downtown Toronto in a taxicab with jm.com photographers Ashara, Sal and Stephen -- we're passing through an urban no-man's land on our way to Joni's Hommage festivities at the Liberty Grand. As the car passes under a gate and onto the massive (192 acres), nearly deserted grounds of Exhibition Place, even our knowledgeable cab driver isn't sure exactly which of the many landmark buildings we're going to. He knows the Liberty Grand is very close, so we decide to hop out of the cab and find it on our own; we're planning on meeting friends, so we're early anyway. And it's a great place to do a little sightseeing.
It's a good thing we allowed extra time -- getting out of the cab, I realize I've forgotten my ticket! Bidding everyone a semi-frantic goodbye, I embark on an emergency round trip to the hotel and back. Luckily our driver has a cell phone and Stephen, who with Ashara has been keeping everything rolling smoothly, calls him to pinpoint the Liberty's location. I rush back, ticket now tightly in hand, arriving with all of two minutes to spare; now there's so much traffic I get out a block early and run the rest of the way. At this point the pedestrians are moving faster than the vehicles.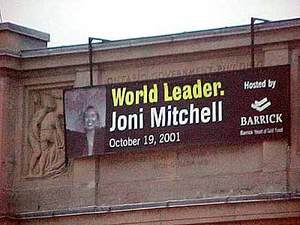 Banner close up
Photo: Pearl Weisberg
Turning a corner on the Exhibition Place grounds, I see where everyone's headed. The Liberty Grand is just across a parking lot, rising up against the pre-dusk gray of the autumn sky. Built in 1926, the renovated Ontario Government Building reopened just a few months ago; like the Royal Alexandra Theatre (where Joni's Walk of Fame star was dedicated this afternoon), it's a handsome beaux-arts style structure. A smallish banner over the north entrance with Joni's picture marks the destination. I wish I had time to walk around and see what's at the main Liberty Grand entrance on the other side, with its grand dome. I feel like I'm entering an empty museum as I compose myself and enter through the north entrance door. The Liberty Grand proves to be a very versatile venue, able to provide a home for all three of tonight's Hommage events.
There are two tables set up in the lobby just inside the north entrance with "World Leaders Festival" information folders; guides are on hand to help festival-goers navigate the slightly confusing, triangular building. First stop: I'm directed down a wide courtyard toward the cocktail reception at the other end of the building. As I make my way through the courtyard, nearly a block long and tented in white fabric, I think of how interesting it would be to display Joni's paintings here. I wonder if she'll show up at the cocktail reception -- sometimes there's a dangerous crush when she walks into a crowd.
At the end of the courtyard, I look to the right and find the reception underway in an elegant, cavernous hall with a very high ceiling. Peering through the entrance toward the far end, it's at least twice as long as it is wide. A well-heeled looking mix of fans, artists and corporate types are rubbing elbows inside, noshing on hors d'oeuvres, sipping free martinis. I hear there's a charge for other drinks, but the line is too long; I'm not that thirsty anyway and head out across the room to see who's around.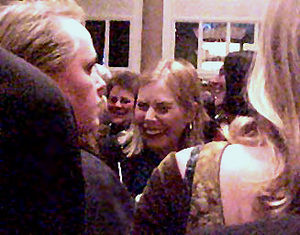 Joni works her way through the crowd
Photo: Pearl Weisberg
I've made it across the room and back, and am again close to the reception hall entrance when I hear a few whispers: "She's here!" "Right over there!" Joni has unobtrusively slipped into the hall with her guests for the evening -- a group that includes Larry Klein and daughter Kilauren Gibb. Many head in Joni's direction, but there thankfully isn't a mad crush to get close to her. I'm sure more than a few people who saw her arrive have elected to let her enjoy the evening without smothering her. She slowly works her way through the crowd and moves toward the back of the hall, greeting well-wishers as she goes.
For a few standing nearby, an irresistible opportunity has presented itself. Later, I hear about a few encounters with Joni, Kilauren and Larry at the reception -- everyone mentions the personal connection Joni makes with them during their short conversations, making them feel as if they've known each other forever. All are impressed with her warm, friendly charm, leaving them exhilarated and "walking on air."
I decide to come back later to see if Joni's not completely surrounded, but as it turns out, she's continued moving toward the rear of the hall, exiting at the other end to get ready for dinner. Soon the rest of us are directed there as well, back through the courtyard toward the banquet hall entrance, off the lobby. Joni's song "Banquet" is running through my head -- I'm probably not the only person considering the inherent irony.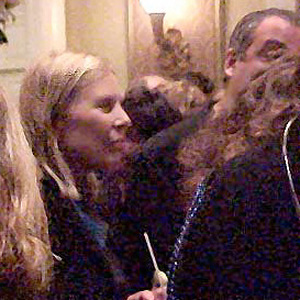 At the reception
Photo: Pearl Weisberg
The banquet is held in another expansive, elongated hall roughly the same size as the one the reception was held in. Large, round dining tables fill the hall, each seating ten people; we're told there are a total of around 600 diners. Beautiful chandeliers cast subdued light through the room. Halfway down the dining hall on one side, a stage with a podium and microphone juts out into the room; large video screens fill most of the wall space on either side of the stage. A long balcony supported by ornate columns runs above the edge of the main dining area on the other side; the balcony's not in use tonight. We're warned that photos won't be allowed at dinner.
The guest of honor is seated at a table in front of the stage. It looks like a family affair -- Joni's dining with Kilauren, Kilauren's boyfriend, Kilauren's father Brad McMath and Larry, among others. Their table is easy to spot, as it's the only one encircled by a cloud of smoke!
There are a few speakers during dinner, representatives from Harbourfront and corporate sponsors. As the speakers drone, our dinner arrives: a rich feast of regional cuisine courtesy of Executive Chef Anthony Walsh, from Canoe Restaurant and Barwanted. Tonight's appetizer: Elderflower Cured Atlantic Salmon, followed by an entree of Pecan Crusted Yukon Caribou with Saskatoon Berries, Goat Cheese and Butternut Squash. For dessert: White Chocolate Cheesecake with Blueberry Cassis Sauce. Just the sort of thing I eat every night at home (yeah, sure, right).
I'm trying to decide if I should approach Joni -- I'd love to say hello, as I haven't talked with her in some time. But I decide against it; she's enjoying a dinner with family, and few people are approaching her table. I end up slipping her a note through our friendly and attentive waiter, Abul. We like Abul.
Joni and her entourage are the first ones out as dinner ends. They ascend the balcony staircase near the hall entrance, headed for yet another hall where the Hommage program is to be held; the rest of us take the hint and exit through the main door of the banquet hall. We're shepherded across the lobby for the Hommage presentation, and the moment, finally, has arrived. The Hommage Presentation
By Jim Johanson
The Hommage to Joni at Harbourfront's "World Leaders" festival has been in the making for quite a while. With each event over the course of this week, it has become increasingly apparent that tonight's program is going to somehow be a special one. Although some have already been here for hours, enjoying the reception and banquet, others are just arriving. Everybody's looking forward to the show, curious about what sort of format the Hommage is going to take; that information has been hidden from all except those in the "need to know" group. Even many Harbourfront staffers have been kept in the dark until tonight.
The long narrow rooms at the Liberty Grand have received high marks as reception and banquet spaces, but I hear mixed reviews about the use of another long, narrow hall as a performance space. We enter at a far corner to find the stage in the center of the room, rising approximately five feet up from the floor and splitting the audience in half on either side of it. There's just enough room at one end of the stage for a corridor that allows audience members with seats on the far side of the stage to walk through to their destination; I look over my shoulder at the stage as I pass through the corridor. There are three music stands; two of them are clustered at one end, separated from the third by a small table with a floor-length tablecloth. There's a chair on each side of the table, which has a compact stereo on it. On the other side of the stage by the wall opposite the corridor, musical instruments await their players: there's a grand piano, xylophone and cello, along with a variety of percussion instruments and bells. The area between the instruments on one side and the three music stands on the other is where the performers will walk from one side of the audience to the other, attempting to reach everyone as they perform. Although the configuration is a little clumsy, the sight lines are good and the performers do a great job of playing to the entire audience. Two large screens hang side by side above the stage, displaying the evening's visuals program in double exposure; each of the two screens shows the same image as the screen next to it for most of the evening. These unusual choices prove to be only a minor factor; spirits are high as we anticipate honoring the artist who has meant so much to us for so long.
Once everyone is seated, the presentation begins right on time with an instrumental version of "Both Sides Now," with the cello taking the lead; the bells and percussion give the song yet another new personality. An atmosphere of almost religious reverence permeates the room as the event begins, with silence for a second or two after the music stops. Someone applauds; everybody else loosens up and joins in.

The sound of bells drifts through the air like wind chimes. Hosts Brent Carver, Anne Marie MacDonald and Rebecca Jenkins, scripts in hand, file onto the stage in the shadows of a bright blue light that illuminates the now empty chair Joni will be sitting in later tonight, next to the table with the stereo on it. Once the performers are in position, the light dims and an excerpt from Rudyard Kipling's Kim is read over the sound system; Saskatchewan prairie scenes are shown on the screens.
Anne, Brent and Rebecca are working as a team tonight. They'll do much of the Hommage as a sort of relay storytelling, passing the narration around paragraph by paragraph, sometimes line by line, even word by word. A photo of Joni's father appears on the screens holding a newborn Joni -- and on that cue the storytelling begins. The lights are brought up on each performer in sequence as they open the script books on their music stands and begin speaking.
Brent: "Once..."
Anne: "Once..."
Rebecca: "Once upon a time, there was a little girl named Roberta Joan Anderson..."
"And a precious spark was ignited when Mr. Kratzmann read the story of Kim, by Rudyard Kipling, to his grade seven class in Saskatoon."
The cello plays "Both Sides Now" in the background as another excerpt from the book is read:
All that while he felt, though he could not put it into words, that his soul was out of gear with its surroundings - a cog-wheel unconnected with any machinery. The breezes fanned over him, the parrots shrieked at him, the noises of the populated house behind - squabbles, orders, and reproofs - hit on dead ears. He did not want to cry - had never felt less like crying in his life - but of a sudden easy, stupid tears trickled down his nose, and with an almost audible click he felt the wheels of his being lock up anew on the world without. Things that rode meaningless on the eyeball an instant before slid into proper proportion. Roads were meant to be walked upon, houses to be lived in, cattle to be driven, fields to be tilled, and men and women to be talked to. They were all real and true - solidly planted upon the feet - perfectly comprehensible - clay of his clay, neither more nor less.
As the reading ends, the music segues into a few soft intervals on the piano that serve as an introduction to Brent's performance of Joni's wonderful "Night In the City." Bit by bit, he builds into an energetic reading of the song, the theatrical interpretation recalling Joni's comment that her songs are often "cinematic." Brent's clear voice has striking range and power. He's all over the stage, dancing marionette-like in the middle of the song as it gains momentum. He ends on a sustained, very high note -- if everybody isn't sitting up in their seats before the song started, I'm sure they are now. Rebecca sings along softly for a time, possibly just carried away by the moment. There's a big round of applause as Brent finishes, and our hosts take a minute to introduce themselves before going on.
Anne begins: "The Oxford English Dictionary defines genius: 'One of two opposed spirits or angels, supposed to attend every person.'" Rebecca takes definition number two, Brent number three (upon returning home, I looked up "genius" in The New Shorter Oxford English Dictionary and the definition is considerably longer; I'm glad they didn't read the whole thing).
Brent: "We can only marvel at the transformational artisty of Joni Mitchell."
Rebecca: "Her fourth grade report card reads: 'Original in ideas, with a gift of interpretation.'" The audience, retrospect firmly on their side, laughs.
Brent: "Mr. Kratzmann said 'write and paint in your own blood.'"
Anne: "And by her mid-teens, though the melodies were yet to be born, innocent doodles had become paintings that would one day become album covers, and musings in the margins of notebooks soon became the poetry that would soon become lyrics."
Rebecca finshes the thought Anne started: "Even those that were never set to music reveal a Joni interpreting a world she was yet to meet."
Brent talks about a 16 year old Joni sitting under a hair dryer getting a Sanda Dee-style "do" while reading an article in Silver Screen magazine about the private lives of show business personalities of the day -- "teen idols exposed -- and while sitting under the hair dryer she wrote 'Fishbowl.'"
As many Joniphiles know, "Fishbowl" is one of Joni's earliest poems to be made public. Those who have never heard of the poem won't be disappointed tonight as Anne Marie opens a window to the past, reading "Fishbowl" aloud.
Rebecca gives the audience a glimpse of Joni's early home life, recounting when Mr. and Mrs. Anderson told their daughter "sure, you can paint murals on your bedroom walls! " She notes that piano lessons also began at an early age, as "Joni began exploring all that was Joni," and she reads a second early poem, "I Am A Guitar."
Polio was still exacting a heavy toll among children at that time, and young imaginations took wing when physical movements became difficult. Nine year old Joni was a prime example; Brent draws a reference to the disease before performing a fine reading of another early poem, "Road Song."
Rebecca talks about Joni picking up a baritone ukelele and then her first guitar. "In the 60s," she tells us, "most kids, when they picked up a guitar, picked up a few licks from friends, or if you were REALLY serious, pick up the Pete Seeger Guitar Players Guidebook. And so did Joni. For about... ten minutes."
Anne: "But Joni was a tad -- resistant, shall we say, to learning the conventional way, to doing anything the conventional way. And thank God for that."
It's time for the evening's first surprise guest: Brent introduces Gordon Lightfoot, who receives a warm welcome from the crowd as he approaches the stage for what sounds to me like a stream-of-consciousness talk about the old days. He thinks back to the Detroit of his 1965 memories, when "Joan and Chuck Mitchell were at the Chess Mate and Gordon Lightfoot was at the Living End which was sort of over on the other side of town, not too far away, and they came in and they brought Tom Rush in with them to the Living End, and invited us back to the apartment, which was situated, say, a couple miles west of the core of the city of Detroit, between a college campus and an art museum, and it was a fifth floor walkup, there was no elevator or anything of that kind and we used to carry the guitars up and down and all that sort of stuff... and she got Tom Rush to play one of her selections -- he played 'Urge For Going,' and I knew right at that instant that I had heard a quality song, and the guitar was then passed to Joni and she gave us a version of what she then called 'Clouds,' which later became 'Both Sides Now'... and I said there's another quality song... I had, made a deal in New York, and Chuck and Joni were searchingand looking for some kind of a way to get these songs onto record, and Chuck was very supportive of Joni's material too, but the, unfortunately, the cookie didn't crumble somewhere along the line, if I may be so crude. Joni was out on her own, back about 1967... from that point on, I can tell you a couple real good memories, the art museum was one of 'em, the artistic climate where she was... used to take us to have brunch at this art museum in Detroit, an experience which I will never forget, I remember being over there one time with Richie Havens when you and Chuck were out of town playing over at Omaha [Does anybody out there know if Joni ever played in Omaha, or did I hear wrong?] and you had loaned me the apartment for four days -- do you remember that? -- I was playing The Living End, and back in those days you know it was like Beatles, Beatles, Beatles."
"Joni and I were survivors of a dying era... tellin' ya something, it was a time when the folk revival took place, starting around 1960, and when the Beatles came out it cooled out considerably right then... we'd always have the Beatles in our faces constantly, there would be a Beatles album. You'd work for another year, you'd have an album all ready to go and there would be another Beatles album. We were label mates at Warner Bros. Reprise and would compare notes, we'd meet fom time to time when Joni came to town..."
Lightfoot went on to say that he thought "Tom Rush's early covers of Joni's songs were fantastic, as were Dave Van Ronk's and Buffy St. Marie's, and several others, people used to come through town and play at the Chess Mate and after that she went to New York and then she went to LA and I didn't see her till Rolling Thunder in 1975 and we got to hang out a bit more then, and I don't think I've seen her since 1976 and I'm real happy to see her tonight."
As the audience laughs and applauds, he exits the stage.
Joni's first five album covers are shown on the overhead screens while the focus shifts to "the unmistakeable, inimitable Mitchell style. She actually found sound that had never been heard before." These comments serve as an apt introduction for a recorded visit from Joni's longtime guitar tech, photographer, music transcriber and friend Joel Bernstein, Anne calling him "the person in all the world who best understands her chords of inquiry and tunings." She also mentions that "he's captured some of the most thrilling and evocative images of Joni that have been taken over the years." A montage of photos taken mostly during the 1970s, including one of Joel, are shown on the screens as he speaks to the crowd in what he calls his "disembodied voice:"
A discussion of the mechanics behind the music is especially appropriate when Joni is the subject. Many of her biggest fans are musicians, and even those who aren't musicians are often interested in how she gives her music its distinctive sound and character. Excepting Joni herself, Joel is the undisputed authority in this department.
"Ever been to a party where someone picks up a guitar and tries to play one of Joni's songs?" Joel asks, prompting a knowing combination of laughter and groaning from the audience. "Chances are good what you heard didn't sound the way you remember Joni playing it. Here's why." He offers up a short Tunings 101 music lesson, plucking string by string on an unfretted guitar that is tuned to the familiar standard tuning used for most classical, jazz, rock or folk music. He breaks the chords apart, playing them string by string as he talks:
"A guitar student starts out learning how to place the fingers of his or her left hand on the fretboard, in shapes that make familiar souding chords, like C (ding-ding-ding-ding-ding-ding), or A Minor (ding-ding-ding-ding-ding-ding). Later, guitarists learned that by tuning the strings to the chord itself, like E for example, and by using a whole different set of finger positions, a very different set of chords can be produced. These are open tunings, and will be familiar to blues music lovers out there."
We hear "A Bird That Whistles" (Joni's brilliant arrangement of the blues standard "Corrina Corrina") in the background. Excerpts of other songs roam behind Joel's voice as he continues to explain the unique intricacies that make Joni's music the rare and beautiful entity that it is; the music helps to illustrate the importance of what he says.
"But when the young Joni Mitchell was first introduced to these open tunings," he says, "she coaxed some very different sounds from the guitar strings, like so." (Joni's "Marcie" starts to play in the background).
"And one day long ago, while retuning her guitar from one open tuning to another, she stopped someplace in between, and listened. 'ooh, delicious,' thought Joni, 'I think I'll stay here for a while and explore.' And so she did, coming up with both a new and original tuning that wasn't standard or open, and new and original chords to play in it."
("I Had A King" plays in the background.)
"This was the musical equivalent equivalent of Alice opening the little door, and glimpsing an entirely new world beyond. From that day to this, Joni's curiosity, sense of adventure and unique sense of what some composers call 'tone color' have resulted in her own very personal discovery and deep exploration of literally dozens of these new worlds, each new tuning requiring it's own new set of original chords. You don't need to know all of this to appreciate Joni's concerts and recordings, but her explorations of these exotic musical places form the basis for what is unquestionably one of the most important and original bodies of work ever in guitar composition and performance, without even going into her equal genius as a lyricist, singer, arranger, pool player, and salmon burger chef."
"Her unwillingness to be restricted to previous forms has led to her becoming not only the preeminent practitioner of these alternate tunings, but an inspiration for guitarists as diverse as Prince, Wendy and Lisa, Shawn Colvin, David Crosby and Michael Hedges."
Joni's familiar guitar figure from "Hejira" pulses in the background as Joel finishes, updating us on the upcoming release (hopefully next year) of his complete two volume set of transcriptions and lyrics to all of Joni's released works. "There will be a detailed map of where she's travelled musically over the years, and hopefully others will be inspired to explore these magnificent new worlds," he says. "But no one, even with the book, when it comes to playing Joni Mitchell songs, can do it like 'The Mitch' herself."
With that, the screens return to their standard display (Joni's signature), Joel's disembodied voice evaporates, and Anne announces a segment called "The Mitchell Effect." We're told that Joni has "probably been recorded by more artists than any other single composer, Mozart excepted. [Really?] But that said, it's unlikely even Wolfgang himself could lay claim to the results that we got in this random street survey. Ladies and gentlemen, and Joni too [yes, that's what she said], a sample of 'The Mitchell Effect.'"
"The Mitchell Effect" question: "What do you think of when you think of Joni Mitchell?"

A very funny video sequence of people on the street follows. They answer the question by singing their personal versions of Joni's songs, with widely varying skills ranging from not that bad to completely tone deaf. There's a lot of "umm, da-dah, dah, da-dah, 'till it's gone" renditions of "Big Yellow Taxi," in addition to a few other well known songs. The guy who bravely attempts the high note in "River" ("I would teach my feet to flyyyy...") gets a big laugh for his efforts; I'm sure he's not the only person who has had some trouble with that note! I'm surprised by one person who sings "Cool Water."
Enjoyable as "The Mitchell Effect" is, by the time it's over the audience is ready to hear somebody who can actually carry a tune and sing a credible version of Joni's music and Rebecca obliges with "Blue," her first performance of the evening. Her affection for the song and for Joni comes through loud and clear -- the audience is loving it.
Joni's friends, actress Angelica Houston and dancer Charles Valentino, appear on the overhead screens. Their easy familiarity with Joni speaks volumes as they relate their experience of her creative soul; the joy that exists in her relationships with close friends is palpable.
Angelica: "...being privileged to experience her work, not only as a musician, but as an artist, and in an everyday sense, the sense in which she's almost Homeric as a storyteller, or when Joni drops in on a room and pulls out her guitar, or just her observations about life, it's one of those people that makes you happy to be alive, 'cause you feel like she's always taking a big bite out of life -- she's thrilled with certain situations, you know? She eats it like food."
Valentino: "Life has a lot of magic that's happening, and sometimes we don't get to see it because we're distracted, but Joni has a knack of even testing it sometimes, testing her intuition, going out, looking for life, you know? I'm not gonna tell you her stories, but she has wonderful, magical stories."
Angelica: "You know Joni's always, running off -- with, you know, gangs who live under bridges (laughs)... these sort of sagas unfold -- she's an extraordinary artist. Because there's always the element of the angels, and I think in order to be a really true artist, first of all you have to be incredibly disciplined and you have to have the dedication to be disciplined and the inspiration to be disciplined, but having been disciplined, having, being in a way already a vessel, I think that's so much of the magic that Valentino is describing, being completely ready so that when the inspiration or when the angel comes, you can give voice to it. And that's always to me been an intrinsic part of Joni. You don't the feeling that she's necessarily the doer, you get a much, much higher, if you will, almost religious feeling, there's something channeled coming through her."
Valentino nods agreement and concludes the segment: "We love you Joni, we love your heart, we love your spirit, we love your laughter, and since you're not here today, what we're going to do is we're going to have a dance. And we'll think about you as we're twirling! We love you Joni -- you deserve this, baby! We'll see you soon! Bye..."
I'm glad Joni has been so lucky in friendship. Val's sincerity, exuberance and joie de vivre are so contagious that I want to get up and dance right there on the spot.
One of the things I love most about Joni's music is the vividness of the characters in her songs; tangible, evocative, memorable. I'm glad when Brent notes this. He starts by listing a few of them: "Michael, Willie, Richard, Carey, beautiful beautiful Marcie, Cherokee Louise, Ron or Chickie or Lead Foot Melvin..." images of the inhabitants of Joni's songs pop into my head as he speaks. Where's Nathan La Franeer, I wonder? I guess he can't list everybody -- we'd be here all night!
"With every one of these people Joni Mitchell seems to have reintroduced us to some part of ourselves," Brent continues. "In the brevity of one song, she paints an entire life like that. And for over four decades, her audience has had the remarkable experience of humming along with her personal odyssey. She sees that which is plain for all of us to see, but it's that rare gift of interpretation, as her grade four report card said, that sets her apart. And whether it is a one man band by the quick lunch stand, the hot winds and hungry cries of Ethiopia, or a license plate that spells out JUST ICE -- just... ice -- for Joni, every thing has meaning. Every thing deserves a closer look."
Brent and Rebecca sing the beginning of "Shadows and Light," watching each other closely as they tackle a harmony. Then the band takes over: the cello segues into Amelia and back into "Shadows and Light" again, finishing with one last line from "Amelia."
"Duke Ellington," Anne tells us, "said 'no boxes.' Miles Davis said 'I have to change -- it's like a curse.' 'Staying the same,' says Joni, 'is just boring.'" The story moves into the mid-late 70s and the overhead screens document an explosion of astonishing creativity: The covers of Joni's landmark albums "The Hissing of Summer Lawns," "Hejira," "Don Juan's Reckless Daughter" and "Mingus" appear along with concert video from her "Shadows and Light" tour. Other paintings and photos from the 70s and beyond flash by; even though I've seen most of what's being shown, I'm still amazed and excited by the breadth, quality and prodigiousness of her work. "Don Juan's Reckless Daughter" plays over the sound system as Anne tells us about Joni's drive to chart her own course, and of her innovative incorporation of world music instruments, "frustrating any attempt to categorize her, refusing to be dictated to by the marketplace, instead being guided by her own interests, passions and sensibilities, ever true to herself. It's been said that an artist changes course at their professional peril, but as Joni once remarked, 'nobody insisted Picasso stay in his "Blue Period" forever.' And Joni has always been her own guide. If a passion was yet to be explored, it was a road meant to be travelled. So it was, her love of jazz. Considered by many to be her most daring work, Joni shocked fans and radio stations alike with 'Mingus.' But when Charles Mingus asked her to work with him on what was to be his final project, it was not to be another remarkable revelation of a breathtaking scope of gifts, but a testament to how highly regarded she was and is by other musicians. And to those who really knew her, her passion for jazz, like her passion for art, had been born long ago in that young girl from Saskatchewan. This wasn't a case of a new Joni, just another side."
It's a perfect time for a video visit from jazz legend Herbie Hancock.
Herbie: "People like Joni Mitchell or Joan Baez, or even Jimi Hendrix, I didn't pay that much attention to 'em until later, when I noticed that Miles Davis, who was my employer, he was paying attention to them -- Miles listens to all kinds of stuff, what's wrong with me? Years later, I got a call one day from Jaco Pastorius, who was doing a record with Joni and Peter Erskine on drums, and Wayne Shorter on saxophone, and it was a record that was dedicated to Charlie Mingus, and originally I wasn't scheduled to be on the record to my knowledge. I got this call: 'We're in the studio recording, man, why don't you come over? This is something you're gonna dig.' So when I knew that it was Wayne and Jaco... and Joni was someone I didn't know that much about her, except her reputation... I went to the studio, and found my way into the music, and from that point on Joni and I became friends. Her sensitivity to any source of inspiration, she's able to pick up on things quicker, they don't just get by her... she's extremely bright. And another thing I noticed about her -- her normal mode of conversation is so [he pauses looking for the right word] graphic and full of symbolism, just like her poetry; she speaks poetically. Joni Mitchell is pretty amazing that way. And Wayne Shorter who is also on that record, also speaks in a... I guess you could say it's his brand of poetry, he has a way of relating to people on a metaphoric level. To hear Wayne and Joni talking is like poetry itself. It's amazing -- you've got to have your wits about you!"
The screens switch to an interview with Wayne Shorter:
Wayne: "What drew my attention to Joni Mitchell some years ago was the fact that she seemed like another one of us who was willing to take chances, she seemed like a person who was ready to take a leap into the unknown, so to speak, and when she actually did it, that was a confirmation to me that she was one of the few, I said like one of us, that would be willing to put her career on the line. Thinking that Joni would acquiesce to the demands of so-called devoted fans was a misnomer, in fact she plowed ahead and stepped on the gas. The boundary lines that were demarcated, over a period of 75 years in the music industry -- you don't cross this line, you don't cross that line, this was something you didn't do, but some of us, I say a few of us again, including Joni herself who was considered to be on the other side of the fence, the pop side, proceeded to, I'd say, break the sound barrier... this is not about record sales, and all that. Herbie Hancock and I -- we look for people who are part of the quote unquote, academy. It sounds kind of Star Trek-ish!"
Herbie again: "Joni, I will work with you, anytime, day or night, all you gotta do [he puts his hand up to his ear] is call me! And I'm there. I love your work, I love you. I love you as a human being, 'cause that's the foundation of your work."
Rebecca's performance of "Two Grey Rooms" follows, and is a high point of the evening. The interpretation serves as a wonderful vehicle for Rebecca's talents, as well as a moving tribute to Joni. Many in the audience stand as she finishes and receives a huge hand fron everyone (including Joni, who is sitting in the front row) for the heartfelt performance.
Once the audience has settled down, Anne offers a tongue-in-cheek consideration of the true measure of fame: "Joni Mitchell has been the answer to 42-across in the New York Times crossword puzzle!" She cites a few more references to Joni, such as the time on Who Wants To Be A Millionaire where the guy didn't know the answer. "So he didn't deserve to win," Anne concludes. We're shown a montage of television and movie clips that include references to Joni; we see bits of You've Got Mail, ER, and Ally McBeal. I can't say I was expecting to see Calista Flockhart onscreen at a Joni Mitchell tribute, but hey, life is full of surprises.
Brent contemplatively sings a few verses of "Sunny Sunday" as the program draws to a close; the final performance is Anne's arresting reading of the lyrics to "The Magdalene Laundries." The room is eerily quiet during Anne's performance. The naked words stand alone in stark relief against the silence of the room, devoid of the music that usually soothes (and simultaneously reinforces) the numbing despair of the lyrics.
Brent has the last word. "...and she spent her life inquiring, and searching, planting a poetic flag on the landscapes of the human soul, 'I am on a lonely road and I am traveling, looking for something, what can it be?' She's taken us to the very edge of ourselves, with wit and humor... and while exploring the vast landscape of this thing called the human condition, through color and light, words and music, Joni Mitchell reveals not only her soul -- she leads us collectively to the discovery of our own."
"Ladies and gentlemen, Miss Joni Mitchell."