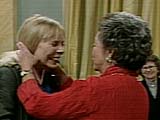 Legendary singer-songwriter Joni Mitchell was made a companion of the Order of Canada on Saturday.

Joining her in receiving the nation's highest civilian honour was Martin L. Friedland, a retired University of Toronto law professor, who received a promotion within the order.

"From Yorkville coffeehouses to international stages and on to gold albums, Junos, Grammys and Hall of Fame inductions, she has engaged and inspired audiences and musicians for some 40 years," said a statement about Mitchell released by Governor General Adrienne Clarkson's office.

Some of the 61-year-old Mitchell's major hits include Big Yellow Taxi, Free Man in Paris and Raised on Robbery. The singer, born in Fort MacLeod, Alta. and raised in Saskatchewan, is on an award roll -- she was given an honorary Doctor of Music degree from McGill University in Montreal on Wednesday.

Friedland "has authored one of the most definitive studies of the role of the judiciary in our country. ... As a legal scholar and teacher, he has inspired a great many young lawyers and students," it said.

Seventeen people were named officers of the Order of Canada.

One of those is Daniel Berthier, one of the founders of the world famous Cirque du Soleil, which some say has revolutionized the entire notion of a circus.

"This man of exceptional vision, to whom the values of respect and sharing are important, is undoubtedly one of our great builders," the statement said.

Twenty-seven others were named members.

They were all invested at Rideau Hall, the Governor General's official residence in Ottawa.

The Order of Canada was created in 1967 to acknowledge the contributions of outstanding Canadians. While the Governor General is the chancellor and principal companion, an advisory committee chaired by the chief justice of the Supreme Court of Canada vets recommends people for appointment.

The order's motto is Desiderantes meliorem patriam -- They desire a better country.