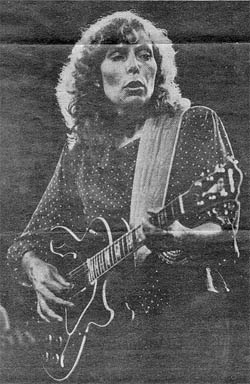 Joni Mitchell is best known for her personal songwriting style, which helped pave the way for a generation of sensitive balladeers. In recent years, she has alienated many old fans by moving from folk to rock to jazz. But Mitchell is a strong-willed artist with too much creative drive to limit herself to one type of music—or even to music itself. Her artwork is featured on several of her album jackets and her oils and watercolors highlight "Starart," a new coffee-table, rock-art book, published by Starart Productions, Ltd.

Now the Canadian-born musician-painter, 36, is adding another hyphen to her credentials—film maker. Mitchell is working here on her first film project, a concert movie with extra footage to illustrate some of the tunes. The performance footage was shot outdoors last summer at the Santa Barbara County Bowl.

"We filmed in natural light beginning at the 'magic hour,' about 6 p.m., and by 8 pm we were into total darkness," said Mitchell in a New York hotel room. "We had incandescent lights to take over, so it doesn't have the usual spotlights or colored lights associated with a rock show.

"This gave us an interesting look, but I've found that any performance, no matter how definitive doesn't hold up visually for an hour-and-a-half. So we began shooting very low-budget illustrations for some of the songs. The illustration is not too literal —I don't want to spoil anyone's imagination of the situation. I've tried to leave a certain amount of the performance there and illustrate certain sections of songs, so it's integrated with live performance."

One of the first "illustrations" added was some old documentary footage she found on Amelia Earhart, the subject of her song "Amelia." Earhart wasn't wearing any makeup in the film and bore a striking resemblance to Mitchell: So the novice director double-exposed the old black-and-white footage against color shots of the band performing "Amelia" and came up with a sequence which impressed her backers.

"When that worked, the purse strings loosened a little and I've been able to go out and do some specific shooting," noted Mitchell. "For 'Coyote' we shot a hitchhiking episode with a coyote . . . Now I find when the band comes back onto the screen I'm glad to see us."

The path from recording artist to film maker has been well traveled in recent years. And it comes as no surprise that Mitchell, who describes some of her recent records as movies with the concept of an album, is one of those travelers. She is now closeted in New York, translating her song-movies into movie-movies, learning about video, 35 and 16 millimeter all at once.

"It's a crash, on-the-spot education, and it's the best education I've ever had. Film is the most natural new medium for me that I've ever worked in. It's not nearly as difficult as it was setting words to Charles Mingus' material last year."

Without experience in film making, Mitchell must often communicate with her technical assistants in metaphorical terms. But it should be noted that she has earned much acclaim as a recording artist without knowing enough musical terminology to tell her musicians what to play. She believes that the experience of working on her own albums has basic similarities to her current work: "The more creative processes you work with, the more you find common elements among them."

Mitchell also writes poetry, which she feels helps her in the cutting room.

"My poetry is a lot of fast, rapid edit, and film construction has become more like that over the last five years. When it came to cutting from one scene to another, I've already done that."

A sound-track recording from Mitchell's as-yet-untitled film would seem to be a natural, but her record company, Elektra-Asylum, isn't so sure. The songs featured on last summer's tour were almost all from Mitchell's last four albums ("Mingus," "Don Juan's Reckless Daughter," "Hejira" and "The Hissing of Summer Lawns"). All four failed to reach the sales levels of her earlier folk-rock albums, such as "Court and Spark."

"From the record company point of view, they're not certain that my audience wants a live album of material that was not a great commercial success in the first place." She laughed, then added, "I think it's just amazing music. It's a shame that it wouldn't be released. They weren't my biggest 'hits,' but some of my favorite music that I've ever made is from 'The Hissing of Summer Lawns,' 'Hejira' end 'Don Juan's Reckless Daughter.'

"I think that when the film is completed they'll see how spectacular it is and they won't be so conservative. But these are very conservative times with the record companies; it's conservative everywhere."

The ultimate fate of Joni Mitchell's movie is uncertain. The musician-painter-poet-film-maker says there are a lot of bidders on it, ranging from motion-picture distributors to television networks, although she's not sure when the project will be finished or what it's final length will be.

"If I can get a good short version, it could go out on prime-time television," suggested Mitchell. "If I can't reduce it to my liking to less than an hour-and-a-half, it could go out late-night. It's just an exercise in my own attention span really, but it's turning out very beautiful."