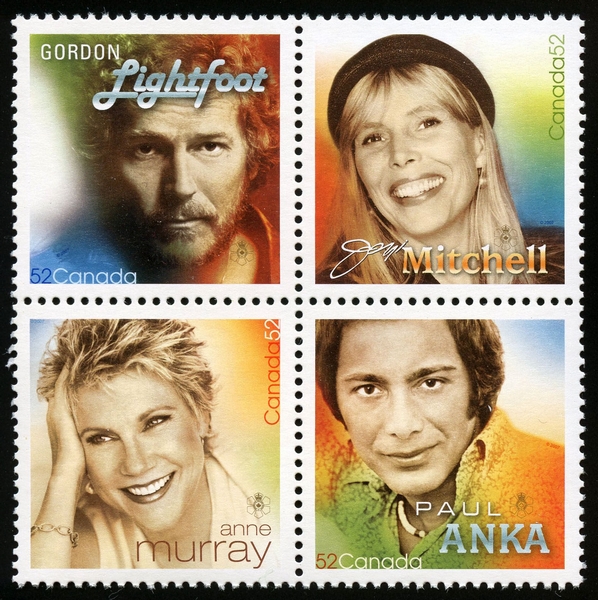 Joni Mitchell, one of four legendary Canadian musicians who will appear on new stamps.
Four legendary Canadian entertainers are being honoured this year with postage stamps bearing their faces.
Paul Anka, Joni Mitchell, Gordon Lightfoot and Anne Murray are featured on the limited edition 52-cent stamps.
Canada Post chose retro images of the stars for the colourful stamps.
Anka, who turns 66 next month, was born and raised in Ottawa. He shot to fame by writing and performing songs like "Diana," "Put Your Head on My Shoulders" and "My Way."
Mitchell, now 63, was born in Fort Macleod, Alberta and became one of the most iconic singer-songwriters in the world. Her hits include "Both Sides Now" and "Big Yellow Taxi."
Lightfoot, 68, was born in Orillia, Ontario, and played his folk music in Toronto before achieving international success with songs like "If You Could Read My Mind."
Murray, who turns 62 this month, hails from Springhill, Nova Scotia. She became one of the country's most recognized performers thanks to songs like "Snowbird" and "You Needed Me."
In 2005, Canada Post issued a stamp commemorating Canadian jazz pianist Oscar Peterson's 80th birthday. Other musical artists honoured include Truro, Nova Scotia native Portia May White, who died in 1968.