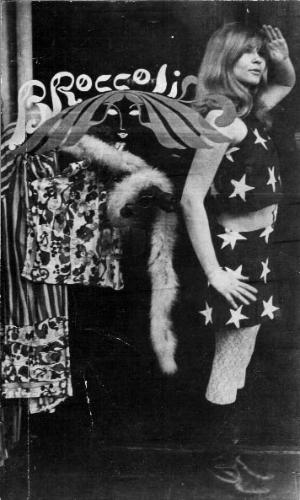 When did you first start drawing?
I don't remember a time when I wasn't drawing, and my mother, a 2nd grade schoolteacher, taught me to read and write at the age of 4, and soon after that I was making up stories and writing them down. My mother kept me in a constant supply of Board of Education paper and #2 pencils. I made up my first poem at the age of 3, when I didn't even know how to write yet.
Was it 1966 when you started doing comic books?
Yes, but not comic books, not yet, there were no underground comix books till Crumb's Zap Comix, in 1968. Our comix appeared in underground papers, and actually, that's how they got their name. Yes, Summer 1966, I came to New York, looked up my friend Eve, who was managing editor of the East Village Other (EVO) and met the publisher, Alan Katzman, and the editor, Walter Bowart. I did a little proto-comic drawing for them and slipped it under their door when the office was closed, and next thing I knew, they had printed it. So that started me. Wearing my boutique hat, I made some clothes for Walter (A jacket made out of the American flag, which became his trademark jacket) and others of the staff, and in return they ran a strip I drew to advertise my boutique, only the strip was so psychedelic that most people didn't know it was an ad, they just thought it was a cool strip.
I had been living in Los Angeles until 1966, when I moved to N.Y, and the East Village. Then I went back to L.A. in February of '68, to spend a month, and finally moved to San Francisco in December of '69, vowing to never experience another New York Winter. Looking back, it seems pretty clear that every Winter, I heard the call from California. I can relate to all those Mamas and Papas songs that basically say I used to live in New York and I hated it (All the leaves are brown and the sky is grey and everything is dark and dirty), but now I live in California and I'm happy (And young girls are coming to the Canyon!).
Tell us about the Laurel Canyon days:
Well, of course, the weather was always perfect, and we did a lot of just plain hanging out. We would go to someone's house or people would come to our house -- always unannounced! -- and just hang out. These days you have to make appointments at least a week in advance via email, to have lunch! What happened? Did we just have more free time in those days?
I spent the month of February, 1968, in L.A., staying with various friends. For only two of those weeks did I stay in the hills, the other two in the flatlands. (Although my ex-husband and I HAD lived in the canyon in the past, in a house owned by an old silent movie actress, on Wonderland Drive) I looked up David Crosby, who had been one of my best friends before I left for NY, and met Joni through him. He was producing her first album, I believe. Funny thing was, I didn't really know much about Joni till I met her through David -- hadn't been to the L.A. folk clubs for at least two years, but a drummer I had briefly gone out with in N.Y. had come back from a visit to L.A. to record an album, and he brought back a huge purple crystal, which he proudly told me was a gift from Joni Mitchell. So I knew her name!
And since then?
First there was the boutique, and while I was running the boutique I was already drawing comics for the local underground paper, the East Village Other, and I simply started to get more and more into comics. Then, in late '69, there seemed to be a lemming-like migration of all East Village underground cartoonists to San Francisco, which was kinda the Underground comix mecca, and I caught a ride across country with Fabulous Furry Freak Brothers cartoonist Gilbert Shelton. I was already pregnant with my daughter, Casey, and I gave birth to her on June 2nd, 1970.
I arrived in San Francisco just in time for Altamont, which to me signaled the end of the 60s. I also discovered that the comix scene in San Francisco was a closed Boy's Club, into which I was not invited, so I joined the staff of the first Woman's Liberation paper on the West Coast, "It Ain't Me, babe," becoming their unofficial staff cartoonist and art director. With their moral support, I put together the very first ever all-woman comic book, "It Ain't Me, Babe." Two years later, in '72, I was one of the Founding Mothers of "Wimmen's Comix," the longest lasting (1972 - 1992) all woman comix anthology book.
Fast forward to the early 90s, and I realize I have never really been accepted into comics, either mainstream or underground, so I start writing books, first, a history of women cartoonists, to once and for all put the lie to the myth that women had never drawn comics. Now, 15 years later, I still have to correct people who call me a cartoonist. I'm a writer of many good books, not all about comics by a longshot, with others on the way. I feel loved and accepted in the world of writing more than I ever did in the comix world, and I'm happy.
O yeah, and I'm grandmother of the cutest two-year old girl in the universe!
re: The upcoming "Art of Nell Brinkley" book:
I've just finished all the nervewracking Photoshop work with the illos, and now am putting them all together in order, numbering them and writing captions. I have a June deadline and I do believe I'll get this book to the publisher in May. I'm overdosing on gorgeous drawings of women, like eating a straight diet of chocolate cake.
Visit TrinaRobbins.com for more.