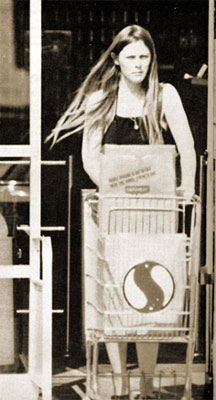 Annie leaving the Topanga Safeway with more food for everyone.
Annie sits you down to eat
She always makes you welcome in
Cats and babies 'round her feet
And all are fat and none are thin
None are thin and all are fat
She may bake some brownies today
Saying you are welcome back
She is another canyon lady
"Here's the recipe from those days, an oldie but goody for sure." -
Annie
Classic Brownies
1/2 cup butter
1 cup sugar
1 teaspoon vanilla
2 eggs
1/2 cup cocoa
3/4 cup flour
1/2 teaspoon salt
1/2 teaspoon baking powder
3/4 cup chopped walnuts
Cream butter and sugar. Add vanilla and eggs. Beat until light and fluffy. Add cocoa and mix thoroughly. Sift flour, salt, and baking powder together. Stir in the sifted dry ingredients. Add 1/2 cup walnuts. Spread in a greased 8-inch square pan. Sprinkle with remaining nuts. Bake at 350 degrees for 25 minutes.