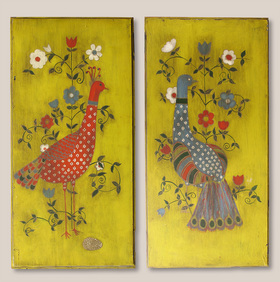 Bob Santoro sent us this photo and wrote:
After Joni and Chuck Mitchell split up, she left in their apartment on Ferry Street in Detroit a vanity that she painted. These were painted on the back of the two closed mirror panels. Chuck Mitchell gave my wife and I these gems, which he assured us was Joni's artwork.
An interesting sideline, an old woman, Madam Joneal (probably spelled wrong) (a teacher) who lived across the hall of this 5-story walk-up remembered Chuck and Joni living there. She told us that Buffy St. Marie and Gordon Lightfoot used to visit them and play cards. Also, Joni painted one of the rooms with a large bay window, all red. She used it as her music room; which I also did when we moved in. I am also a musician and artist, so I was thrilled to share the space where Joni may have composed some of her music while living with Chuck.
We were the third couple to sublet the apartment from Chuck Mitchell. He was looking for artist types to take over the sub-lease; both my wife Chris and I are artists, so I think that helped us get the apartment. We moved into the apartment in 1971. We baby-sat some of Chuck's furniture, until he came back a few years later to reclaim it. That is when he gave us the Joni Mitchell hand-painted vanity table with mirror doors. Each panel is 12x24 inches.
Chuck Mitchell responds:
Who am I to rain on Bob Santoro's parade? More on that in a minute.
Mme. Jonille is, or was, real, a hardy woman (like us, she negotiated five flights of stairs several times a day), 50 something in the 1960's, an immigrant, very Gallic, taught French at Wayne State University.
I suspect the card playing folkies Buffy St. Marie and Gordon Lightfoot are apocryphal card players, I don't recall that either of them played in our card games [ed note: Buffy has verified that she did not]. We did play cards a lot, gin rummy (the two of us, Joni always, always, won at least 3-1 on points), and a poker/whist cross breed called "Buck Up". Our all night card playing Buck Up buddies were Cedric and Joan Smith, from Stratford, Ontario.
Cedric was (probably still is) an actor (CBC, Stratford Shakespeare Festival) and a wonderful folkie entertainer who played guitar, did early George Carlin riffs and Tom Lehrer songs as well as UK and American folk songs, including Joni's. Circa 1966 he did a tour of the UK and introduced the Brit audience to "I Was Born to Take the Highway" and other Joni songs. And (as I recall) got us (Gandalf Publishing Co.) connected with the Essex Music Group and one Graham Churchill. Joan was his wife, of course, also wonderful, but not an entertainer.
I have a wisp of memory of Bob Santoro. I do not recall for sure whether I left furniture behind at 96 W. Ferry or not, but I believe I did, because I bailed for Coconut Grove and a converted one room garage apartment in 1968, and then for California, and the furnishings Joni left me when she left (Joni split what we had 50/50, but I wasn't around to help decide who got what) ended up in my Santa Monica, California apartment circa 1971. I'd have to check with a guy named Paul, whose last name I believe was Hofstetter, also an artist and a guitarist, who was the first in the string of sub lessors. I believe Santoro followed him.
As for the vanity, if we're verifying for money, which is to say do I know without a doubt that she was the author (artist) who made those vanity mirrorback paintings, I'd go 90 + %. The greenish background looks like the same antiqueing paint that Joni used to decorate my grandfather Charlie Mitchell's steamer trunk (I still have the trunk). And I think we painted the bathroom trim with that paint. It went well with the cedar shingles we hung on the bathroom wall.
The fowl are typical Joni birds of the era, most of my siblings have an acrylic bird (plumper and cuter, modified to fit different spaces) hanging in their homes to this day. Christmas gifts, as I recall.
As for the provenance of those panels, if he said I gave them to him, I'm sure he's right. I was into Hieronymus Bosch back then, not American (or Canadian) primitive, or whatever it is. And by 1971 I was remarried, and Joni art wouldn't have sat well in that setting. The non-Joni art that furnished 96 W. Ferry, the big chairs and the stained glass windows from the home for unwed mothers in Saskatoon [Saskatchewan] (it had been a rich banker's house before its social conversion), that was great stuff and it made the move. I still have the windows.
The panels do look good today, though. When I [first saw them again], I thought "wow, those look familiar".
Well. That was fun. You got my memory bank churning. Now I wonder what happened to Paul Hofstetter, haven't seen him in at least 25 years, though I think he stayed in touch with my mom.
Chuck Mitchell has a web life too. Visit the singer and the actor.