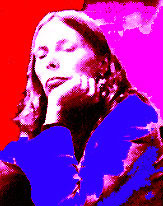 In NYC 1978. Photo by Sue Mingus
Of the darkness in men's minds
What can you say
That wasn't marked by history
Or the TV news today
He gets away with murder
The blizzards come and go
The stab and glare and buckshot
Of the heavy heavy snow
It comes and goes
It comes and goes...

April of 1978 was an eventful month. First up was the release of The Band's farewell concert on record and on film, called "The Last Waltz." The film, directed by Martin Scorsese, was a critical hit and lauded as one of the very best ever live concert films; and the album was also well received by radio, and debuted on the Billboard charts the last week of April, peaking at #16. Other artists in "The Last Waltz" were Eric Clapton, Van Morrison, Neil Young, Bob Dylan, and others. Of the 3 songs Joni had performed at the concert back in November 1976, only "Coyote" made the cut. But it was a stunner!
Next Joni was contacted through convoluted channels by bass player, composer, and jazz great, Charles Mingus, who had been introduced to her music by a friend of a friend. Mingus thought Mitchell was a gutsy artist with a sense of adventure, and he wanted Joni to consider working with him on an adaption of T.S. Eliot's "Four Quartets" He wanted her to edit down the text, and he'd write a score for full orchestra, bass and guitar, and alternate her singing with a narrator reading excerpts from the text. Joni thought the idea was quite original, but after reading Eliot's work, she nixed the project, saying that she'd much rather condense the Bible. A few weeks later, Mingus called and told her he'd written six melodies especially for her, and he wanted her to write lyrics to the tunes he'd named "Joni I-VI".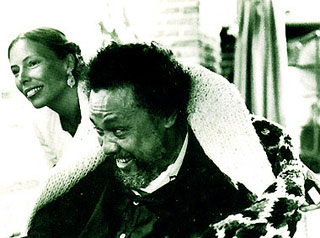 with Charles Mingus in 1978. Photo by Sue Mingus
Joni had never worked musically FOR someone else before, but she accepted the challenge, and flew to NYC where Mingus had a home, residing at the Regency Hotel the weeks that she spent in the city. Mingus had the disease known as Lou Gehrig's disease (emyotropic lateral sclerosis), and was in a wheelchair by the time that he and Joni met. In
Downbeat
, she says of their first meeting, "I went out to visit him, and I liked him immediately. He was devilishly challenging...I never knew him when he was well, and I never heard him play; he was paralyzed then."
Joni and Charles had decided that they should add 2 songs from his portfolio to the 6 he'd written just for Joni, and one of these was perhaps his most famous composition, "Goodbye, Pork Pie Hat". (Joni had a writer's block on that one for three months until she had an encounter in N.Y.C. with drummer Don Alias where they came up from the subway and saw a bar named "Pork Pie Hat Bar").
In New York City, Mingus and Mitchell got together for long afternoon visits to discuss the music, and later she travelled to Mexico with him and his wife, Sue, to visit some faith healers whom Charles felt could help him with his medical condition.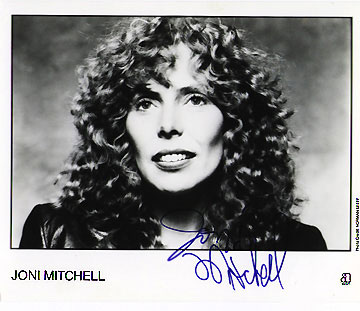 Asylum promo picture for the Mingus LP. Photo by Norman Seeff
"Now Charlie's Down In Mexico
With the healers
So the sidewalk leads us with music
To two little dancers
Dancing outside a crowded black bar
There's a sign up on the awning
It says 'Pork Pie Hat Bar"
And there's black babies dancing...
Tonight!..."

Joni drove back alone from Mexico, and decided to stop and visit legendary New Mexico based painter Georgia O'Keefe. Joni and a girlfriend had attempted to drop in on O'Keefe the previous year, but had chickened out at the last minute. This time Joni followed through and was welcomed by Georgia and her companion/attendent, Juan Hamilton. Joni stayed for five days, and one evening over dinner, Georgia said she'd had some desire in her youth to be a musician, but she'd felt that one should concentrate on a single creative area, so she'd chosen painting. She told Joni, "You can't have it all." Joni replied "Yes, you can. I have my painting AND my music." And Georgia leaned across the table and said 'Oh, really!" And one could imagine her there in her 90's starting a new career in the music field.
Joni premiered a couple of the songs she'd been working on at the annual Bread & Roses Festival in the SF Bay Area in September. She sang an acapella version of "The Dry Cleaner From Des Moines" (then called "Fool's Paradise"), was joined by Herbie Hancock on keyboards for "Chair in the Sky" and "Goodbye, Pork Pie Hat", and then sang a song she'd had hanging around for a year or so called "The Wolf That Lives in Lindsey." She utilized a tape of wolf sounds she'd come across that weekend as a background for her guitar and vocal version of the L.A. highlife song.
Joni in Los Angeles, 1979. Photo by Debby Chesher
I'm waiting For the keeper to release me
Debating my sentence
Biding my time
In memories
Of old friends of mine ...
In daydreams of Birdland...

Mingus died in January 1979 before the album was finished, but he'd heard all but 1 of the lyrics that Joni had written for his melodies. This last song, "God Must Be a Boogie Man," was written by Joni after reading the first four pages of Mingus' autobiography, "Beneath the Underdog." Joni continued working on the songs, finally coming up with sets of lyrics for 3 of the 6 melodies he wrote for her, plus "Goodbye, Pork Pie Hat." These 4 collaborations, plus her originals "The Wolf That Lives in Lindsey" and "God Must Be a Boogie Man" completed the album, and Joni included as links between the songs, bits of tapes of Charles talking about his life that Sue Mingus gave her after Charles died.
She told
Downbeat
, "the four (songs) that I
did
. complete were all inspired: either I stumbled across pieces of poetry on the street, or they came to me in mysterious ways-they were meant to be." After trying sessions with various musicians, including some of Mingus' favorites, she decided on an electric-based band although Mingus had preferred acoustic instruments. The final band was Herbie Hancock (keyboards), Wayne Shorter (saxaphone), Don Alias (percussion), Peter Erskine (drums), and Jaco Pastorious (bass). The album was scheduled for release in early June.
During the month and a half between her finishing the final mix for the album and it's release, she gave a series of interviews to magazines like "downbeat" and "Rolling Stone," (her first interview with this music mag since the early 70's when they facetiously printed a branch tree showing her connections in the music industry and implying whom she'd slept with.)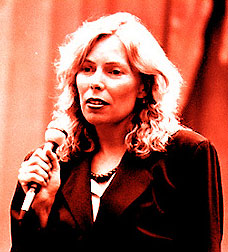 Bread and Roses Festival, 1980. Photo by Leslie Mixon
In early May, she joined a group of musicians performing in front of the Capitol in Washington, D.C. at an all-day benefit concert against the reckless use of nuclear energy.
About a week before the album came out, Joni joined with Herbie Hancock, Tony Williams, Don Alias, and Jaco Pastorious at the UC Jazz Festival in Berkeley, Ca. This show was the real premiere of the completed Mingus songs. The performance, although short (40 minutes), allowed loose jazz improvisations on the new MINGUS songs and a couple of older songs, including "Black Crow," and "Coyote."
Also in May came the completion of a coffee table book of paintings and drawings from 6 Pop Stars including Joni. Put together by Debbie Chesher, the book contains 43 paintings and drawings created by Joni between 1968-78. There are also descriptions by Joni of the paintings and the process of their creation. This book has become a very rare find!
Joni headlined the Playboy Jazz Fest at the Hollywood Bowl in L.A. on June 15, playing with the same line-up as at UC Jazz in late May, except that bassist Gene Perla substituted for the ailing Jaco Pastorious.
The album MINGUS was released in June to a relatively positive response, but no airplay from either jazz stations or the pop/rock stations that had supported Joni's music in the past. Topping out at #17 on the Billboard album charts, which was a higher placement then her last LP, DON JUAN'S RECKLESS DAUGHTER, MINGUS still fell short of gold status, her first album since the 60's to not sell at least a half-million copies.
Joni's summer tour to promote MINGUS began on August 3 in Oklahoma City and concluded 6 weeks later with five shows at the Greek Theater in L.A. where she recorded and filmed the concerts.
Other cities on her tour included New York and 2 nights in San Francisco.
When the tour ended, Joni began a year of work turning the tapes from the L.A shows into a 2 album set AND a concert film, both to be called SHADOWS & LIGHT. This would be her final release on Asylum Records and her second live double-album. It was released in September 1980, and made it up to #38 on the Billboard charts. A single from the LP, "Why Do Fools Fall in Love?", Joni's duet with The Persuasions (her opening act for the tour), bubbled under on Billboard, just missing the Hot 100. The film premiered first on cable in December 1980, and was released on video and laserdisc early the following year.
"I'm down to a roll of dimes
I'm stalking the slot that's hot
I keep hearing bells all around me
Jingling in the lucky jackpots
They keep you tantalized
They keep you reaching for your wallet
Here in fools' paradise!...

Joni scheduled herself to perform during B.B.King's set at the annual Bread & Roses Festival in October, 1980. During the day, she also dropped in during a set change for an impromptu duet with Joan Baez, on the Baez tune, "Dida."
B.B. surprised Joni by calling her out to sing with him on his signature tune, "The Thrill is Gone." She valiantly struggled through a tune she didn't truly know, and then sang a couple of songs (including one called "Man To Man") from what would be her "return to pop" album, and next release, WILD THINGS RUN FAST.
"No demands
Just pleasurable sensations
Hand in hand
No far reaching plans
No, no-hand in hand
Well I keep on trying to understand
Daylight bright
How come I keep moving
From man to man to man?
Giving my sweet love-
Tasting sweet love-
Real sweet love-
Woman to man...

---
Back to Biography table of contents