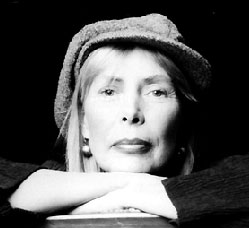 Photo by Yvette Roman
They were laughing, they were dancing in the rain
They knew their love was a strong one
When they heard the far off whistle of a train
They were hoping it was going to be a long one
And oh, oh, my my
When that train comes rolling by
No paper thin walls, no folks above
No one else can hear love's cries...

The March 25, 1995 issue of Billboard magazine announced that on December 6th, Joni would be presented with their highest honor for creative achievement, the Century Award. Past winners of the Billboard Century Award include George Harrison, Buddy Guy, and Billy Joel. The award has been presented annually since 1992 "to an artist to acknowledge the uncommon excellence of a still-unfolding body of work." The 1995 Billboard Century Award was the first of many awards Joni would receive over the next two years.
The April issues of Mirabella and Vogue magazines contained interviews with Joni. In Mirabella, writer Ken Tucker asks Joni about her influence on pop music, the disappointing sales for her album Turbulent Indigo, her painting, and her life of "colorful experiences that I'd like to turn into short stories." In Vogue, Charles Gandee talks to Joni about ageism in pop music, the critical praise for Turbulent Indigo, and her new beau Donald Freed. He also briefly mentions the daughter she gave up for adoption.
The June 10th issue of Billboard heralded the fact that Music For Little People/Warner Bros Records had released the album Hand In Hand, an all-star compilation of songs about being a parent. Songs on the album included Joni's "The Circle Game."
Also in June, Amy Grant's version of "Big Yellow Taxi" became an Adult Contemporary Top 20 hit, spending the entire summer on easy listening stations around the U.S. Amy says: "I really like Joni Mitchell. She was an artist whose records I listened to with the same intensity that I perceive the girls that write me listen to my stuff."
In July's Musician magazine (Special 200th Issue), the Fast Forward section focused on "Joni Mitchell's Home Studio." Writer Bill Flanagan visited Joni at her Bel Air home and spent time talking to her in her home recording studio and her kitchen, where she said she does most of her creating. This I/V was conducted before Joni received her VG-8 computer brain and Parker Fly guitar (May 1995) because she talks only about her acoustic instruments, including her small custom built Collings Baby. She also discusses what types of microphones and recording equipment she uses on her albums.
On July 3rd and 4th, "CBS This Morning" ran a two part I/V with Joni by Mark McEwen. They discussed David Geffen, Joni's post-polio syndrome problems, her making of the album Turbulent Indigo with husband Larry Klein after they had just decided to separate, and so on.
The August issue of Mojo magazine featured a cover story called "100 Greatest Albums Ever Made." The Hissing of Summer Lawns ran at #78, with Blue at #18.
On the night of August 21st, Joni's first appearance on Jay Leno from February (she sang "Sex Kills") was rerun on NBC.
On August 29th, 1995 the Joni Mitchell Homepage was launched on the World Wide Web. Built and maintained by collector and archivist Wally Breese, it filled a hole in the net as far as information about Joni was concerned.
In September, Reprise Records released the soundtrack to the TV series "Friends." Joni's original vocal for her composition "Big Yellow Taxi," set over a hip-hop backing track, was one of the songs on the collection. It was a radical reform of the song, co-produced by Mitchell. Also on the soundtrack were The Rembrandts, Lou Reed, Hootie & The Blowfish, Toad The Wet Sprocket, Barenaked Ladies, k.d. lang, Grant Lee Buffalo, The Beach Boys, Paul Westerberg, Jonathan Edwards, R.E.M., The Pretenders, and Lisa Kudrow (actress from the series). Fragments of songs that Kudrow performed on previous episodes, as well as dialogue from the show, was interspersed between tracks.
Released about the same time was the Mammoth/KCRW Records CD and cassette RARE ON AIR : Volume 2, which was taken from live sessions from KCRW-FM's "Morning Becomes Eclectic." Joni has one cut on this collection, "Just Like This Train," from her 9/12/94 appearance on Chris Douridas' radio program. This was the final public performance (so far) of Joni and her ex-husband Larry Klein. Other artists on the compilation disc were Aimee Mann, Jackson Browne, The Cranberries, Lloyd Cole, Cibo Matto, Bettie Serveert, Tanya Donnelly, World Party, J.J.Cale, Philip Glass, Sebadoh, Vic Chestnut, and MC 900 Ft. Jesus.
October's issue of the magazine Hypno:The World Journal of Popular Culture, featured an interview with Joni by Maynard Keenan of the group Tool. The two musicians discuss music and art and how they relate. Joni said: "Major chords to me are like the primary colors, and the minors are just a darkening of those colors in a way. So when you get into hybrid chords, like mixing orange with indigo and white to get green...those are the colors I like harmonically. I always liked odd colors in my ear."
In the November 2nd issue of Rolling Stone was an article on the book "Rolling Stone Images of Rock & Roll." A collection of nearly 200 photographs, the book chronicles the evolution of rock & roll. It featured a photo by Norman Seeff that is incorrectly labeled as being from 1976. It's one of the series which features Joni in her pool from the session shoot for The Hissing of Summer Lawns. The album itself was released in late 1975, so the photographs had to have been taken in 1975 or earlier. The cover story in this issue of Rolling Stone was on Alanis Morissette, who had became the first Canadian born female to make it to number 1 on the Billboard album charts, beating Joni's 21 year record of 4 weeks at number 2 for the album Court & Spark.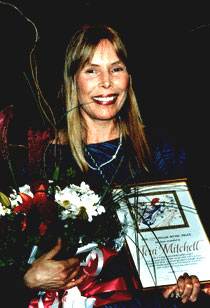 Photo by Stefan Roos
On November 5, Joni performed a short set at a dinner honoring cartoonist Garry Trudeau at the Waldorf-Astoria Hotel. She was accompanied by drummer Brian Blade, whom she'd met that past May at the New Orleans Jazz Festival.
On November 6, Joni gave a kamikaze concert at a club in NYC called The Fez. She played her new green electric guitar, and was once again joined by drummer Brian Blade. The concert was announced only once on local NY radio, yet this 200-person capacity club was filled with fellow musicians such as Natalie Merchant, Eric Andersen and Victoria Williams. Chrissie Hynde of The Pretenders and Carly Simon had an altercation there due to Hynde's rowdy behavior - she kept yelling out to Joni throughout the show. The ironic part about this event to me is that Joni had seen The Pretenders a few days earlier (on the 4th), and backstage after that show, Chrissie was in a bad mood because at both that night's performance and the one a couple of days before in L.A., women in the audience had been yelling out to her all through her show. She said she found it distracting. Just a few days later, Chrissie was the screaming woman in Joni's audience.
The December 9th issue of Billboard featured Joni on the cover (A rarity). "Joni Mitchell, The Century Award" featured Timothy White's masterful essay on Joni called "Portrait of the Artist." White discussed Joni's lengthy career and included a great deal of new information, particularly about Joni's childhood. He also included three wonderful photos of Joni between the ages of about 3-8, and reflects on a recent visit with Joni when she had a pot luck dinner for her friends at her Bel Air home. (Lucky guy!).
On December 6, Joni received her Billboard Century Award after an eloquent and perceptive introduction by presenter Peter Gabriel. He introduced a three and a half minute film on Joni's career that included short clips of rare performances: "The Johnny Cash Show" on ABC-TV in 1969, the Isle of Wight Festival in the summer of 1970, etc. The film also had reminiscences from David Crosby, Graham Nash and Billboard's own Timothy White. Joni's acceptance speech was notable for her remarks about the difficulty of being a woman in the music industry in the early years, and for her thanks to "music lovers" and those folks who've kept her going through the years by coming up to her and telling her how much her songs have meant to them.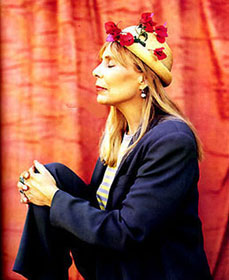 Photo by Jon Ragel
On December 8th, "CBS This Morning" taped Joni's lengthy (for U.S. TV) appearance for later broadcast in early January. Joni performed a few songs, talked to Mark McEwen and the other hosts of the show, and took questions from the audience.
On December 12, Joni made a second appearance on "The Tonight Show with Jay Leno" and sang a new tune called "Love Puts on a New Face." Brian Blade joined her on drums.
The 12th was also the day that Joni first heard about the Joni Mitchell Homepage and gave her approval to my project.
On January 3rd, between 8 and 9 AM, "CBS This Morning" broadcast the show it had taped with Joni on December 8th.
On January 4th, the Grammy nominations were announced and Joni received two, for Best Pop Album and Best Recording Package for her album Turbulent Indigo.
In early January, Stephen Holden's article in the New York Times chastised the Rock and Roll Hall of Fame for not yet inducting Joni. In "Too Feminine For Rock? Or Is Rock Too Macho?" Holden says: "The slighting of Ms. Mitchell glaringly illustrates the Hall of Fame's most serious bias: its disdain for folk-oriented soft rock, especially when made by women." A strong case could be made for this article, which was syndicated around the U.S., being the reason that the Hall of Fame finally decided to induct Joni the following year.
On January 10,1996 Reprise released a single of "Big Yellow Taxi" remixes. The original "Friends" Album Version had come out the previous September, but this single had six new versions that are startling in their contrast. My favorite is the Original A Capella with Guitar version that has no overdubs (no shoo bop bop's). I also recommend the soothing Radio Mix.
On February 19th, Canadian TV aired an hour long interview with Joni by Pamela Wallin, Canada's Barbara Walters. Before the show aired, I was contacted by Wallin's assistants who told me that they'd used the homepage to conduct much of their research for the interview.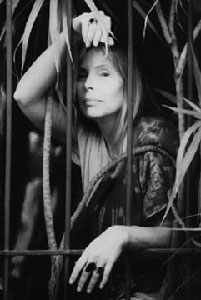 Photo by Gregory Heisler
On February 27, Joni was presented with the Orville H. Gibson Award for best Female Acoustic Guitar Player. Joni said "I'm an electric player now, but it's a great charity" (referring to the Nordoff-Robbins Music Therapy Clinic that benefitted from the awards dinner).
At the 38th annual Grammy Awards show on February 28th, Joni went in as a dark horse for Best Pop Album, and as a definite contender for Best Album Packaging. When the winners were announced, Joni won both of the Grammys for which she'd been nominated!
A few days later on March 2, 1996 Canada's equivalent of the Emmy Award, called the Gemini Award went to Joni for Best Performance in a Performing Arts Program for her live ninety-minute appearance on Much Music's "Intimate & Interactive" show, which aired back in September 1994.
On both March 10 and March 17, the New York Times ran Reprise Records half-page ads for Turbulent Indigo touting Joni's Grammy wins. Both contain the Reprise URL for their website, which leads directly to the homepage here.
In March, the film and 2 CD set called Message to Love which contained performances from the 1970 Isle of Wight Festival was first released in the U.S. It'd been available in the U.K. since the previous August.
Music journalist, Daniel Levitin, interviewed Joni on April 5th for an issue of GRAMMY, the in-house magazine of the recording academy (N.A.R.A.S.). Daniel wrote me that Joni had been gracious and very smart, and that she'd commented on Joan Baez's lyrics about Dylan, "The original vagabond/The unwashed phenomenon" by saying that's because he never bathes and he smells bad!
In the April 16th, 1996 issue of the tabloid newspaper The Globe, there was an article entitled "Heartsick Joni Mitchell Hunts Baby She Gave Up."
The May 2, 1996 episode of the series "Friends" featured music from last fall's soundtrack album for the hit TV show. During a party scene, Joni's "Big Yellow Taxi" was one of the songs playing in the background. In fact, it was heard twice during the broadcast. We could've hoped for a guest appearance like Chrissie Hynde did, but I guess we should be thankful for small favors, eh?
We pushed the bed against the window
to see the Christmas lights
On the east bank across the steaming river
Between the bridges lit up Paris-like
This river has run through both our lives
Between these banks of our continuing delights
Bless us, don't let us lose the drift
You know, happiness is the best facelift...

Joni was in Sweden the week of May 6th to accept her Polar Music Prize, which is rather like the Nobel Prize for music. Along with the prize, Joni received a cash award of $150,000 dollars, given to her for her years of peerless creation in the music field. Also receiving the Polar Prize this year was French composer and conducter, Pierre Boulez, who in addition to his classical work, has collaborated with legendary rock-original Frank Zappa.
In May 1996, Robbie Cavolina, Joni's art director, e-mailed me with an offer to assist him and Joni with some research for the liner notes of "Misses," one of her two upcoming anthology CD's. Robbie asked me to search through my newspaper and magazine archives and send him any reviews etc. which had a particular slant, so I sent all I could find. Joni changed direction, however, because she was unable to find the proper tone for the liner notes; then time ran out and the notes were abandoned altogether. I did receive a thanks from Joni in the credits for "Misses," and that, of course, was satisfying.
The June issue of U.K. music magazine Mojo featured a cover story on the "100 Greatest Guitarists of All Time." Joni was listed as #77, and they spotlight her work on the track "Coyote."
On June 16th, music station VH-1 broadcast portions of "The Dick Cavett Show" that was filmed the day after the end of the Woodstock Festival (August 19, 1969). Jefferson Airplane played a few songs and talked, but none of Joni's four songs from the original program were shown. She did appear briefly in the circle conversation segment when David Crosby and Stephen Stills arrived fresh from the festival.
July's issue of Details magazine had a small interview with Joni in which they portrayed her as "all complaints" about many things, including David Geffen's treatment of her career at Geffen Records. Later in the same issue, Geffen got to respond to her comments about him.
In July's Musician, Gene Simmons of Kiss says of Madonna: "She's the queen of all women and you know it. There's no single female walking the face of the planet who's made a bigger impact. If you can think of any, tell me." The interviewer Matt Resnicoff responded with "Joan of Arc, Joni Mitchell?" to which Simmons said "They didn't get rich, she did. She wins!"
Most of you regulars know how important saxophonist Wayne Shorter has been to Joni's music for many years. He's also a close friend of hers. I'm very sorry to report that Wayne's wife Anamaria was a passenger on TWA Flight 800, which tragically exploded after departing from New York's JFK Airport on the evening of Wednesday, July 17. Anamaria and her 17 year old niece Dalila (whose father is singer Jon Lucien) were headed for Paris to meet Wayne, who was touring in Europe. Born in Portugal about 45 years ago, Anamaria had been married to Wayne for twenty-five years. A private service was held Thursday evening, July 25th in Los Angeles.
Modern Rock's mopey-icon Morrissey, formerly of the seminal British group The Smiths, had a long-held wish come true on Tuesday evening July 30th, when he got to meet and have dinner with the singer-songwriter he calls his "absolute last hero"- Joni Mitchell, of course. Apparently she was very surprised to find out that he knew the words to all her songs. Morrissey was in L.A. where he'd just signed with Mercury Records to begin recording a new album in September, to be produced by Steve Lillywhite of U2 fame.
The August issue of Acoustic Guitar magazine featured an in-depth interview with Joni that focused on her innovations as a guitarist; It was great to see that she rated the cover and lead article.
Jeffrey Pepper Rodgers, the founding editor of the magazine, talked to Joni with a unique slant that allowed her to elaborate on subjects that varied from the usual interview drivel. She discussed how she developed her unique playing style, where she found her first dulcimer, her favorite (now lost) 1956 Martin D-28 guitar, and her 51 original tunings.
I'm always enthused when Joel Bernstein allows his photos to be used, and throughout the article, there were photographs of Joni taken in his warm and casual shooting style. My favorite is a shot of Joni on stage at the New Orleans Jazz & Heritage Festival in May 1995. Gorgeous!
Joel was also Joni's guitar technician for many years, and he provided the magazine with information on Joni's rare guitar tunings. Included was a transcription of "Just Like This Train."
The August 24th issue of Billboard magazine had Melinda Newman interviewing Joni about her upcoming retrospective CD's, Hits & Misses. In a track by track review, Joni discussed the songs that are on the album, plus a few songs that didn't make the final cut: "Car on a Hill," "Dreamland" and "The Windfall."
In September's Acoustic Guitar mag was an article entitled "100 Essential CD's." Joni's 1971 classic, Blue, is included.
"I fall apart
Everytime I think of you
Swallowed by the dark
There is no center to my life now
No grace in my heart
Man from Mars
This time you went too far...

On September 10, the soundtrack for the new film "Grace of My Heart" was released. The song "Man From Mars," written by Joni, is used in the movie to underscore a funeral scene. It's an emotionally-moving song evocative of Joni's early to mid '70's work.
Director Allison Anders and her musical partner Karyn Rachtman were first able to wrangle songs from Elvis Costello, Lesley Gore, Burt Bacharach and Carole Bayer Sager, among others. They then hired Larry Klein to supervise and produce the project. Larry talked about his work on the soundtrack in the October issue of Vanity Fair. He said that he asked Joni to write a song with the feel of her For The Roses period, and she was less than enthused with the idea. (You know - she's an artist, she don't look back.) He then showed Joni scenes from the film and brought over a portable keyboard to her home to facilitate her getting into a composing mood. She soon came up with "Man From Mars."
Apparently, Joni's performance of "Man From Mars" was scheduled to appear both in the movie and on the soundtrack, but the film's director Allison Anders decided to use Kristen Vigard's (the voice double for lead actress Ileana Douglas) version to preserve continuity throughout the film. Anders still wanted Joni's version on the soundtrack but Joni felt uncomfortable having it on the album and not in the film. So MCA Records contacted their manufacturing plant and all the print items like the CD cover and label were corrected, but because the album had already been mastered, an accident happened. The first batch of CD's arrived in stores with Joni's version on it and not Kristen's. Initial news reports stated that 40,000 CD's were recalled, but it was actually closer to 19,000 copies. A few thousand copies with Joni's version of her song "Man From Mars" probably escaped the recall and can occasionally be found in used CD stores. The code for the CD with Joni's version is MCAD-11510 and for Kristen Vigard's it's MCAD-11554. As a fan, all I have to say : "Thanks for the snafu, MCA!"
On the season premiere of the CBS-TV series "Chicago Hope" on September 16, Joni's song "A Case Of You" was featured prominently. Dr. Diane Grad (played by actress Jayne Brook) sang it to a small child being operated on by Dr. Billy Kronk (played by actor Peter Berg). Billy asked Diane which Joni Mitchell album the song was from, and she told him Blue. "Depressing" he said. "Good" but "chick music" he called it. She told him that she had taken the album to show and tell in fifth grade. "Serious child, weren't you" he commented. At the end of the episode as Diane and Billy kiss goodbye, a verse from Joni's original version was heard. "Oh, I could drink a case of you and still be on my feet."
In the category of FINALLY, it was announced on September 18 that the Rock and Roll Hall of Fame's 1997 inductees would be:
The Bee Gees
Buffalo Springfield
Crosby, Stills & Nash
The Jackson 5
Joni Mitchell
Parliament/Funkadelic
The Young Rascals
Bill Monroe (early influence)
Mahalia Jackson (early influence)
Syd Nathan (nonperformer)
With their action in inducting Joni, the Hall somewhat redeemed itself in my book. After 4 frustrating years, they made up for a bit of the sexism and conformity in their process and accepted Joni into the ranks where she belongs. Joni is the first Canadian woman ever inducted. Reports stated that the ceremony would be held on May 15, 1997 at the Rock and Roll Hall of Fame Museum in Cleveland.
"I had a man in summertime
with summer colored skin
And not another girl in town
my darling's heart could win
But when the leaves fell trembling down
And bully winds came around and rubbed their faces in the snow
He got the urge for going, and I had to let him go
He got the urge for going
when the meadow grass was turning brown
And summertime was falling down
and winter was closing in...

---
Back to Biography table of contents