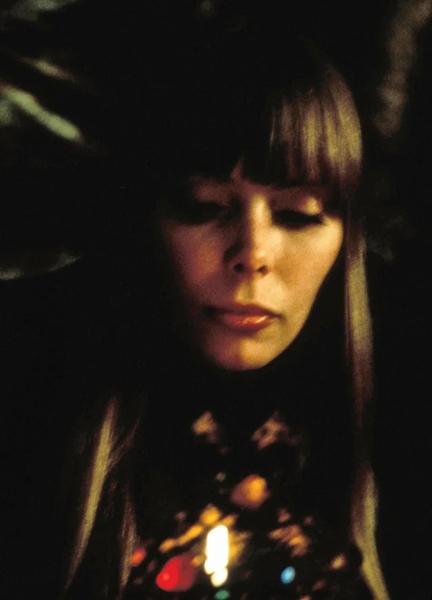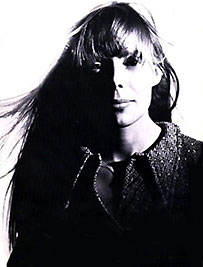 Photo by Ed Thrasher
I came to the city
And lived like old Crusoe
On an island of noise
In a cobblestone sea
And the beaches were concrete
And the stars paid a light bill
And the blossoms hung false
On their store window trees...

Joni Mitchell moved to New York City in 1967, and took up residence in the arty Chelsea district. She met Elliot Roberts in the fall and he began to manage her career, helping to open up the circuit for her in New York City.
While performing at a club in Florida, Joni met ex-Byrds member David Crosby, who was quite taken with her. David was a great help in convincing the record company to agree to let Joni record a solo acoustic album without all the folk-rock overdubs that were in vogue at the time.
His clout earned him a producer's credit in March 1968, when Reprise records released her debut album. She continued her steady touring to promote the LP, and that stimulus, in addition to the performers who were covering her songs and exposing her to bigger and bigger audiences as a major "songwriter," was causing a major buzz. At Elliot's suggestion, she moved to southern California late in 1967, and moved in with David, who became an enthusiastic promoter of Joni's and had her play at the homes of his Hollywood friends, where she got noticed by press and radio people, who in turn wrote and spoke of her talent.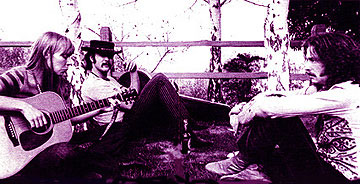 Joni with David Crosby and Eric Clapton
She played the Troubadour in L.A., getting raves from the crowds and critics; she was also a big hit in London at the Royal Festival Hall in September, and at the Miami Pop Festival on the last weekend of 1968. Accompanying her at the fest was Hollies singer-songwriter Graham Nash, whom Joni had met through their mutual friend, David Crosby.
Also in December of '68, Judy Collins version of "Both Sides Now" peaked in the national music charts top ten, and brought Joni "lots of those little royalty pennies." This songwriting success helped create an eager anticipation for Joni's second LP, "Clouds", which was released in April '69. It contained Joni's own versions of songs already recorded and being performed by other artists; "Chelsea Morning,""Both Sides Now", and "Tin Angel."
Joni's concert at Carnegie Hall in February, and a later show in Berkeley, CA were recorded for a live album, but the project was shelved in favor of a third LP of original studio performances.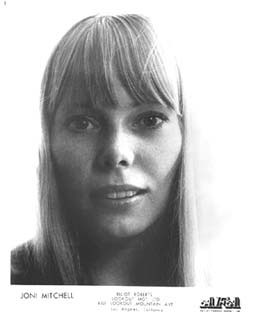 Promotional Headshot from Elliot Roberts' Ashley Famous Agency, Inc.
I've looked at life from both sides now
From win and lose and still somehow
It's life's illusions I recall
I really don't know life at all...
She moved to Laurel Canyon, L.A. purchasing a small house where she and Graham eventually lived together for a time with "two cats in the yard..."
She made an appearance that summer on The Johnny Cash Show. The series was a U.S. summer replacement series that rated very highly on ABC-TV. Joni appeared 2 more times on Johnny's show, once more later in the first season, and once in 1971.
Joni toured as the opening act for her friends Crosby, Stills, and Nash, and while at the Atlantic City Pop Festival in August, she left the stage angrily due to the inattentiveness of the large crowd. She said she'd enjoyed the intimacy of the clubs and was now finding it difficult to concentrate and perform in front of huge crowds.
Joni was scheduled to perform at Woodstock on Sunday of that weekend of love, but when the traffic jams were seen by all of America on TV that Friday, her manager advised her not to go. He was concerned that she might have trouble getting back to the city in time for a major TV appearance on the Dick Cavett Show that Monday. Still, she did create the definitive chronicle of the festival with her song "Woodstock," which was a hit for C, S, and N the next year.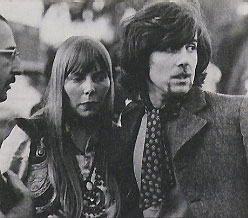 Joni and Graham at the Miami Folk Festival, 12/29/68. (Photo by Henry Diltz)
By the time we got to Woodstock
We were half a million strong
And everywhere there was song and celebration
And I dreamed I saw the bombers
Riding shotgun in the sky
And they were turning into butterflies
Above our nation...
She did an equinox festival at Big Sur in September, and this was filmed and released as "Celebration At Big Sur" (Joni's first film appearance). She was also set to do her "Songs To Aging Children Come" in the film version of Arlo Guthrie's song epic, "Alice's Restaurant", but when the movie producers demanded a half share of the song's publishing rights just for the privilege of appearing in their major Hollywood feature film, she refused. The song was sung in the film anyway by a look-a-like hippie girl with long blonde hair and a ringing soprano.
People hurry by so quickly
Can't they hear the melodies
In the chiming and the clicking
And the laughing harmonies
Songs to aging children come
Aging children, I am one...
Joni won the Grammy in March 1970 for Best Folk Performance of 1969 for her album,"Clouds."
Reprise released Joni's third album, "Ladies Of The Canyon" soon after. It was an instant smash on FM radio, and sold briskly thru the summer and fall, eventually becoming Joni's first gold album (500,000 copies).
Reviewers and listeners began to note the confessional qualities in Joni's songs, and conjecture "who's that about?."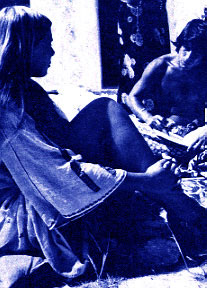 Joni in Crete. Photo by Karl Ferris
Joni made a decision to stop touring for a year and just live and write and paint, but after a few months she was persuaded to perform at the last minute at the Isle of Wight Festival. Held in August, this festival became a financial and logistical disaster, and the audience there had strong anti-performer feelings. When a stoned-out guy that Joni knew from her months in Crete jumped on stage and took over her mic ranting about how "Desolation Row is this festival...", he had to be dragged off stage. The crowd saw him as one of their own and booed his eviction until Joni chastised them tearfully about acting like tourists and not giving the performers the respect they deserved.
Now me I play for fortune
And those velvet curtain calls
I've got a black limosine
And two gentlemen
Escorting me to the halls
And I play if you have the money
Or if you're a friend to me
But the one man band
By the quick lunch stand
He was playing real good, for free...
Joni struggled with a way to remain creative while dealing with the pressures of a career with a required touring schedule. The songs she wrote during the months she took off for travel and life experience would appear on her next album, "Blue."
---
Back to Biography table of contents