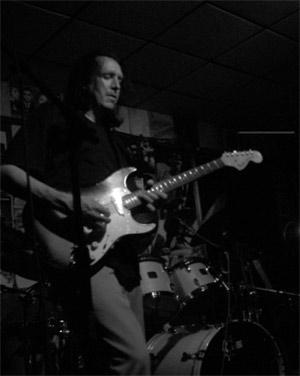 Michael Landau is one of the most important guitarists of this era. An ace studio sessionist, he has appeared in more records than we can count, in fact he has even lost track of it. James Taylor, Miles Davis, Joni Mitchell, Seal just to name a few. An ace sideman he is constantly touring, most recently with James Taylor along with musical director and ace bassist Jimmy Johnson.
Based out of Los Angeles, Mike has always been revered by musicians and fans alike, his various musical incarnations with The Raging Honkies, power trios or quartets with Vinnie Colaiuta, Scott Kinsey, Jimmy Johnson, Jeff Babko, Toss Panos, Ron Bruner, wife Karen Martin Landau speaks very high volumes of his impeccable grasp of his instrument and a deep emotion and sound that he brings out in his music.
In spite of such a big career as a sideman and sessionist, we have not had steady output of solo material as hardcore fans would like to. But that might change... After a outstanding record with Toss Panos, Jimmy Johnson and keyboardist Jeff Babko in 2002, Mike's new Release [Michael Landau Group, Tone Center] is definitely one of the hottest guitar records of the year. Recorded Live at the world famous "Baked Potato" it features Abstract Logix Recording artist Scott Kinsey on keyboards, Jimmy Johnson and Chris Roy on bass, Gary Novak and the flamboyant Ron Bruner Jr. on drums. The music on the record is full of emotions, rich tones and everything you would expect from Michael Landau.
AbstractLogix: I still remember being in my early teens and stumbling upon Joni Mitchell's "Wild Things Run Fast" and completely in awe with your guitar sound and approach? How were those days? How did you guys work?
Michael Landau: That period of recording and touring with Joni was definitely a highlight for me. The tour was a world tour that lasted about 8 months. I think I was 24 years old then and yea, we were all haven a good old time and gettin' crazy drinking too much. Joni gave us all a lot of freedom to go where we wanted to take the music, she liked the harder sounding side of that band (Vinnie, Larry Klien & Russel Ferante) so we went with it.
AL: How were you guys writing the tunes, did Joni come with the melodies in piano and guitar and you would put your take on it ? Was any of the live material improvized or everything was structured out?
ML: Joni would show us the chord changes to the tunes on guitar or piano and she left it up to us what to play on it, sometimes we would try different ideas, but we usually stuck with the initial feelings.
AL: I was reading somewhere that you played with Miles, did that happen?
ML:
I've only recorded on one Miles album on one track on the "Amandla" record. George Duke was producing in Los Angeles and I'm sorry to say that I never had the experience of meeting Miles or playing with him live.
AL: Mike, someone was telling me about a band you had with Vinnie Colaiuta called 'Dog Cheese', what was that all about?
ML: "Dog Cheese" was put together right after Joni's tour. It was Vinnie, Larry Klein, Steve Tavaglione and myself. We played original music that Larry and I wrote, and played around L.A. mostly at the "Baked Potato". There are some rough cassette's floating around of live shows, it was some pretty slammin stuff. We never did a record though... Its too bad.
AL: Whats the probability that some of the rough tapes can be gotten hold off ? What was the material for Dog Cheese, were you guys taking some of Joni's compostions at all?
ML: There just a stereo mike "walkman" recordings, too rough to put out... It was all original material by Larry, Steve & myself.
AL: Mike, for me your music speaks for itself. Everything about it, your feel, passion and tone all comes out in your music. Nevertheless, whats going through your brain when you are up there?
ML: I try not to think, I try to play the melodies that are in my head.
AL: Speaking about this new record, you decided to do another live album. I know you are a studio pro as well.
ML: I had a lot of new songs that Bob Bradshaw recorded live over the last couple of years. I realized it would be a good record with some good improvising on it, and It seems to take me forever to put together a "studio" record these days so, here it is...
AL: I got to tell you man, the intro cut " The Mighty SB" sounds that you must been hearing some Charlie Brown. That solo you take at the end gave me the chills. Am I wrong or was the music at the moment ? Even Scott Kinsey felt a bit like me, and he was up there playing with you...
ML: Yea, its all about the 3 or 4 of us playing together right then, listening to each other...It becomes something larger than the 3 or 4 individuals that are playing if you know what I mean, it becomes this one big beautiful monster... It starts out as an emotion, then gets moulded into a composition, then the live performance takes it wherever it goes on that particular night. I'm glad you like it...
AL: Mike, you play in Los Angeles with your bands, and probably does not make sense for you to go out and play on the road much? Have you thought about making shows available for downloads, even maybe have a DVD released?
ML: I plan to tour in Europe and Japan on a regular basis and am also talking to some people to help book me in clubs on the East and West coast. I hope to do a "live" DVD in the near future.
AL: Mike its great that you are thinking of playing live, whats the band you are thinking of or do you want to keep rotating the rhythm section.
ML: It will probably be a rotating lineup depending on peoples schedules.
AL: Mike, do you by any chance keep a track on the number of records you have played?
ML: No, I lost track a long time ago... allmusic.com has a pretty accurate listing, I know its over 500 records.
AL: Your wife, Karen (congrats on the marriage) has a beautiful voice and an uncanny ability to write great tunes. What can we expect of Stolen Fish in the near future?
ML: Yes, Stolen Fish plays live about once every couple of months. Those people are my second family, its always a good time. Right now were recording a new album of Karen's music. The band is called "Hazey Jane". It will have Charley Drayton on drums, Greg Leisz on pedal steel, Scott Kinsey on keys, myself and others on it. I'll keep you posted. The basic tracks we've got so far are really special, beautiful songs.
AL: Have you heard the Kinsey album [Kinesthetics], Jeez man your solo rips (whats new ?).
ML: Yes, Its a great record. I was very proud to be a part of it. Scott is a very special, juicy musician and composer.
AL: How is it touring with someone like James Taylor and then adapting the next day and doing your thing?
ML: I love playing with James, His music is harder to play than it may seem, most of the cords he uses are very "pure" voicing's, you have to stick with that or it doesn't sound right. Its an easy transition for me to go back to playing my music, just a different thing.
AL: Are you listening to any other music now?
ML: My new favorites are Kirk Fletcher (The Fabulous Thunderbirds), Derek Trucks and Dustin Boyer (soop records). There's also a great new guitar/roots soul record by a young guitar player named Josh Smith. All those guys are on "My Space".
AL: So you have you heard Derek Trucks or Jimmy Herring . They are also playing sort of a blues influenced rock.
ML: I think Derek Trucks is a huge musical force, I love it. Guitar playing doesn't get any better than that. I've not heard that much of Jimmy, I'll check it out...
AL: Mike, kind of a awkard question, you played on so many records and been the best guitar sideman that I can think of, sometimes I feel that people at large did not really get a chance to know how kickass Mike Landau really is. Do you ever think of it in that sort of way? Sorry Mike, you know I love what you do and dont mean to disrespect you.
ML: No disrespect taken, but if your saying do I think I deserve to be more "famous"? Of course not, that's not why I play and write music. I would like to tour more in the future though, play different cities, spread the word a little...
AL: What I mean is the decision of you being a great sideman maybe took some time away to establish you as a solo artist ? You ever think about it that way?
ML: I try to make time to do it all, its hard to turn down sideman work when its someone you respect & enjoy working with.
AL: Mike, You have been everywhere done probably everything , whats driving you now, whats new from Landau can we expect in the future?
ML: What drives me is the great pleasure I get from playing/recording music with people that I admire. I am also addicted to the sound and feel of the guitar, I need it...I am also going to tour next year (Europe, Japan).
AL: Gearheads would love to know if you are going to get your secret out on your tone and what gear are you playing now.
ML: My live setup is pretty simple. I use a "Custom Audio Classic OD100" or a "Dumble Slide Winder" head through an open back 2x12 cab with Celestion Vintage 30 speakers. Guitar into Custom audio RS10 switcher. The pedals are all before the amp, they are: Maxon DS9, Rodger Mayer Voodoo 1, Arion Stereo Chorus (I use it in mono), Boss VB-2, Tycobrahe "Octavia", Custom Audio "Super Tremolo", Custom Audio "Black Cat Vibe", Cry Baby Wah Wah, Boss volume pedal (high impedance). I also use a Lexicon MXP-1 Processor in the effects loop of the amp for reverb and delay or I mic my cabinet and send it to the Lexicon MPX-1 which then goes to a pair of "wet" cabinets (2 Custom Audio 2x10 cabs with Celestion Vintage 10 speakers). I use "Tyler" and "Suhr" Stratocasters with "Suhr" single coil and humbucker pickups , a '68 Gold top Les Paul, a '63 Gibson SG and a '63 Stratocaster. I use D'Addarrio 10 thru 46 strings on the standard tuned guitars and 11 thru 49 on the guitars that are tuned down a half step.
My studio setup is as follows: I mic my cabinet with a Shure 57 through a Chandler mic pre. That signal is fed to the line in on my effects rack. The rack has the following in it: Eventide H3000 D/SE Haromonizer, Lexicon MPX-1, Lexicon PCM 70, Two Lexicon PCM 42's, DBX 160A Compressor, TC 1210 Stereo Chorus, Tri Stereo Chorus 618 and a Custom Audio Super Tremolo. This studio setup only works for recording because the line level processing is AFTER the cabinet sound (I insert the "rack" effects between the "dry" cabinet and the recording console). Sometimes I'll use this small pedal board that I hooked up, Its light and easy to cart around: All my pedals are "before" the amp. the pedals are: Maxon SD9 Sonic Distortion, Roger Mayer Voodoo-1, Roger Mayer Voodoo Vibe, Boss volume pedal, "Real Macoy" Wah Wah and a "Arion" stereo chorus. I also use a Lexicon MXP-1 Processor in the effects loop of the amp for reverb and delay or I mic my cabinet and send it to the Lexicon MPX-1 which then goes to a pair of "wet" cabinets (2 Custom Audio 2x10 cabs with Celestion Vintage 10 speakers)
AL: Hey Mike, thanks for the time to speak to us. We hope to hear much more from you in the future.
Photo: JEORGE TRIPPS; Used with Permission from Michael Landau.
Interview by Souvik Dutta