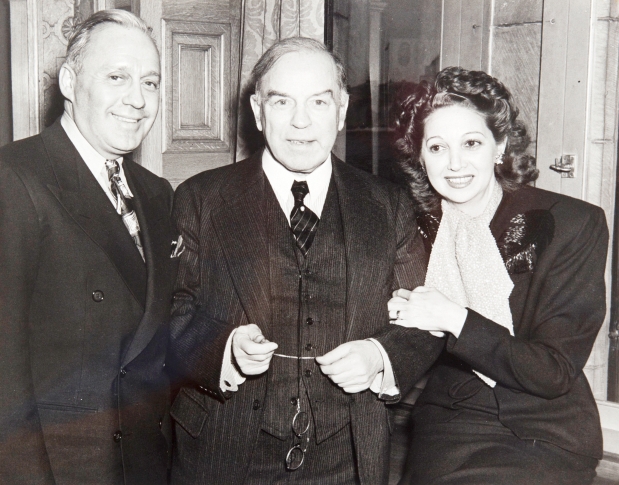 From Nazi to nobility, the Chateau Laurier Hotel has hosted more than 15 million people since 1912.

American comedian Jack Benny and his wife, Mary Livingstone, with Canadian prime minister Mackenzie King at the Chateau Laurier Hotel, circa 1940s. Benny and Livingstone, a comedienne and radio partner of her husband, stayedat the hotel after a performance at the Capitol Theatre.

Joachim von Ribbentrop: Thirty-five years before he was hanged for war crimes committed as Hitler's foreign minister, von Ribbentrop took a room at the Château to start a wine importing business. In Ottawa, the young von Ribbentrop was a man about town, popular at parties, and known for his dashing clothes and quick wit. Little is known of his stay at the hotel in 1912 except he moved to Sparks Street after a few weeks. A German patriot, he headed home to enlist following the outbreak of war in 1914.

Edward Whipple Bancroft (Dinky) Morrison: War hero, outdoorsman, historian and newspaperman (the only Citizen editor ever to earn a knighthood), Morrison was Canada's Director of Artillery as the First World War began. In 1914, he set up shop in the hotel to recruit the staff he would take to Europe. To treat his men, on the last night of a two-week stay he ordered more than 100 "flagons" of red wine from the hotel cellar for a party the Evening Citizen later described as "sufficient to summon the police wagon." Morrison paid for the damages from his own pocket.

Other notable guests of the decade: Magician Harry Houdini; painter Tom Thomson; William F. Cody, better known as Buffalo Bill; Russian ballerina Anna Pavlowa; feminist and politician Nellie McClung.

1920s

Babe Ruth: Just six days after winning the 1928 World Series, baseball's biggest star and his New York Yankees teammate Lou Gehrig came to Ottawa to play in an exhibition game against a local team in Hull. They spent the night in the Château, where a bleary Ruth was awakened the next morning by a knock on the door. The president of the Ottawa Rotary Club had come to invite him to speak at their noon luncheon. He declined. Ottawa's newspapers made no mention of how the Bambino, an infamous partier, spent the previous evening.

Bessie Smith: When the great American blues singer came to Ottawa for a performance in 1929, she got the surprise of her life: she was allowed to stay in the city's best hotel. "They don't let me do that in New York City," she told a reporter, adding that as a black woman who preferred flamboyant clothing, she attracted some strange looks on the streets of Ottawa.

Other notable guests of the decade: U.S. aviation pioneer Charles Lindbergh; writer Sinclair Lewis; Prince Erik of Denmark, who spent his wedding night in the hotel with his new wife, Lois Booth, grand-daughter of Ottawa lumber baron J.R. Booth; Canadian Olympic sprint champion Percy Williams.

1930s

R. B. Bennett: For five years, Canada's 15th prime minister lived in opulence in a 5,000-square-foot, high-ceilinged suite at the hotel while the country he ran battled the worst Depression in its history. And apart from Ottawa insiders, his life of comfort remained largely unknown until the multimillionaire bachelor was defeated in the 1935 election.

Other notable guests of the decade: Anne of Green Gables author Lucy Maud Montgomery; American auto tycoon William Chrysler; Archibald Belaney, more famously known as Grey Owl; silent film star Buster Keaton.

1940s

Jack Benny and Mary Livingstone: The droll, violin-playing American entertainer was already a wildly popular radio legend in 1943 when he came to Ottawa with his vaudeville act featuring his comedian wife. Amid the depths of the war, hundreds of fans lined up outside the Chateau to catch a glimpse of the star. Even prime minister Mackenzie King couldn't resist, requesting a meeting with the couple in the hotel lobby.

Harry Falconer "Big Pants" McLean: His name might not mean much today, but in the 1940s the "Millionaire Contractor from Merrickville" was celebrated for throwing money out of hotel windows in Toronto, Chicago and other cities because he preferred to give away his money rather than let the government tax it. Alas, his 1943 stay at the Château Laurier was a big disappointment to hotel staff, who complained he tipped poorly, and to the citizens who jeered him as he drove away without floating any capital.

Other notable guests of the decade: Sir Winston Churchill; jazz bandleader Duke Ellington; Soong May-ling, better known as Madame Chiang Kai-shek, wife of China's nationalist leader during the war; Joey Smallwood, Newfoundland's chief negotiator for the province's admission into Canada and later its first premier; actors Judy Garland and James Cagney; burlesque star Sally Rand, who created a sensation when she was hired by Freiman's department store to appear in racy lingerie at a fashion show.

1950s

Sir John Gielgud: The great British stage actor's 1958 visit to Ottawa was a mixed blessing. He attracted a sellout crowd to the old Capitol Theatre on Bank Street to hear his readings of Shakespeare - "2,700 people, if you please," he crew in a letter to a friend written from the hotel. But the actor was not so happy with the reception thrown there later by the British High Commissioner, an event Gielgud pronounced as the "usual sort of standup boredom." Even so, it was better than the after-party in Kingston the night before - "awful coffee and sandwiches in a dreadful gothic hall," he sniffed.

Other notable guests of the decade: UN secretary general Dag Hammarskjöld; legendary baseball manager Connie Mack; pop stars Pat Boone and Fats Domino; NHL commissioner Clarence Campbell; comedians Red Skelton and Milton Berle.

1960s

The Rolling Stones: The scruffy British rockers came to Ottawa for the first time in spring of 1965, just as their mega-hit, Satisfaction, was taking off in Canada. Their show at the old Auditorium was a rowdy affair, with the audience continually rushing the stage. It didn't end there. Fans followed the band back to the Chateau, where all five members had rooms, pushing their way into lobby demanding to see Mick and Keith and the rest. It took a handful of burly policemen to restore order. Later, the hotel manager told reporters if he'd known who the lads were, he'd have never allowed them to stay.

Joni Mitchell and Graham Nash: Technically, only folksinger Mitchell had a room at the hotel in spring of 1966. But Nash, then a member of the British pop group The Hollies, did spend the night there - rising too late to catch the band's bus leaving for the next gig. Nash had seen Mitchell at the Le Hibou coffee house after the Hollies show the previous night at the Capitol Theatre. Along with Ottawa folky Bruce Cockburn and music promoter Harvey Glatt, they ended up in Mitchell's room, where the sparks flew. "It was clear something was happening," Glatt recalls, "so Bruce and I left." Mitchell and Nash later lived together in California, prompting Nash's hit song, Our House.

Other notable guests of the decade: Pierre Trudeau, who lived in the hotel as an MP from 1965 to 1968, when he moved to 24 Sussex Drive as prime minister; French president Charles de Gaulle; rock guitarist Jimi Hendrix; comedians Bill Cosby and Shelley Berman; writers William Faulkner and Kurt Vonnegut; Israeli foreign minister (and later PM) Golda Meir; U.S. presidential candidate Barry Goldwater; actors Glenn Ford and Debbie Reynolds.

1970s

Alexei Kosygin: The Soviet president and his entourage checked into suites at the Château in October 1971, but the Kremlin's No. 2 man never spent the night. He was jumped by an anti-communist protester as he walked on Parliament Hill with Prime Minister Trudeau. After a police search revealed what appeared to be a plot, everyone agreed it would safer for Kosygin to stay under close guard at the Soviet Embassy. That was fine with the hotel, except that Soviet officials refused to pay their bill when they went back to retrieve their belongings. After some wrangling, the charges were waived.

Other notable guests of the decade: Indian Prime Minister Indira Gandhi; pop singer Elton John; rockers Led Zeppelin and Alice Cooper; American figure skater star Dorothy Hamill; Edwin "Buzz" Aldrin, U.S. astronaut who was part of the first manned landing on the moon; U.S. state secretary Henry Kissinger; writers Nadime Gordimer and Saul Bellow.

1980s

Miles Davis: After the mercurial jazzman's performance across the street at the National Arts Centre in early 1985, the trumpeter was met in the Chateau lobby by an excited hotel employee with the news Bruce Springsteen had been trying to reach him. It turned out the rocker wanted to offer Davis the chance to headline a giant anti-apartheid rally featuring Bob Dylan, Lou Reed, Run-D.M.C. and, naturally, the Boss. Davis agreed, and according to a history of the event - later documented in the film, Sun City - he began to call other jazz musicians from his room to see if they'd join him.

Other notable guests of the decade: Soviet dissident Andrei Sakharov; singers Johnny Cash and Gordon Lightfoot; wheelchair athlete Rick Hansen; director Norman Jewison; Andrei Sakharov; children's singer Raffi Cavoukian; West German chancellor Helmut Schmidt.

1990s

Sri Chinmoy: When the Indian-born pacifist declared Canada the world's first "Sri Chinmoy peace-blossom nation" in the hotel's elegant Adam Room in 1998, there was praise all around from the audience - politicians, activists and ordinary citizens - for his ability to get a fractious world to listen to his appeals for peace. But sometimes, it seemed, he didn't get his own message, as he showed when he snapped at an event organizer for ordered a celebratory chocolate cake in the shape of a Canadian flag. He wanted a white cake. You know, for peace.

Other notable guests of the debate: Russian President Boris Yeltsin; singer Nana Mouskouri; teen pop stars Britney Spears and the Backstreet Boys; satirist Weird Al Yankovic; authors Annie Proulx and Frank McCourt.

2000s

Ricky Martin: The gyrating Latin heart throb played in Ottawa in 2000 at the height of his popularity. Not surprisingly, seeing the singer in concert wasn't enough for some of his fans. They headed to the Chateau, hoping to ring him in his room, looking for him in the restaurants and gift shops, lying in wait in the lobby. Exasperated, one of Martin's handlers blamed the hotel for failing to keep the singer's stay a secret. Hmmm, replied a staffer, wouldn't the large tour bus - emblazoned with Martin's face - parked outside have something to with the crowds?

Other notable guests of the decade: South African President Nelson Mandela; Prince Edward; U.S. First Lady Hillary Clinton; actress Hilary Swank; KISS leader Gene Simmons and Shannon Tweed; singers Tony Bennett and Shania Twain; country singers Lyle Lovett and Carrie Underwood; magician David Copperfield; bluesman B.B. King.

2010s

Notable guests of the decade: Former UN secretary-general Kofi Annan; NFL hall-of-fame quarterback Dan Marino; rockers Steve Miller and Pearl Jam; Princess Bajrakitiyabha of Thailand; comedian Joan Rivers; TV personality Barbara Walters.