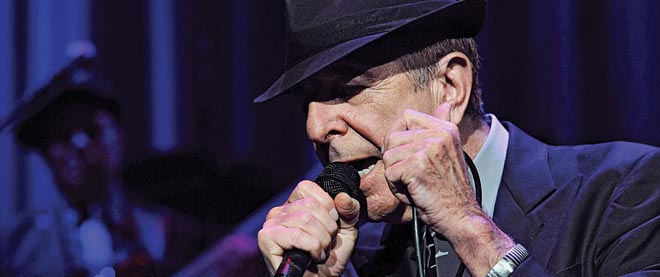 A new biography of Leonard Cohen provides new details on Jimi Hendrix, Phil Spector and Joni Mitchell

One of the first times Leonard Cohen ever played before a vast audience was in Central Park during the Summer of Love, in 1967. He was 42. A groan went up from the crowd as folk diva Judy Collins, the one people were waiting to see, brought her unknown protege onstage to sing Suzanne, the song she had made famous. "Tonight my guitar is full of tears and feathers," he said quietly. Mortified by stage fright, Cohen made his way through the song as an audience of thousands fell under his spell. That night he celebrated in his room at the Chelsea Hotel with a 23-year-old blond from Saskatchewan he had just met at the Newport Folk Festival: Joni Mitchell.

That's one of the evocative moments conjured by author Sylvie Simmons in I'm Your Man: The Life of Leonard Cohen, the most discerning, intimate and definitive biography every written about Canada's pre-eminent singer, songwriter, poet and monk. It's the portrait of an artist raised in Montreal's Westmount by a widowed mother who was clinically depressed; a devout student of seduction who studied a hypnotism manual after hitting puberty; a melancholy poet who learned guitar from a Spanish teacher who committed suicide after three lessons; and a traveller whose homes have included a Greek island, a mountaintop monastery, a Tennessee cabin and endless hotel rooms.

The book is a saga of sex, drugs and meditation that explores Cohen's epic struggle to preserve his art from the pressures of showbiz. Simmons tracks his odyssey through a '70s minefield of failed studio sessions and acid-fuelled performances, through years of monastic exile, depression and calamitous financial ruin - to the miracle of his rebirth with an arena tour, which has occupied the better part of the past four years and returns to Canada next month, that has the 78-year-old bard playing three-hour shows to rapturous acclaim. "Here he is, bouncing around the world, skipping onto the stage, grinning from ear to ear," says Simmons. "What I hadn't expected is that the book would be a tale of redemption."

A veteran music journalist based in San Francisco, the British-born Simmons obtained Cohen's blessing for her book, had access to his archives and interviewed him. But the biography is not officially authorized. "He didn't ask to see it," she says, "and I don't think he's even read it."

Although Cohen's life has been well documented, Simmons unearths a trove of buried or untold stories. He casually mentions to her that he once jammed with Jimi Hendrix ("He was very gentle. He didn't distort his guitar," he tells her.) She learns that, in 1970, Cohen performed in British mental asylums at his own expense. In 1974, days after dating Brigitte Bardot in Paris, he toured Israel blitzed on a strain of LSD called Desert Dust that was so potent it has to be licked off the point of a needle. And in a late-night session recording Death of a Ladies' Man with Phil Spector, the drunken producer pushed the muzzle of a gun into his neck and said, "Leonard I love you," as he cocked the trigger.

Simmons delves into Cohen's four-decade friendship with Zen master Joshu Sasaki Roshi, who is now 105. But she discovers that his lifelong depression lifted only with the help of an octogenarian Hindu guru named Ramesh Balsekar. In 1999, Cohen left Roshi and spent several years engaged in a talking cure with Balsekar in Mumbai.

Cohen has also cured his commercial frustrations. Though always popular in Canada and Europe, in the U.S. he was best known through surrogate stars. Judy Collins first put him on the map in the '60s. Jennifer Warnes made a hit album of his songs in 1987. And years after his song Hallelujah first appeared on one of his most obscure albums, a pantheon of singers, from Jeff Buckley to k.d. lang, made it a pop anthem for the 21st century. Now, with Cohen's tour thriving, U.S. audiences have finally discovered the genuine article.

The cure for love, meanwhile, may continue to elude him, though not for lack of trying. Among his countless paramours, the book zeroes in on four unmarried partners: Marianne Ihlen, Suzanne Elrod (mother of his two children), Rebecca De Mornay and Anjani Thomas. Then there was Joni, who once said, "I'm only a groupie for Picasso and Leonard."

EXCERPT

Joni Mitchell, like Leonard, was born and raised in Canada. But the landscapes they grew up in were very different - Leonard's urban and cosmopolitan, Joni's filled with vast prairie skies. Joni, the daughter of a Canadian Air Force officer, had been raised in a small town in Saskatchewan. She was a talented painter, and when, as a child, she contracted polio (in the same epidemic in which Neil Young, another small-town-raised Canadian, also contracted it), during her long, lonely convalescence she also discovered a talent for music. She taught herself to play the ukulele, then guitar, excelling at the latter and inventing her own sophisticated tunings and style. In 1964 Joni quit art school to be a folksinger, moving to Toronto and the coffeehouses around which the folk scene revolved. In February 1965 she gave birth to a daughter, the result of an affair with a photographer. A few weeks later she married folksinger Chuck Mitchell and gave the baby up for adoption. The marriage did not last. Joni left, taking his name with her, and moved into Greenwich Village, where she was living alone in a small hotel room when she met Leonard. It was an intense romance. At the outset Joni played student to Leonard's teacher. She asked him for a list of books she should read.

"I remember thinking when I heard his songs for the first time that I was not worldly," she said. "My work seemed very young and naive in comparison." Leonard gave her some suggestions, including Lorca, Camus and the I Ching. But he was quickly aware that Joni needed little help with anything, particularly her songwriting. They each wrote a (very different) song called Winter Lady - Joni's appears to have been written first - and Joni wrote two love songs referencing Leonard's song Suzanne: Wizard of Is, with an almost-identical melody and near-quoted lines ("You think that you may love him," she wrote of the man who speaks "in riddles") and Chelsea Morning, set in a room with candles, incense and oranges, where the sun pours in "like butterscotch" instead of honey.

Leonard took Joni to Montreal. They stayed in his childhood home on Belmont Avenue. In her song Rainy Night House she described the "holy man" sitting up all night, watching her as she slept on his mother's bed. They painted each other's portraits. Leonard's was the face Joni drew on a map of Canada in her song A Case of You, in which a man declares himself to be as "constant as a northern star." When it turned out he wasn't, Joni wrote about that too, in That Song About the Midway and in The Gallery, in which a man who describes himself as a saint, and complains of her description of him as heartless, pleads with her to take him to her bed.

For the first time the tables were turned: Leonard was the muse for a woman. Not just any woman but one whom David Crosby - who also had an intense and short-lived love affair with Joni Mitchell in 1968 - calls "the greatest singer-songwriter of our generation." Within a year Leonard and Joni's affair was over. Leonard told journalist Mark Ellen, "I remember we were spending some time together in Los Angeles years ago and someone said to me, 'How do you like living with Beethoven?' " How did Leonard like living with Beethoven? "I didn't like it," Leonard said, laughing, "because who would? She's prodigiously gifted. Great painter too." As David Crosby says, "It was very easy to love her, but turbulent. Loving Joni is a little like falling into a cement mixer."

In later years Mitchell seemed keen to distance herself from Leonard artistically. "I briefly liked Leonard Cohen, though once I read Camus and Lorca I started to realize that he had taken a lot of lines from those books, which was disappointing to me," she said in 2005 of the man she had once described as "a mirror to my work," someone who "showed me how to plumb the depths of my experience." She would go on to describe him as "in many ways a boudoir poet" - a grander term than "the Bard of the Bedsit," one of the nicknames the U.K. music press would later give him, but reductive nonetheless. Any close inspection of Mitchell's songs pre- and post-Leonard would seem to indicate that he had some effect on her work. Over the decades, Leonard and Joni have remained friends.

Excerpted from I'm Your Man: The Life of Leonard Cohen. Copyright ©2012 Sylvie Simmons. Published by McClelland & Stewart, a division of Random House of Canada Limited. Reproduced by arrangement with the publisher. All rights reserved.