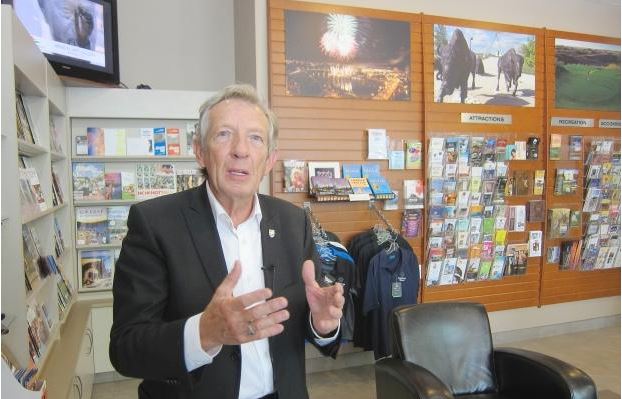 Any project that is created to honour Joni Mitchell in Saskatoon will probably not involve a new, large physical structure, says former premier Lorne Calvert.

"In fact, we're more prone to think about a Joni Mitchell recognition without walls, that involves the community, involves the artists, with some, perhaps, recognition," Calvert said after an ad hoc group held its first meeting to talk about Mitchell's place in the city.

The meeting was spurred by news last month that Mitchell was considering moving a collection of her personal artifacts out of the city because it's not on display. The collection — including Mitchell's graduation dress, personal scrap books and years worth of tour diaries — is in the possession of Mitchell family friend Ron Lamb.

Calvert said the meeting, held at the Tourism Saskatoon office over the lunch hour on Tuesday, was about more than just the artifacts.

"There is a small collection of Ms. Mitchell's materials here in the city, and we want them to stay in the city and the province, but it's more than that," he said. "It's a way to recognize, as a community ... this woman, who had such a profound impact on the cultural life of this continent and beyond, described by many as one of the most significant women in the arts, music, drama, painting."

People at the meeting, who represented businesses, tourism and arts groups, as well as the University of Saskatchewan, threw around ideas about ways to honour Mitchell. Calvert said there are traditional ideas — such as naming a street after her — but the group is perhaps more interested in non-traditional ideas.

"Some of that might be physical and some of that might be more in incubating new artists through artistic endeavour, and so on," Calvert said.

Lamb's wife Susan attended the meeting. She said there have been several suggestions from archival groups about the Mitchell collection.

"It appears that we are moving in a positive direction to honour Joni's legacy in her home province," she said.

Calvert said the group wants to make sure Mitchell is involved in the process. "We want to work those ideas through with Ms. Mitchell," he said.

Asked why he was involved, Calvert said he had the opportunity to meet Mitchell when he was a politician and it's important for her to always feel like Saskatoon is home.

"I'm a citizen of Saskatoon who's had much admiration for Joni Mitchell's work," he said. "If I have the opportunity to help out in this endeavour, I'm very happy to do it."