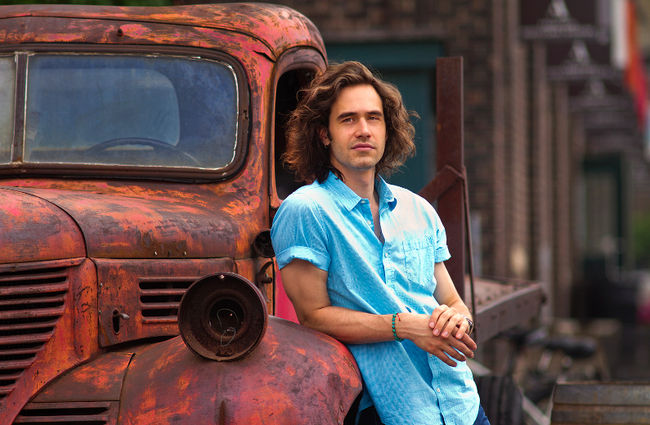 Liam Titcomb picked up some pointers from some music masters this summer.

The folk/rock musician sang with Joni Mitchell in June and watched The Rolling Stones work the stage in May. How's that for a musical education?

Titcomb was one of the younger performers to appear at Joni: A Portrait in Song, A Birthday Happening Live at Massey Hall in Toronto.

Kathleen Edwards and Rufus Wainwright were also on the bill to mark Mitchell's 70th birthday.

"I think it was really a stroke of luck," said Titcomb of his inclusion in the program.

"(I was) very, very honoured to be there that night."

He sang Mitchell's It from her 2007 album, Shine. Titcomb also joined all the performers for one of the Alberta native's most famous works, Woodstock.

"I admire Joni greatly and her work has definitely influenced me," he said.

"She's an incredible lyricist. Her freedom in musical form and still having it be accessible and digestible is a big influence."

Titcomb was at Air Canada Centre on May 25 for the first show of The Rolling Stones' 50 and Counting Tour. They needed a couple of songs before they hit their stride with Paint It Black.

"It was really cool to be able to say I've seen The Rolling Stones," he said.

"I was curious to see if they could still rock and they totally could."

Titcomb, who turned 26 on Aug. 19, acknowledged there's "lots to learn" from Mitchell and the Stones.

"One thing neither of them did was compromise who they were," he said.

"It seemed to have definitely worked for them."

Jagger turned 70 in July. Titcomb's father, Brent, recently marked his 73rd birthday and still performs. The younger Titcomb realizes chances are good he likely has another 40 to 50 years of performing to go. He's not complaining.

"It reinforced that idea in my mind that I'm probably going to do this for a long time," he said.

"If they can do it, and my dad can do it, I guess that's where I'm going to be."

Titcomb appears at Searchmont Music Festival Friday at 9 p.m. It's a rare date on a late summer tour that's mostly made up of house concerts.

He's done such gigs for years, but never so many strung together consecutively. The intimate venues have their benefits.

"They're just a wonderful experience," said Titcomb.

"Usually you get a nice meal. The people are very friendly. They're great music appreciators and they all listen. It's a wonderful experience as a performer (compared to a bar) where you might be fighting a little bit for the attention of the audience."

Current setlists lean heavily on his 2012 album, Cicada, unreleased material and some tracks from his self-titled debut and 2007's Can't Let Go.