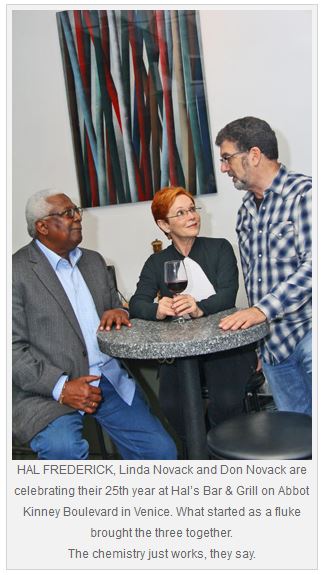 Don Novack got into the restaurant business by accident, and when he became the owner of a failing cafe called The Merchant of Venice he had a major problem.

Novack had been a property developer for years and knew the mantra of that business: location, location, location. The restaurant was located in the worst place possible, a crime-ridden Venice neighborhood that sensible people shunned.

"People said, who's going to go to West Washington (Street)? I remember when we thought it was fabulous if somebody drove to visit our restaurant, because it meant they lived outside walking distance," Novack recalled. "It took years for the police to clean out the gangs that used to be in the neighborhood behind us, and until they did nobody wanted to come to Venice."

West Washington is now known as Abbot Kinney Boulevard, and people come from all over now, many to visit Hal's Bar and Grill, the restaurant that Novack created from The Merchant of Venice. Novack has witnessed the changes in this neighborhood over the past quarter-century, and he was responsible for some of them.

Novack was a local successful banker and real estate developer who first got involved with the combination antique store and restaurant when he accepted a real estate listing for the business. He stood to make a fair amount of money if the sale went through, but at the last minute there was a problem.

"Two guys decided they wanted to buy it, and a week before it was supposed to close, one dropped out," he said. "I looked at the other guy and said, 'I have zero time, I'm not a restaurateur, but I don't want to lose this commission.' I restructured the deal so my commission was equity in the building and suddenly I owned 32 percent of a restaurant. "Two years went by and in 1987 I got a call from one of the restaurant's suppliers saying they were delinquent on their liquor bill. I was running a bank, building shopping centers, and I hadn't been paying attention to this little stake in a restaurant, but now it was about to screw up my credit.

"As soon as I looked at the business, I could tell that my partner didn't know what he was doing — he had unprocessed credit card slips sitting in a drawer. He had also filed for bankruptcy without telling me. I sat him down and said, 'You have a choice; I can give you $2,000 and you sign the business over to me, or you're going to be under arrest for violating the law by filing for bankruptcy without informing your partner. And that big guy out front, he's here to take you over to (LAPD) Pacific division right now.' "So now I owned 100 percent of something I knew nothing about, and I was on the hook for a quarter of a million in unpaid taxes. The building was on a rough street, and there was still gang violence here — I remember gunshots at night. Selling wasn't an option. It was a tough time, and nobody was sure if the business or the neighborhood was going to make it."

Novack knew he couldn't do it alone, and brought in his wife, Linda, to handle the business side of the restaurant, then put out the word that he needed an experienced partner. A fellow real estate broker set up a meeting with Hal Frederick, and introduced them with the words, "This is the guy that can come in and run the place."

Frederick had been working at the West Beach Café, and he got along with Novack from the moment they met. A partnership was created, the business was renamed Hal's, and they went to work shifting the sandwich shop into something audacious. The pair decided to take the scruffy sandwich shop and turn it into a stylish place serving ambitious food. Novack remembered that the idea was not well received.

"Everybody thought we were crazy for going upscale in this neighborhood. Everyone," he recalled. "This whole street was secondhand stores, little craft workshops, odd little shops.... At that time nobody on this street was thinking about outsiders or tourists. We kept the prices low enough for the art people, but we made our place nicer than what they had here."

Hal's became a center for that art community, and famous painters displayed their work on the walls. Novack pointed out a large work by Ed Moses, who was adjusting the lighting on it the morning I interviewed Novack, and pointed out works by other major artists, including a portrait of Hal himself by Mykel Alatza.

"Some of the artists who used to live and work here remember this place even if they moved to other neighborhoods, and they continue to support us," Novack noted proudly. "There's a piece of art by (singer) Joni Mitchell — she was offered $20,000 for it, but she said she wanted it to stay in Hal's. I couldn't have foreseen how much this place would become part of the art community."

Asked if being surrounded by artists and musicians has inspired him to take up art or music himself, Novack laughed.

"I appreciate the arts but don't practice any of them. As for music, if I sing in my wife's ear when we're dancing, she tells me to shut up. Linda and I are involved with a lot of artistic endeavors that go on in the neighborhood — Art Walk, Secret Gardens, SPARC (Social and Public Art Resource Center). I don't think I'd have been personally involved as much if I had stayed in banking and real estate."

The upscaling of Venice has helped Hal's become more successful, but Novack sees the changes as a mixed blessing.

"You can't have a secondhand store on this street any more, or a place where an artist has their workshop and also sells stuff. They've been forced out," he said. "In an article two months ago GQ said that Abbot Kinney was the 'hippest street in the country.' That kind of attention has made rents skyrocket.

"Old Stores like Surfing Cowboys are on the way out — their lease went through the ceiling and they just announced that they're moving. Plantation went out, the liquor store shrunk down. The street is prettier, it's cleaner, but some of the character is draining away. I just hope that the area doesn't change so much that artists don't feel comfortable here, that locals can't afford to eat and shop in their own neighborhood." When Novack was asked about special moments that have happened at Hal's over the years, he had many to choose from.

"When we had just been open a few years, in walked Sammy Davis, Jr. with Aretha Franklin and about 14 other people, all stars. They were filming a movie called 'Tap' down the street. We took the tables out of the middle of the place and they were all dancing in the aisle. This was in the middle of the afternoon, hardly anybody here but us!

"We had Gregory Hines' memorial service here, because he was always stopping in. A lot of Hollywood people have come in since then: Tom Hanks, Kobe Bryant. Reese Witherspoon came in and there were 30 guys outside... they didn't want to eat, just take pictures, so we didn't let them in. Movies have been shot here — we were in 'Californication,' '13 Going on 30,' 'Single White Female'...

"We've had some major talents on Sunday and Monday nights, when we have live music here. Chaka Khan was here a while ago, Jeff Lorber has played a few times and he'll be back in January. The music on Sunday and Monday nights is a tradition, and people call all the time to see who's playing."

One of the more memorable evenings at Hal's involved someone who was a different kind of celebrity.

"We had a Kenyan tribal queen who showed up wearing an elaborate headdress, with a couple of African movie stars, an entourage, diplomatic attaché, and security detail," Novack said. "Her bodyguards ate downstairs while she and her party dined upstairs. It was like having royalty — really, it was royalty."

Other moments that Novack cherishes are the type that any restaurateur with a successful business might experience.

"We get people in all the time saying, 'I got engaged at Hal's, had my wedding dinner at Hal's, and I'm bringing in my son who just turned 21 so he can have his first drink at Hal's.' That feels really good."

One of the things that Novack also relishes about the experience of the last 25 years is the pleasure of working with Hal himself. "In 25 years, we haven't had a major disagreement," Novack noted. "Hal is a very gentle, very intelligent person. He's part of this community and well-respected — he makes sure that the art stays current, he handles the music, and he's here every night. The chemistry between Hal, Linda, and me just works; we respect each other's jobs, so nobody steps on each other's toes."