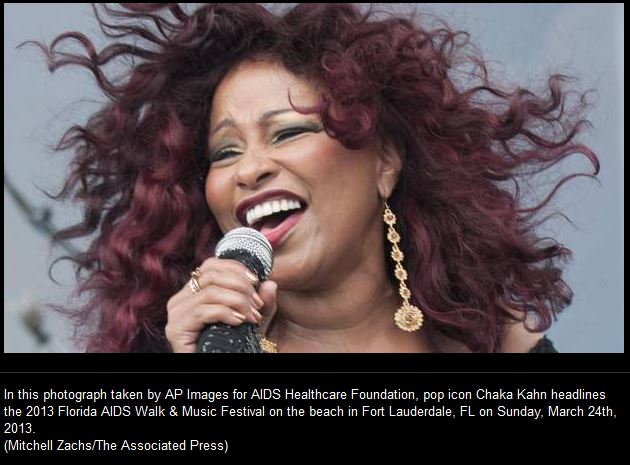 Chaka Khan turned 61 in March, but the Chicago-born singer isn't slowing down. On the contrary, Chaka (she pronounces it Sha-ka) is revving up her creative engines after finally kicking the drug and alcohol habit which almost killed her.

On Thursday, the multi-Grammy winner opens the Toronto International Jazz Festival with a much-anticipated concert that will make up for her having to cancel an appearance at last year's tribute to Joni Mitchell, one of her idols, due to illness.

In Los Angeles, where she now lives, raising a 13-year-old granddaughter, she is busy writing music for her ongoing and self-produced iKhan Project, which has the participation of Eric Clapton and Sheila E, among others.

Hello Chaka — or should I say Yvette Stevens?

Yvette is my birth name, yes. But Chaka is my spiritual name.

Which do you prefer?

Well, there are many mes, for sure! But I try to give them all space, give them all somewhere to live. But sometimes I am Chaka. And sometimes I'm Nana, and sometimes I'm Yvette. I'm a lot of people. I am, whatever that is.

You are producing your new iKhan Project on your own label after feeling stymied by your old one. Is that how it came about?

The iKhan Project has actually morphed into a bigger thing. I am working on material, writing stuff. I am taking my time with it so that it is a true presentation of me, as true a presentation as I can come to, anyway, at this time in my life. However, I am also getting ready to work on a Joni Mitchell project. I am getting ready to do a CD of all my favourite Joni Mitchell songs. That's also going to be part of the iKhan Project. I'm also getting ready to do some work with Blue Note, with the great jazz artists over there. So this iKhan thing is starting to grow into a beautiful monster. And there will also be a lot of products, things geared towards healthy living, and to help women and children.

Is that also part of the Chaka Believes Initiative?

Yes. And I will also have a line of candles and a line of chakra products for balancing ... ach, there's so much going on! I'm going to do fragrance ...

With whom?

We're working on that right now. I've got quite a few people in Europe interested. I'm looking at Karl Lagerfeld. That's to say I'm looking at some good Europeans. But it will all be about the practice of healthy living.

Which you haven't always followed. According to your autobiography, Chaka! Through the Fire, a lot of unhealthy living at one point dominated your life. Isn't that true?

Listen. I went through a rocky patch in my life. Okay? Drugs were like my mainstay and was heavily into drink. It was a tough period. Yeah, I did self-medicate. A lot. And I have gone on to self-medicate off and on throughout my career. However, I have always kept my herbs readily at hand. I'd take a small hiatus and take my herbs or whatever, just herb out and get it together. So I've always been very self-conscious. It started out when I was a teenager doing yoga and baking my own bread. I used to fast two weeks out of every month. I was very, very strict. So I know wellness. And I think that is one of the things that has sustained me throughout the years for all the damage I've done to my body: maintaining a level of health.

Your song I'm Every Woman, in which you show off that powerful voice of yours, is emblematic of the feminist movement, and I wonder how you see yourself as a woman and a role model.

Okay, that's a hard question, you know that?

Why?

I don't even look at it that way. I see myself as a being. As a force of nature. And who, like I said, morphs from one thing to another when needed. That's it. I'm just energy. Sometimes it's a feminine energy. Sometimes it's a masculine energy. Sometimes it's both, and sometimes it's other. I don't really look at myself that deeply. I don't.

Who has influenced you?

I'd say horn players. My dad was a horn player. He played bebop. He was a great jazz aficionado. And my mom listened to a lot of opera. But they were both fans of Ella, Billie and people like that. My Christian name, Yvette, is actually a name my dad gave me after a Stan Getz song. So that's what's going on. Horn players more than anything.

So, one last question: What is music to you?

It is my sanity. I tell you, if I wasn't singing I'd be in jail. Maybe even on death row. Really. I need it. It is my balance. It's the highest communication I know and possess.