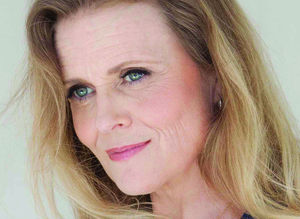 Oddly, an album of mostly cover songs turned jazz singer Tierney Sutton into a fan of Joni Mitchell.

Sutton, who will perform Saturday night at Mount Gretna Playhouse, had heard of Mitchell and knew some of her songs, but she turned her attention almost solely to jazz when she was in her late teens.

She didn't have time for mere pop music.

However, a listen to Mitchell's "Both Sides Now" (2000) - which consists of 10 standards, including "At Last," "Stormy Weather" and "I Wish I Were in Love Again," and two of her originals - made her pay closer attention.

"When I heard Joni's renditions of standards material I knew," Sutton says, "I realized how masterful a singer of standards she was. That really impressed me because most of the pop musicians or musicians from other genres who decided they're going to do an album of standards, there's a shallowness to it.

"With her, she was really rooted in the tradition and that really gave me pause."

Sutton started to listen to all of Mitchell's albums and liked what she heard - so much so that in 2013 she recorded "After Blue," which consists of a dozen of her originals.

They include well-known songs like "Woodstock," "Both Sides, Now" and "Court and Spark" and more obscure material like "Drycleaner from Des Moines," "Don't Go to Strangers" and "Answer Me My Love."

The album was nominated for a Grammy Award for Best Jazz Vocal Album but did not win (Sutton has been nominated six times but her name has yet to be called).

Sutton, who will be accompanied by cellist Mark Summer of the Turtle Island String Quartet and acoustic/electric guitarist Serge Merlaud when she performs in Mount Gretna, will be performing some songs from "After Blue" but the show won't be completely devoted to Mitchell's songs. "Based on my view of Joni Mitchell, she is connected to jazz, so everything qualifies," says Sutton, a Nebraska native who lives in Los Angeles with her husband and son.

Mitchell does have strong ties to jazz. For example: she frequently collaborated with saxophonist Wayne Shorter; she made an album, "Mingus," with the late bassist Charlie Mingus; and for her "Shadows and Light" tour her band included guitarist Pat Metheny, bassist Jaco Pastorius, sxaophonist Michael Brecker, keyboardist Lyle Mays and drummer Don Alias. Also, keyboardist Herbie Hancock won the Grammy Award for Album of the Year for a Mitchell tribute album.

Sutton's ties are even stronger as she set out to be a jazz singer almost from the moment she first heard the music.

After graduating from high school, she attended Wesleyan University in Connecticut and the Berklee College of Music in Boston.

She released her debut album in 1998 and for the past 20 years she has fronted the Tierney Sutton Band, which records and performs as a collaborative enterprise.

Sutton says her foray into Mitchell's music has been rewarding artistically and also has helped her win over people who might normally not listen to jazz but are curious enough to listen because of the choice of material.

"My favorite compliment is, 'I don't normally like jazz but I like this,' " she says. "There's good, sincere music and there's music that may be missing something. I think the shame of jazz, often, is that it's not as accessible to people. You want to give people a bridge so they can come to what you're doing."

If Mitchell can serve as that bridge, Sutton is more than happy to help people cross over. "I think she is arguably the greatest songwriter of her generation," Sutton says of Mitchell. "I think in terms of the overall craft of her lyrics, her melody and her harmony - the song as a whole - I think she's at the top.

"I know the Great American Songbook and I know it's hard to take a a great Johnny Mercer lyric or Ellington or Strayhorn and put something next to it that doesn't sound like nonsense. And Joni is one of the few composers you can do that with."