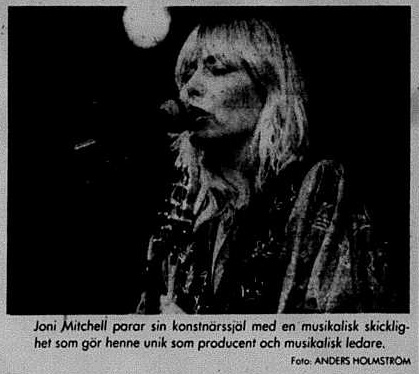 Translated into English by Ludvig Carlson
Concert
Konserthuset, Stockholm, Sweden
As a rock critic, you quite often encounter conceited rock stars, whose sole ambition in life is just to be stars, and who have reached stardom by means of poor, dishonest songs about love.
At times like those, you tend to question what you're doing. Then I like to go home and put on a Joni Mitchell record, just to prove to myself that there are artists in this business.
Joni Mitchell writes songs about the same old subjects as everyone else, but instead of speculative craft, there is a passionate, suffering artist behind every broken heart in her lyrics. It's true poetry.
Furthermore, she combines her artist's soul with a musicianship that has made her admired as a producer and musical leader, not least within the American music elite, an environment where being a woman is hardly an advantage.
Personally, I admire Joni Mitchell without reservations and my expectations were sky high on Thursday evening, when she came to Stockholm and Konserthuset for the first time ever. Strangely enough, I wasn't disappointed.
Suddenly she stood there, baring her very soul while at the same time seeming private and almost shy. It was one of those magical nights when you feel collective shivers run through the whole audience. The high point, a sparse arrangement of "A Case Of You" in the middle of the show, was actually the most powerful experience I've had in a concert hall since Springsteen.
Joni Mitchell gave us a well put together program showing all the lyrical and, above all, musical phases she's gone through during her 15 years as an artist. And she also demonstrated something I've almost forgotten due to her many qualities as a composer and arranger - that she's one of the world's finest vocalists, in any category.
It was a memorable evening, but it could have been a tad more fantastic if her impressive four-piece band (including her husband Larry Klein on bass) had played with the same level of sensitivity and dynamics throughout, as they did in their best moments. As it was, the inherent tensions in some songs were drowned in loud playing. To me, the finests parts of the show were when Joni Mitchell performed alone on stage, or accompanied by a single musician.
Also, I'd loved to see a backing vocalist on stage so that we could have heard some of Joni Mitchell's characteristic, lovely harmony vocals.
But these are minor niggles. This concert will keep me flying happy, until some dime a dozen pop star brings me back to earth again.
---
Original article:
Konsert
Konserthuset: Joni Mitchell.

Som rockkritiker träffar man inte så sällan dryga rockstjärnor vars enda ambition i livet varit just att bli stjärnor och som blivit det med hjälp av usla, förljugna sånger om kärlek.
Vid sådana tillfällen börjar man undra vad det egentligen är man håller på med. Då brukar jag gå hem och sätta på en LP med Joni Mitchell, bara för att bevisa för mig själv att det finns konstnärer också i den här branschen.
Joni Mitchell skriver sånger om samma gamla ämnen som alla andra, men i stället för beräknande hantverk finns det en passionerad och lidande konstnär bakom varje brustet hjärta i hennes texter. Det blir sann poesi.
Dessutom parar hon sin konstnärssjäl med en musikalisk skicklighet som gjort henne beundrad som producent och musikalisk ledare inte minst inom den amerikanska musikereliten, ett sällskap där det knappast är något fördel att vara kvinna.
Själv beundrar jag Joni Mitchell förbehållslöst och jag hade förväntningar höga som hus när hon på torsdagskvällen kom till Stockholm och Konserthuset för första gången på alla dessa år. Och märkligt nog blev jag inte besviken.
Plötsligt stod hon där och lämnade ut hela sin själ samtidigt som hon verkade privat och nästan blyg. Det blev en av de där magiska kvällarna när man känner ett kollektivt rysande i hela publikens kroppar. Höjdpunkten, en sparsamt arrangerad "A Case Of You" mitt i konserten, var rentav det starkaste jag upplevt i en konsertsal sedan Springsteen.
Joni Mitchell gav oss ett fint sammansatt program som visade upp en provkarta av alla de textmässiga och framför allt musikaliska utvecklingsstadier hon passerat under sina 15 år som artist. Och så visade hon vad jag nästan glömt p.g.a. hennes kvaliteter som kompositör och arrangör - att hon är en av världens finaste sångerskor alla kategorier.
Det blev en minnesvärd kväll, men den hade kanske kunnat bli ännu ett snäpp mera fantastisk om hennes i och för sig imponerande fyramannagrupp, med bl.a. maken Larry Klein på bas, genomgående spelat lika dynamiskt och känsligt som den gjorde i sina bästa stunder. Nu dränktes vissa sångers inneboende spänningar i ett överkant fullt pådrag, och konsertens finaste partier var i mitt tycke när Joni Mitchell var ensam på scenen eller kompades av bara en av musikerna.
Personligen hade jag dessutom gärna sett en hjälpsångerska på scenen så att vi hade kunnat på en aning av Joni Mitchells karakteristiska, läckra stämsång med sig själv.
Men detta är randanmärkningar. Den här konserten lever jag gott på, tills det kommer någon dussinstjärna och plockar ner mig på jorden igen.