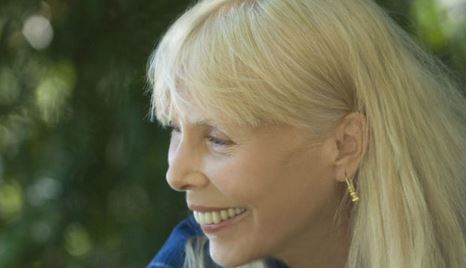 Joni Mitchell will celebrate her 71st birthday on Friday, and to mark the occasion, the lauded singer/songwriter is taking part in a special event tonight featuring a film screening and Q&A session at the Hammer Museum in Los Angeles.

The evening will begin with Mitchell introducing a showing of The Fiddle and the Drum, a 2007 movie that documents Joni's collaboration with Canada's Alberta Ballet Company. The project combines an original dance performance set to a selection of Mitchell's compositions, along with a video installation. The ballet's theme focuses on Joni's concern for the environment and the destruction caused by war.

Following the screening, Mitchell will field questions from audience members, tell stories and discuss her upcoming four-CD box set, LOVE HAS MANY FACES. As previously reported, the compilation, due out on November 17, was inspired by an abandoned dance production Joni had begun work on with the Alberta Ballet company. After the Q&A, Mitchell will be presented with a birthday cake, and copies of LOVE HAS MANY FACES will be made available for purchase.

For those who can't make it to the event in person, the post-screening festivities will be streamed live online at Hammer.UCLA.edu starting at 9:10 p.m. PT/12:10 a.m. ET.