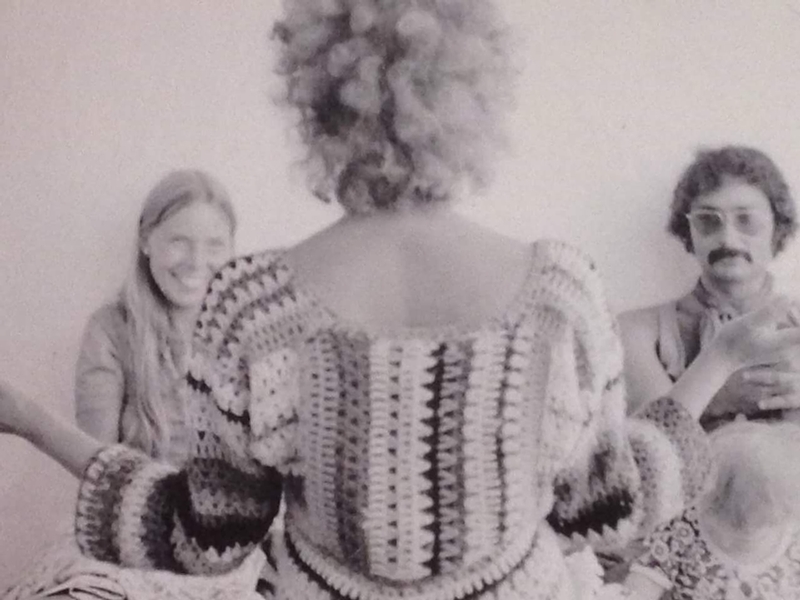 Birgitta Bjerke considered herself a full-time artist from the age of 11. She posted that memory in her color-saturated show of the clothes she's crocheted since the 1960s.
"100% Birgitta: The Fine Art of Revolutionary Crochet" comes replete with showbiz memories of the era.
Bjerke designed and made coats for Roger Daltrey, lead singer for The Who, and his wife (on exhibit). She also designed, she writes, for Eric Clapton, "at least one Beatle" and Bobby Weir, a founding member of The Grateful Dead (on exhibit). A photograph shows Bjerke teaching Joni Mitchell to crochet.
This isn't your grandmother's or anyone else's crochet - except marginally that of the London knitter and painter, Kaffe Fassett, whose intricacies and color palettes Bjerke's work brings to mind.
Bjerke also writes that she prefers crochet to knitting because it's easier with crochet to create round and curvy forms. She uses the technique to materialize the most intricate and ravishing of shapes. Her work will leave knitters, as it left me, never wanting to settle for a rectangle again.
She's equally creative with her materials. A fuzzy, magenta coat is crocheted from the tinsel you string on Christmas trees. Her techniques are even more individual. Besides crochet, she uses embroidery, especially couching (where yarn is laid across the base and tacked down), knitting, painting, appliqué, beading and traditional garment construction.
She's political. An anti-Vietnam mural shows the Statue of Liberty sinking into the sea. She's funny and suggestive but not vulgar. See the bikini on Page 1B. Also, other swimsuits and dresses feature cartoon hands grasping in the most forbidden of places. Then the mural "Story of Life" shows male privates in a far more beautiful color than any equivalents in the natural world.
Bjerke's life reads like a hippie chick's dream of geography. She hung around London dressing the musicians, then went to Paris where Louis Féraud did a catwalk show of her work. What hippie could pass up Ibiza in those groovy days? Bjerke didn't. Then she lived in Sonoma and San Francisco when those were the places to be.
Her connection with the Southwest is slight. She shows a jacket completed this year with images of the Taos Pueblo on it and a few other drawings with regional references. But hurrah for Center of Southwest Studies for slipping outside the usual bounds to bring in this beautiful, exciting show.
The only thing that's missing is the music. Songs by Bjerke's customers should be blaring to round off the time-traveling experience.
Even without the music, this show will break attendance records.
100% Birgitta: The Fine Art of Revolutionary Crochet, costume design and painting spanning 1967-2008, by Birgitta Bjerke, Monday-Friday 1-4 p.m., Thursday 1-7 p.m., through Aug. 2, Center of Southwest Studies, Fort Lewis College, Durango, Colorado.