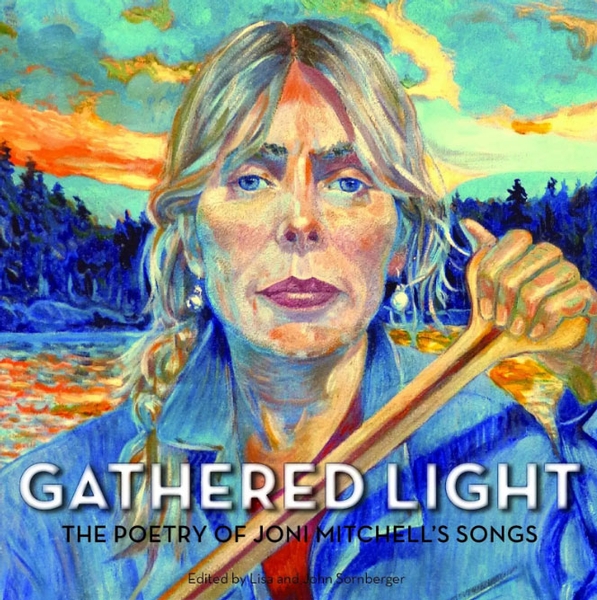 I last talked to poet Lisa Sornberger (The Huffington Post) in 2013 when Gathered Light, her memorable collection of Joni Mitchell's poetry was published.
With the devastating news of Joni's poor health high on the media's agenda, I catch up with the Connecticut resident who describes poetry as "a constant" in her life.
Member of the Thread City Poets, Sornberger's publications include chapbook (2004), Stone and Feather (2008), Returning Light, and the 2013 Gathered Light: The Poetry of Joni Mitchell's Songs (Three O'Clock Press)
Here Lisa talks about Joni, her love of poetry and Sally Taylor's inspirational global art project Consenses.
Q We first talked when Gathered Light, your stunning compilation of Joni Mitchell's poetry came out, how is that going?
A It is a joy to hear just how much people like it. What do writers want, really, other than to know that their words were understood and received as intended? To quote Joni from Jericho, "It's a rich exchange It seems to me It's a warm arrangement" That was the main impetus behind the book too...to let Joni know that her words were received as the poetry they are and what impact they have had and continue to have, on so many people, with an added focus on the way Joni's creativity sparks creativity in other writers...
In Gathered Light, I loved reading each contributor's take (Jon Andersen, Ravi Shankar, Larry Klein, Wally Lamb, on whatever poem they chose to write about. The book is still being printed and sold, along with Kindle copies. Oddly, the publishers keep all of the profits from Kindle copies, and more. This was a labour of love for us, we didn't do this for money, rather it was our way of giving something but had a good dream of sharing with all of the contributors.
looking back, there are many poems that I wish we'd also covered. Just such an abundance of Joni's gorgeous writing to choose from. At times, I wonder if I could have approached things differently, interviewed contributors with a set of questions that brought more focus on the poems themselves, balanced with what they meant to, or how they impacted on others. Still, I'm very happy with the way it turned out, as is John, my co-editor (and husband). And for Joni's saying "You done good, girl", after initial misgivings.
Q How did the idea for Joni's book come about?
A It came to me almost fully fleshed out on the first day of the year in 2011. Think the seeds were planted deep years ago, and finally grew at the right time. It's a gift I won't forget, as was the support from so many directions, including my family, writers group, friends, some of Joni's friends, contributors. And to have the blessing of Joni presenting her words in the format of poems, as she intended them to be presented on the page, was and is a dream come true. Amazing what can happen sometimes when people come together with loving intent and gratitude.
Q You must have been worried when Joni's bad health was in the news, are you in personal contact with her at all?
A Honestly, I felt shocked and terribly worried that Joni must be in unbearable pain, despite the best of care. Linda Grant wrote a piece in the Guardian that addresses the feeling of devastation around Joni's illness most eloquently.
Q Tell us about your own poetry
A Poetry has been part of my life since adolescence. I wrote a chapbook in 2003. Then, I had the opportunity to do a full-length collection with Antrim House and to work closely with the publisher and now CT Poet Laureate, Rennie McQuilkin.
He is incredible person, poet, and publisher, and has created a press that has given many fine New England poets the chance to publish high quality books. As far as illustrations, I photographed a man and a woman sitting on a rock (Joni line quoted here) at Watch Hill, Rhode Island, for my chapbook cover. Right time, right place. And I used a picture of a painting I love called "Moongirl" by Sandy Mastroni for the cover of my book "Returning Light". Brings me back to Joni's stunning self-portrait on the cover of Gathered Light, which, despite color distortion and chopping, is still a thing of beauty. I love it when pictures and words kind of magically come together.
The most recent project to spark my creative interest is Consenses, the beautiful and inspired project birthed by Sally Taylor. I was lucky enough to be able to participate in Chain#9 last summer. What I love the most about CONSENSES is the way creativity and interconnectedness are celebrated, as artists spark off each other's work, collaborate in many mediums, contribute to a larger vision, though each artist only gets to see one link in the chain for inspiration. Very inclusive, no artistic ego nonsense involved.
It is well worth a visit to the exhibit at Martha's Vineyard, and if that's not possible, see the website:
Lisa Sornberger at Antrim House.