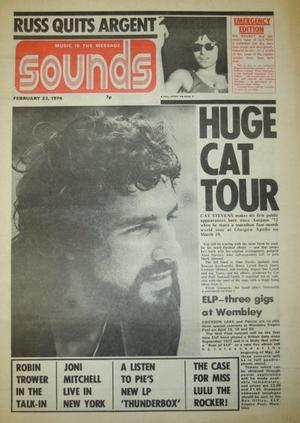 THE Radio City Music Hall audience, made up largely of teenage girls, sat with idolatry expressions, almost cooing with joy as Joni Mitchell took the stage last week. The male section of the audience seemed to comprise dates or boyfriends or elder brothers, but in any event the New York gals jumped or danced for joy, running up to the front of the stage with flowers for Joni.

In fact her piano was so bedecked with flowers it seemed that it would collapse under the weight, and during her two-hour-long set many wept while others cried out "We love you Joni".

Earlier Tom Scott, a brilliant sax player, had opened the show with the LA Express and played half a dozen numbers from Scott's new Ode album shifting neatly between rock and jazz themes.

After the interval Joni strolled onstage and launched straight into "This Flight Tonight" continuing with a selection of tracks from the "Court And Spark" album.

With full audience approval Joni sang "Both Sides Now", "Blue", "A Case Of You", "Big Yellow Taxi", "Help Me", "Free Man In Paris", and for her second encore she did "Raised On robbery" and "Twisted" both from the "Court And Spark" album.

Both songs had the audience up dancing, and with a final grin that spread into a large smile Joni thanked the audience and left the stage to a wildly cheering audience.

But it wasn't simply a story of Joni performing some of her best numbers. It should be emphasized that the crisp, clear sound and the subtle lighting contributed equally to a set that was flawless whilst Joni's poise and manner of chatting with the audience were a delight.

The experience of seeing her in concert was an unforgettable one.