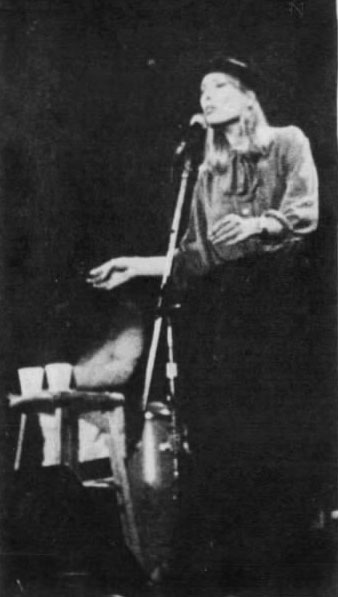 Popular singer Joni Mitchell performed at the War Memorial in Syracuse Tuesday night. We sent staffer Gail Dickinson, a former flower child, to the concert to judge the changes in Joni's music.
Joni Mitchell has gone to the City.
The sweet little Canadian country girl whom one imagines running through misty fields of flowers in a yellow calico and lace gown now dresses like a Pointer Sister.
This may be the reason that, for perhaps the first time in her musical career, the critics have been harsh with Joni Mitchell. It's easy to understand. When the "Lady of the Canyon" quits singing about butterflies and clouds and turns to singing about being drunk and city streets, it is disturbing.
Perhaps one of the best illustrations of the "citification" of Ms. Mitchell was a story she told after singing "For Free," a tune about a clarinetist who played gratis on a street corner. She said the recorded version of the song, in which she is in the city shopping for jewels, was the "romantic" version. In the other version, she said, she was at a Nedrick's for an Orange Julius, and discovered that the clarinet man was selling his clarinets and masquerading as a blind beggar. The City was once an occasion, a place you went for jewels. Now, it's for Orange Julius's.
This reflects, perhaps, the difference between the sixties and seventies. Bright idealism has been dulled; there is a malaise about the seventies and there is a tired sophistication about Joni Mitchell.
The change is reflected in her lyrics, her harmonies, her dress. She has gone to rock and jazz progressions and, for the most part, has left her simple folk roots behind.
When she stepped onstage in Syracuse, one knew this wasn't the same old Joni. She was dressed in a smartly-tailored, neatly-pressed black pants suit with rose embroidery on the sleeves. In style it harked to the 1930s, and went well with the sling-backed, high-heeled sandals she wore. Her hair was tucked into a wide-brimmed hat slung low over her eyes. If the audience hadn't been waiting for her, they might not have known who she was - until she opened her mouth to sing. Then it was the same old Joni voice.
Her music, however, is different. There are discordancies where there once were pure and simple harmonies. A jazz-rock bank backs her up. Little, if any traces of folk music can be found in her more recent albums. There is also a certain bitterness, an unpleasant mood in her music that was never there before.
There is a division in rock music today. On one side there are the disco sound jazz-rock and "camp" types such as Bette Midler. That's city-type music. On the other side is the country-rock of the Eagles, and Roger McGuinn. Ms. Mitchell has joined up with the forces of the city, not the country.
Joni Mitchell used to appear fragile, soft, naive. There is an edge about her now, a sharpness under the velvet. The freckles are covered with heavy make up. She is cosmopolitan and tough. The liberal idealist has given way to the cynical intellectual.
Her lyrics are set in New York City. A house on a "country road" is really a "little cottage on the outskirts." ("Harry's House - Centerpiece," on "Hissing of Summer Lawns.")
While her music at the Syracuse concert was excellent, it lacked spontaneity. The performance was tight, very tight, with a perfection that seemed to be born of much repetition. This, in spite of her performance of a wide variety of songs, covering a good part of her career.
Some of the pieces she performed alone, on electrically-amplified acoustic guitar or on piano. In others she played with her back-up band, the L.A. Express. She also performed three new, unrecorded songs including one written on this tour, in Memphis, called "Louis Furry Sings the Blues."
This is not to say that, as an artist, she is not good. But one must recognize and appreciate the changes that have happened.
While the critics have been upset by Ms. Mitchell's changes, it seems her audiences have not. In Syracuse the audience was appreciative if not effusive. It was a quiet, well-behaved audience, which didn't give her a standing ovation until the last song before the encore. But at times, it seemed as though the people in the audience were enthralled, too attentive to make noise.
Joni Mitchell is still one of the best vocalists in the country, though not one of the best folk singers. Her music is more sophisticated. She is one of her own "aging children," who has aged.