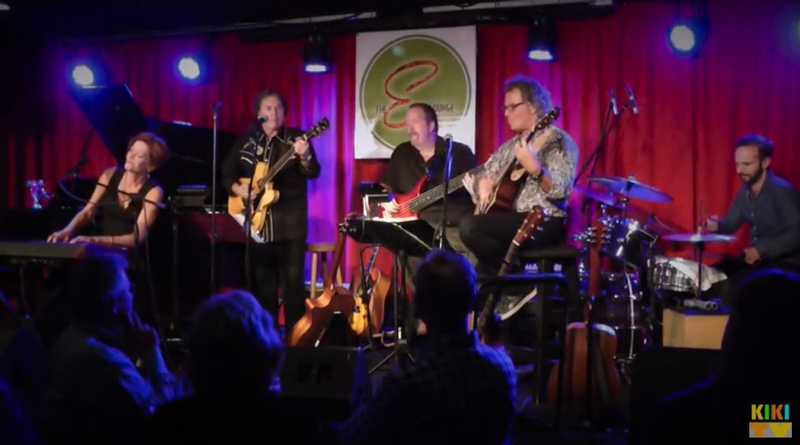 Not everyone gets a chance to perform Joni Mitchell's soundtrack to a worshipful crowd on a regular basis. Kiki Ebsen happens to be that one in a million.
Her Joni Mitchell Project is so popular that she's been invited back to various hot spots up and down California. A Sept. 17, 2016 AXS interview about the Project, as well as several performance dates, have even appeared on the official Joni Mitchell website.
Ebsen brings the Project back for a third time to the E Spot Lounge at Vitello's in North Hollywood 8 p.m. June 17, with her band (guitar-vocalists Grant Geissman and Terry Wollman, drummer Matt Starr, bassist Steven Lawrence). Tickets: General $20, VIP $40.
Her Project also premiered at the Laguna Beach Festival of the Arts/Pageant of the Masters last summer, and did so well that she's been asked to do an encore, scheduled for 5:30 p.m. Aug. 19. She'll also perform her own material 7 p.m. July 29. While it's the fifth or sixth time she's performed at the festival, last summer's the first time she introduced audiences to two shows, the Joni Mitchell Project and her own originals.
Ebsen's no one-trick-pony, either. The talented singer-songwriter/keyboardist started off on her own pop high, touring/performing with the Top 40 giants of their time, acts like Chicago, Al Jarreau, Boz Scaggs, and Christopher Cross.
Classically trained, she's as well-versed in Joni Mitchell's pop-folk as she is in smooth jazz, as well as her famous father Buddy Ebsen's favorite Great American Songbook and jazz standards.
Her multi-media Buddy Ebsen tribute, "To Dad With Love," has proven to be a bonafide hit with audiences, too. She'll perform the tribute show for the first time 7 p.m. July 30 at the Simi Valley Cultural Arts Center, and then return to South Pasadena's Carnegie Stage/Library 7 p.m. Sept. 7.
AXS interviewed Kiki Ebsen about her full plate yesterday.
AXS: Looks like your summer is filling up nicely with quite an array of gigs, showcasing not only your Joni Mitchell tribute, but your infinite grasp of other vocal styles. What's been the reception to your "Joni Mitchell Project" first of all?
Kiki Ebsen: Amazing! I think audiences have really been desiring hearing and experiencing Joni Mitchell's music live. Every time we play, people come up to us absolutely gleaming. Songs touch us in different ways, and when you hear that special song that reminds [you] of a time gone by, then the result is extraordinary. People are uplifted and sing along to these classic gems. Joni is such a powerful composer. She captures our emotions, our happiness, as well as sadness. Paints colorful pictures of flower-colored mornings, dark and cloudy harbors, dewy mountains, heart-breaking love affairs, dark alleys of the city, and so much more. She captured a generation in her music and we relate so well with her journey. I have nothing but the utmost respect for her artistry.
AXS: Joni Mitchell herself is aware of the project, yes? Her official website featured an AXS interview about the tribute last September. What have you heard from her or her people about what you're doing to revive interest in her music?
KE: Other than our dates being posted on her official website, I have no other information.
AXS: The cool thing about you as an artist is your comfort in a variety of styles that may not mesh on paper: You're classically trained, you've gone on tour in an orchestra setting - you just did "Music Under the Stars" with the Pasadena POPS performing the music of George Gershwin, found great success in pop, then discovered the jazz of your father, Buddy, on the 2014 album, Scarecrow Sessions. Now, you're playing whatever you want for a wide variety of audiences as well. What is the secret to your accessibility and ability to get right down to the heart of any song, even the complex, layered Joni Mitchell stuff?
KE: I approach everything from my own perspective. For the longest time, I would not cover artists, because I felt I could only sing my own songs. Then I realized that being myself was the best thing I could have in regards to covering other material in a unique way. I relate to Joni's material so deeply, as if I had written the tunes myself. I just connect to the lyrics and tell the story. I get so deeply into the songs that I completely lose myself in the performance. The rest happens on its own.
AXS: What has surprised you the most about audiences loving on Joni Mitchell's music through your tribute?
KE: Well it's not so much a surprise, but I was happy to hear that people are moved and "healed" by the experience of hearing her music live. I find younger people interested in Joni as well. Again, not surprising, but I am happy that more people can be inspired by her songs and her experience. Also, happy that more venues are picking up on the show and more opportunities to play her music are starting to appear.
AXS: You also get to pay tribute to your famous father, actor/song-and-dance man, Buddy Ebsen, in your 2014 smash hit record Scarecrow Sessions and "To Dad with Love" concert series. In fact, you're going to introduce his favorite kind of music - some from projects he appeared in - to a brand new audience at the Simi Valley Cultural Arts Center, July 30. What does it mean to you to be able to not only revive interest in the brilliant music of Joni Mitchell, but also the jazz standards/Great American Songbook your father loved so much?
KE: It's extraordinary. Sometimes I have to take a moment and just breathe and reflect on the honor that I have to do both projects with such love and honesty. Music is music. I feel when I sing, I sing not only for me but for the audience as well. We are one together in concert. It doesn't matter anymore whose songs they are, as long as the emotional connection is made. The message is strong. Love, loss, forgiveness, acceptance, surrender, and then ultimately love...again. One love, one voice, one life.
AXS: Your various concerts have done so well, you've even been invited back to perform the Joni Mitchell Project at Vitello's E Spot Lounge for a third time June 17 and a second time at the Laguna Beach Festival of Arts this year for both the project and your own stuff - as a crowd favorite who's been there five, six times before. You're also returning to South Pasadena in September for the Buddy Ebsen tribute after resounding success with the show there recently. What do you think about all this excitement over music that many in the mainstream crowd would think is outdated and irrelevant?
KE: I truly do not believe that this music is outdated and irrelevant. It's vibrant and pollen-filled, just ready to explode into the air and inspire new ideas in our young people. What's old is new again and the cycle repeats. Good entertainers and good songs will never go out of style. Put a fresh take on it and you connect with not only the people who grew up with that music, but with their children and grandchildren as well. You might renew their life, fill them with hope, possibilities, and purpose.