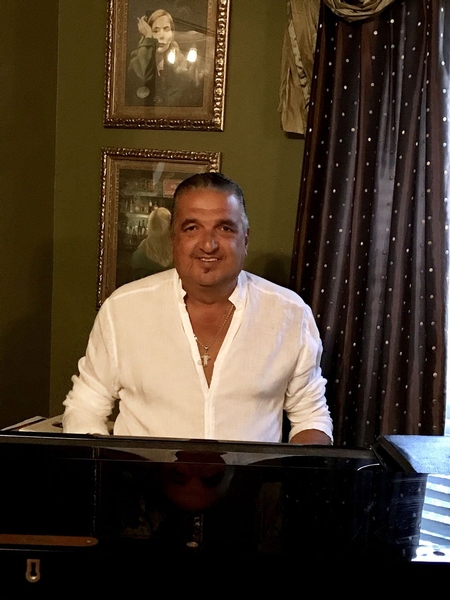 When Michael Paz's mother, Ruth Paz, died in 1996, the longtime local music producer took comfort in Joni Mitchell's compositions. Using the relatively new technology of an online search engine, he discovered a Joni Mitchell discussion group, which led him to JoniFest, a celebration of her music.
He attended his first JoniFest in Massachusetts. "I loved it," he recalled recently. "I drank the Kool-Aid. It's such positive energy, a very diverse group of people. It was a good thing for me. I thought, 'I'm going to do one of these myself in New Orleans.' "
Thus was born Paz Fest, a subsidiary JoniFest featuring mostly New Orleans musicians performing Joni Mitchell songs for a charitable cause.
On Sunday, the fourth Paz Fest moves to a new home - the downtown Civic Theatre, where Michael Paz was previously employed. He said he expects the theater setting, with its high ceiling, big stage, seating, and upgraded sound and lights, to "kick it up a notch."
Scheduled performers for Paz Fest IV include Chuck Mitchell, Judith Owen, Harry Shearer, Deacon John, Paul Sanchez, Tonya Boyd-Cannon, Kimberly Ford, Sean Ardoin, Debbie Davis, Matt Perrine, Alex McMurray, Leslie Smith, Cary Hudson, Bryan Thomas, Jim McCormick and many more.
The show starts at 7 p.m. General admission tickets are $25; VIP admission is $75 (available only by emailing michael@thepazgroup.com).
Given the role that Joni Mitchell's music played in helping Michael Paz after his mother's death, it's only fitting that Paz Fest benefits a cause near and dear to Ruth Paz.
She spent decades helping impoverished children in Honduras receive medical care. Paz Fest raises money for the Ruth Paz Pediatric Surgery and Burn Hospital in San Pedro Sula, Honduras.
The Paz family's history with Honduras runs deep. Michael Paz's father, Juan, was born there, then moved to Detroit in search of a better life. He eventually built a construction business and became an honorary Honduran consul.
In 1965, Juan Paz moved his family, including Ruth, Michael and Michael's sister, Mary Ann, back to Honduras. On the drive from Detroit, they stopped in New Orleans. Michael Paz went to Preservation Hall, where, four decades later, he worked.
"Music has always been a major part of my life," he said. "My parents listened to a lot of jazz. I'd watch the Lawrence Welk show with my grandpa. A lot of those memories translate to now."
In the mid-1970s, he attended what was then the University of Southwestern Louisiana in Lafayette. By 1976, he'd dropped out and moved to New Orleans. Forty years later, he still "can't find the exit." He's worn many hats within the local entertainment industry, including his current position as Live Nation Entertainment's production manager for Champions Square. He also operates his own booking and management firm.
He launched the nonprofit Ruth Paz Foundation to raise money for the planned hospital in Honduras. He produced the first Paz Fest concert in 2000 at the Howlin' Wolf. It netted more than $10,000. A CD recorded at the concert generated even more.
As an especially well-liked veteran of the local scene and a JoniFest regular, Michael Paz has known most of the Paz Fest performers for years. In assembling this year's lineup, he was essentially calling friends: "Everybody that I asked said yes."
They'll mostly perform their own versions of Joni Mitchell's compositions or, in the case of the more jazz-leaning artists, songs that the artist herself covered. Christina Friis, a singer from Denmark, will showcase early, unreleased Joni Mitchell material.
Chuck Mitchell met and married the former Joni Anderson when they were both working the Detroit folk circuit in the 1960s. After the couple's divorce in 1968, Joni Mitchell continued performing under her married name while Chuck Mitchell built a career of his own as a one-man-show singer and actor.
(In addition to his set at Paz Feat on Sunday, Chuck Mitchell is slated to make a guest appearance at a pre-Paz Fest show Friday at 8 p.m. at the Little Gem Saloon, 445 S. Rampart St., alongside Krewe de Groove, Kimberly Ford and Joshua Thomas.)
Joni Mitchell has never attended Paz Fest but is apparently aware of the event and approves of it; it is promoted on her website.
Paz Fest draws Joni Mitchell fans from around the country and has improved, and saved, many lives in Honduras. The $1.5 million Ruth Paz Pediatric Surgery and Burn Hospital broke ground in in 2004 and was completed in 2010. It opened on Ruth Paz's birthday.
"It was pretty emotional," Michael Paz said. "My mom did all this work as an independent person - no foundation, no board. She did whatever it took to impact 22,000 kids. We're all proud of what we've managed to achieve and what she did by herself."
Michael Paz said he hopes the hospital eventually becomes self-sufficient, with patients who are able to pay covering the costs for those who can't.
Until then, Paz Fest will continue to celebrate the music of Joni Mitchell while caring for the children of Honduras.