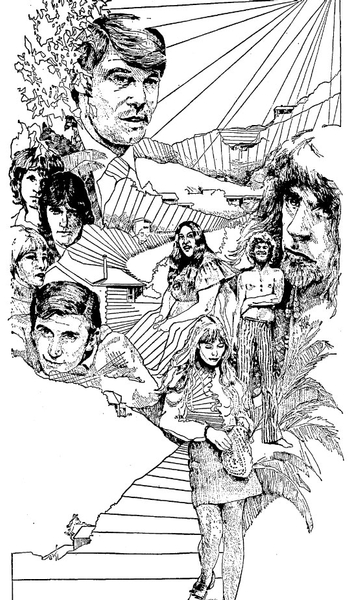 Like the movie stars, the big names of the pop-music world earn their living in Hollywood studios but, unlike the film luminaries, the new names do their living somewhere other than Beverly Hills.
Where it's happening is Laurel Canyon - a place so little known to the public that Bob Hope hasn't even started making jokes about it yet. But if an unusually localized earthquake ever swallowed up the canyon, pop music would have to start from scratch again and U.S. films would have to wait a generation for a new supply of supporting actors.
It's not that Laurel Canyon hasn't had publicity; it has, but it's been indirect publicity. There have been articles in leading magazines on various entertainment figures who happen to live in Laurel Canyon, but where they live has been incidental. For instance:
Esquire Magazine ran a long story about Mama Cass and begins with a zoom lens close-up of the lady yelling out of an upper-floor window of her rustic lodge in Laurel Canyon;
Life had a cover story about singer Judy Collins and photographed her with Canadian-born singer Joni Mitchell - composer of Judy's biggest hit, Both Sides Now - on the woodsy sundeck of Joni's Laurel Canyon home.
Then there are the pop-rock records which refer to Laurel Canyon:
English blues guitarist John Mayall, a hero of underground rock, has a wildly popular album that doesn't need to be played on Top-Forty Radio to sell big. It's called Laurel Canyon. Guess where Mayall lives now?
Every major rock critic hailed the Van Dyke Parks Song Cycle album as something of a breakthrough. In his song from the album Laurel Canyon Boulevard, Van Dyke answers the musical question, "What's up Laurel Canyon, hey?" He writes, "What is up in Laurel Canyon the seat of the beat to greet and eat at the heart of their companion way. That's up Laurel Canyon." That description may not be of very much help, but then Van Dyke Parks isn't exactly known for the instant clarity of his lyrics.
The biggest name resident in the canyon is singer Glen Campbell. He moved there long before he hit it big. He has a great, rambling house with a swimming pool (bought while he was an unknown but much-in-demand recording studio guitarist). He hasn't seen any reason to move just because he's become one of the hottest properties in records and television.
Protest singer Phil Ochs needed three back-and-forth seasons to break away fully from what he calls "the amphetamine frenzy" of New York. Now he's a permanent Laurel Canyon resident.
A bit of descriptive geography is needed to show where the canyon sociology came from. Most people who have never been to Los Angeles assume that it's all indolent palm trees and Spanishy little bungalows for the Average Family, swimming pools and plaster garishness for the Big Shots.
This isn't wrong, exactly, but it's incomplete. The main missing ingredients are the Hollywood Hills and a lot of rather impressive mountains. The Los Angeles Basin is just that, a basin, surrounded on all sides by several ranges and their foothills. And Laurel Canyon is in the Hollywood Hills - just a mile or two from the Sunset Strip.
Laurel Canyon proper is a natural break in the mountains between Hollywood and suburban San Fernando Valley. It begins exactly opposite the older, east end of Sunset Strip. You can see its mouth from the counter of the Schwabs Drugstore where James Dean hung out and supposedly Lana Turner was discovered by a talent scout.
The canyon always did have a certain amount of attraction for a few Hollywood stars: Facing each other across the road are the burnt-out shell of magician Harry Houdini's pseudo Greek temple and cowboy star Tom Mix's pseudo log cabin. The cabin is still one of the main social factors in the canyon, a sprawling edifice of truly epic tastelessness, it has long since fallen into disrepute as a hippie crash pad.
The canyon climbs windingly from Sunset Strip to Mulholland Drive, a 25-mile road that is the highest street in Los Angeles, and was made famous as a lover's lane by several decades of Jack Benny jokes. About half way up is the hub of Laurel Canyon living - a ramshackle shopping island whose parking lot is alive with brightly-dressed, flowing-haired young people at most hours of the day or night. It's a depot for hitching rides, though many of the youngsters are driving their own surprisingly expensive cars - whether paid for by lucrative jobs or by indulgent dads, it's never possible to tell.
The action in Laurel Canyon takes place in the homes on side streets like Kirkwood, Ridpath and Mount Lookout, which climb the steep slopes at almost impossible angles. The housing is wildly contrasting - modern A-frames, rambling old whitewashed manor houses and scatterings of tumble-down near-shacks.
Cars were backed all the way down Ridpath a few weeks ago when Jamie Sanchez had a big housewarming party.
Jamie is the cold Mexican killer in The Wild Bunch; in his movie debut he was the Puerto Rican shop clerk to Rod Steiger in the Pawnbroker. Jamie is probably the new Hollywood in its purest form. He didn't play the old studio politics game to co-star in The Wild Bunch; and he lives in Laurel Canyon, where all his friends are.
Sex orgies are a regular form of at-home entertainment among some elements of the population, but times have changed since the licentious days of the first love-ins several years ago. "Everybody would mill around in front of Canter's delicatessen, until 3 a.m.," recalls a veteran hippie, "and then we'd choose our teenybooper [sic] chicks and go up to somebody's pad in Laurel Canyon for the party."
There are still many old-timers and straight people around. The elementary school on Mount Lookout Drive is a kind of battleground between the uptight, crewcut fathers on the San Fernando side of Mulholland and, from the other side, the psychedelic parent who can't see why their children must get haircuts or accept authority blindly. PTA meetings at the school often sound like a debate between the New Left and the John Birch Society.
One typical Laurel Canyon problem was that of the family who had to put up a higher fence because the children were getting old enough to notice that the professor living next door didn't believe in bathing suits for his constant poolside parties.
Joe Schiller of Mount Lookout Drive, who designed the movie sets for The Graduate, Rosemary's Baby and The Illustrated Man, has been trying to form a syndicate to take over the venerable community newspaper, The Canyon Crier. The Crier is run by a frail, elderly widow who can barely keep up with the flow of information on the Canyon resdents' [sic] constant battles against housing developers.
Perhaps the prototype of individualistic new-style Laurel Canyonite is Kiyo, the lovely Eurasian astrologer featured in Time Magazine's recent cover story of the revival of occultry. Kiyo casts horoscopes for clients like Jane Russell in a compound of forest chalets at the far end of one of the canyon backroads.
"There's always something going on around her," says Kiyo. "The kids are always sending runaways up to see me because they say I'm the only one they'd listen to. I try to get them off drugs because I don't think they need it to expand their minds."
The tenant in one of Kiyo's bungalows is John Densmore, drummer with those controversial rockers The Doors.
Mickey Dolenz of the Monkees has a speaker on the wooden gate of his Laurel Canyon house so visitors can announce themselves. He's also changing his phone number because some young fans have taken to calling early in the mornings and just breathing heavily.
Behind the fence is a winding, woodsy lot with a pool and a waterfall fountain, several sundecks and a chalet-type house. Twelve dogs and cats roam the property which Dolenz moved into two years ago. "I'm trying to give a few animals away," sighs Dolenz.
In his garage are a new red Mercedes and an ancient and remarkable Rolls-Royce convertible. There is also a skeletal one-man gyrocopter that can go up to 9,000 feet.
The house has some characteristically bizarre Hollywood history behind it. The main room is a double-deck wood-beamed affair constructed around a massive stone fireplace. This was originally a hunting lodge for some turn-of-the-century L.A. flatlanders and the rest of the house was gradually added on around it.
Dolenz is quite the do-it-yourselfer. He has found room in the house for a photo lab, a recording studio and music room, a high powered microscope and a woodworking shop as well as library heavily stocked with recent issues of the Saturday Review and Scientific American. There is also a sewing area for his English fashion-designer wife, Samantha, who operates her own boutique as well as caring of their infant daughter Amy.
Other Canyon residents are Barbara Parkins of Peyton Place, Goldie Hawn of Laugh-In, Marlo Thomas of That Girl, Frank Zappa of the Mothers of Invention, Eric Burdon of the Animals, Hollies founder Graham Nash and the superb new songwriter Jimmy Webb (Up, Up and Away, MacArthur Park).
The two stars of TV's western series, The Outcasts, are both outspoken social activists. But typically enough, veteran actor Don Murray lives in Beverly Hills with its admittedly fine school system for his children while young Negro newcomer Otis Young lives high in the hills of Laurel Canyon.
Bill Brogan has owned the Laurel Canyon Country Store for the past 16 years and he says business is better than ever as he's filled his somewhat barren emporium with the fancy goods to supply the residents of the new $100,000 homes on the hilltops.
I suppose the movie superstars aren't here like they used to be," says Brogan. "Rock Hudson and Errol Flynn used to come in all the time, so did John Carradine and that fellow who played Robinson Crusoe (Dan O'Herlihy). About the hippies...some of these young longhairs I'd trust enough to let them write a cheque for any amount but others would steal you blind if you gave them a chance. That's the way it is."
Walter Mann, the realty man, has been doing business in the canyon for 23 years. "This was just a rural little country lane community when I first came here," he says. "But it's amazing how many big stars lived here at one time or another at the start of their careers.
"I remember renting Fess Parker a tiny apartment a long time before Davy Crockett. Kirk Douglas and Robert Mitchum had homes here, Leslie Caron lived in the canyon when she was married to that Hormel heir. Susan Oliver lives here now and Sam Fuller, the director. Gardner McKay, who was in the Return To Paradise TV series, used to live here and so did Ty Hardin, the cowboy actor."