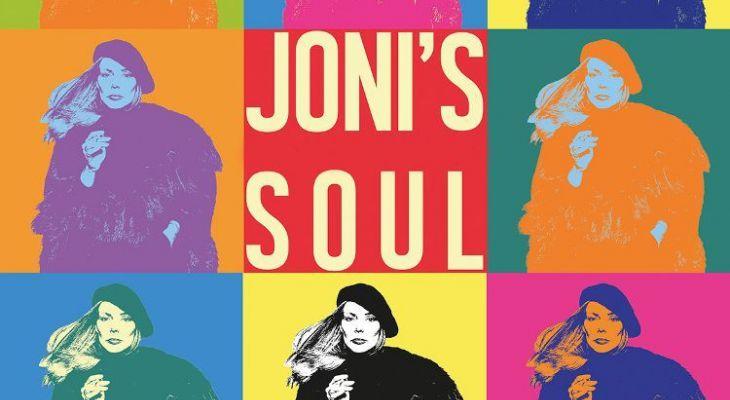 An evening of music entitled 'Joni's Soul' sets a very high bar and the ambitious choice of songs made by vocalist Gina Foster and her main guitarist, co project founder, Ronnie Johnson, is undoubtedly a brave one, with only two of Joni's lounge lizards ('Both Sides Now' and 'A Case of You') sitting amongst the songs mainly from Joni's albums of the 70s (the only later song being 'Chinese Café' from the 1982 'Wild Things Run Fast').
What's good about the evening is Gina's voice. Sounding nothing like Joni, she brings her own vocal take and delivers those complex lyrics with tenacity and commitment, values she needed against a mix that, from where I sat, needed a bit more sorting out. I took a friend who is a newcomer to Joni's music and she simply couldn't fathom the words, particularly when Gina was drowned out by the band. Undoubtedly this is a band whose members can really play, particularly apparent in 'Trouble Child' and 'Dry Cleaner from Des Moines' when these jazzers were set loose. I was particularly struck by the quality of drummer Richard Bailey who brought great musicality and understanding to Joni's complex rhythms. However, it was the pared down minimal 'For Free' that my friend commented reached in and touched her.
For those of us who are Joni 'nerds' (so everyone here) and particularly those, like me, who have been along for the ride since the 60s, I realised that there is something about the context and time of each of Joni's albums that seem crucial to truly understanding the importance Joni's huge and varied body of work. I didn't really 'get' a lot of those albums and, at the time, bought them through loyalty and interest. Only as the years went by did I truly recognise their significance and now revisit them and am aware of my lack of understanding at the time. I think of 'The Hissing of Summer Lawns' and 'Dog Eat Dog' in particular.
The artistic movement Joni made from the confessional poet, so vulnerable and exposed in 'Blue' to the commentator on American culture in the much derided (at the time) 'The Hissing of Summer Lawns' and onwards into the sound landscape of 'Hejira', the free jazz of 'Mingus' and beyond, into the 80s and 90s, are hard to explain to someone new to her music. I tried to explain the lyrical quality of Joni's observations to my friend, citing the odd line like 'He tips their tired faces gently to the spoon' or describing little parks being paved over as 'brave.' Onwards and onwards and onwards. So many songs with concise, insightful, inspired imagery which comments on so many aspects of our lives and struggles and over a period of nearly fifty years.
Though worthy and ambitious, a connection was missing for me from this particular Joni Project. It's fine to see these songs sung for those, like me, who know every word but, based on this, I couldn't imagine any new fans joining the party, but I would like to be wrong. Joni's LA Express onwards songs take digesting and some listening to and, to play them live and very close to the original arrangements, you need an outstanding sound engineer who knows the material, a band that's highly sensitive to the vocalist and a singer who really understands the shape and times of the albums and explains them to the audience from a place of informed understanding. Perhaps more thought about the introductions to the songs would have been helpful and maybe the band members could have supported the vocalist by taking some of that load. 'Joni's Soul' was a solid, brave attempt, but it was Joni's heart I was left longing for.
Musicians
Gina Foster, Vocals
Ronnie Johnson, Guitar
Patrick Johnson, Acoustic and electric guitars
Graham Harvey, Keyboards
Steve Pearce, Bass
Richard Bailey, Drums
Set One
Help Me
Coyote
Just Like a Train
Hissing of Summer Lawns
A Case of You
Trouble Child
For Free
Shades of Scarlet Conquering
Dry Cleaner from Des Moines
Set Two
Hejira
Chinese Café
Jericho
Edith and the Kingpin
Both Sides Now
Don't Interrupt The Sorrow
Black Crow
In France They Kiss On Main Street
Encores
Refuge of the Roads
Carey