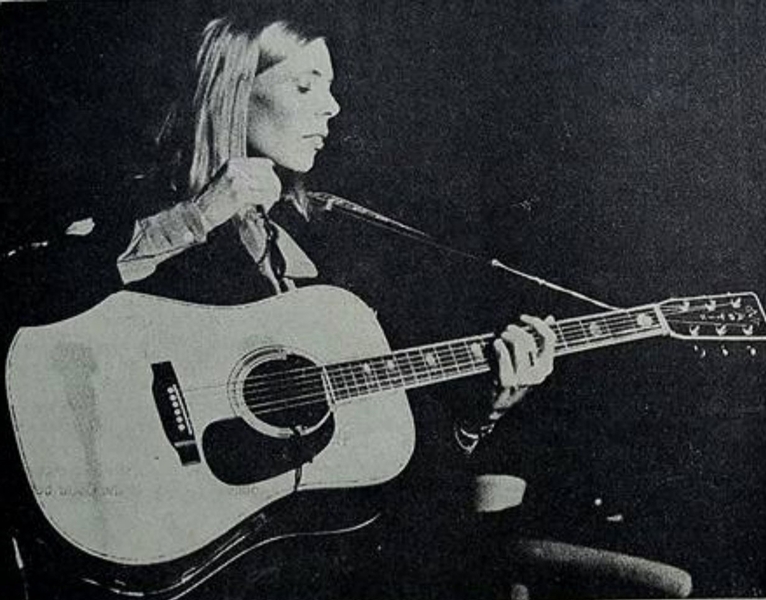 Joni Mitchell's Monday concert was like the flight of a May butterfly: natural, unpretentious and beautiful. It captivated the Dallas audience through a two-hour performance, despite occasional wisps of smog in the form of poor sound mixing and goofs by the back-up band.
The star's performance was immaculate, even if it wasn't visually exciting. Reserving her energy for the music, Mitchell enthralled her fans through sheer artistry. They interrupted her with applause after rare but perfectly controlled vocal gymnastics.
The 21-song set included cuts from every album except "Clouds," but was taken mainly from the last three: "Court and Spark," "Miles of Aisles" and "The Hissing of Summer Lawns." She also did three unreleased songs, substituting them for standbys. The new songs are less adventurous, that is less jazz-oriented, than parts of "Summer Lawns," which some critics say will alienate her fans.
The only thing that alienated the convention center crowd was too much gain on David Luell's saxophone mike. His performance was good but some less-than-competent work on the mixing console drove the otherwise transparent sound system to cover the star's vocals with distorted goat-blast.
Luell's virtuosity on clarinet in "Trouble Child" and "Rainy Night House" shot down his work on alto sax and flute.
The L.A Express, Mitchell's warm-up/back-up group, added Luell on woodwinds after Tom Scott left to do solo work. The Express, or rather its drummer, John Guerin, is largely responsible for the West Coast boogie Mitchell has absorbed.
Guerin is not a great drummer, but he's good enough to supply exactly what the music needs.
Veteran jazzman Victor Feldman, another new addition to the Express, managed his keyboards and conga drums with taste and competence.
Lead guitarist Robben Ford, as usual, lacked technical luster in the rock department but his blues work was more than adequate. He performed well in an electric-standard duet with Mitchell, "Edith and the Kingpin."
Max Bennett's bass work was undistinguished, partly due to a squelched P.A. channel, but mainly because he's a good back-up musician.
The Express lacked coordination in a few places, both with themselves and the star. They did not play badly, but perfect timing is so essential to their music that even small errors stood out like flys on a marshmallow.
Mitchell dismissed the group for much of the show and accompanied herself on six-string standard. She switched to piano for magnificent renditions of "Shades of Scarlet Conquering" and "For Free," then returned to her guitar for the new songs. The Express returned for the final third of the show.
Mitchell closed with a hideously mixed but nevertheless rousing performance of "The Jungle Line." She granted one encore, a rollicking "Twisted." Then, after talking a policeman out of his badge, gathered her roses and left.
The crowd demanded more, but vainly. The queen had retired for the evening.