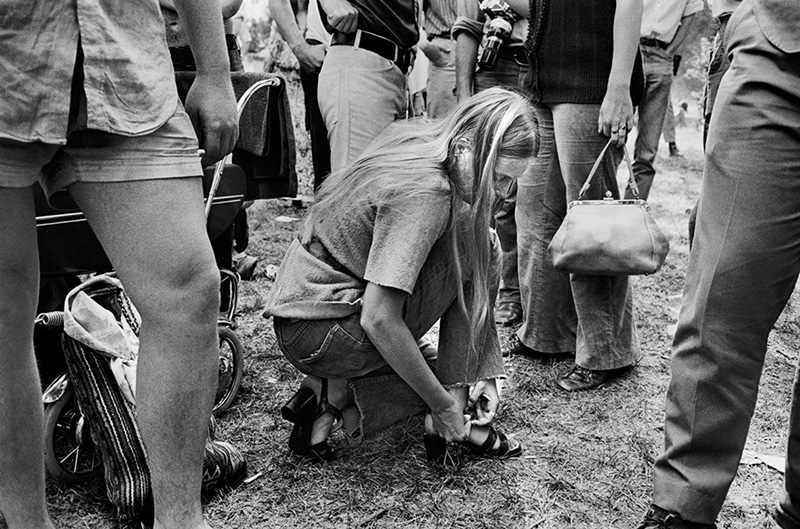 Big bad, much sorry. I failed to publish the above photo by Gerry Kopelow and the following comment that Jeff Markus wrote in response to the Joni Mitchell post (it's good, read it):
My first exposure to Joni's music was through a woman friend, though, as it was 1969, I was hearing the first two albums. Joni and Joan Baez seemed to be what many of the college-aged women here in California were listening to then. Never cottoned to Baez, but always liked Joni. A year later married a Joni fan, so Clouds and Ladies of the Canyon were in heavy rotation. Buffalo Springfield and Neil Young's first solo albums were my contribution.
Two years later, single again, I've fallen in with some hard-partying U.S. sailors stationed in Spain who have off-base living privileges. They've rented a huge old house up a dirt road and someone brings to the party a copy of Joni's new album, Blue, which has a lyric about her going to a party up a red dirt road in Spain. Still my favorite Joni album.
1985 - working as a photo assistant and printer for Norman Seeff, in the studio shooting for the cover of Dog Eat Dog. We're told by the trainer not to move or speak as she brings the timber wolf out to meet Joni. The wolf circles a couple of times, then goes up and licks Joni's cheek. The trainer is astonished, says "he really must like you, he's never done that with a stranger before."
Two years later, taking a break in Joni's living room while shooting for the cover of Chalk Mark in a Rainstorm. She's explaining that she started using jazz players for her studio work because she was told by her rock players that they just didn't understand her strange chordal structures, but that the jazz guys would. After the break our first setup was at the piano. She played the lead-in for "The Last Time I Saw Richard," then couldn't remember where it went. I muttered "goddam weird chords," Joni busted up laughing, Norman got the shot.
My runner-up favorite Joni albums are Hits and Misses because the little white car on their covers is my Hollywood beater, four cylinders of fury, the mighty Datsun B110.
I just love stuff like this...a supposedly "off topic" post about Joni Mitchell becomes ON topic because we hear from the assistant to the photographer who shot many of her album covers. Great stuff. The Internet is goddam weird chords.
I meant to feature this but the task got lost in the shuffle. Big thanks to Jeff, and to Gerry.