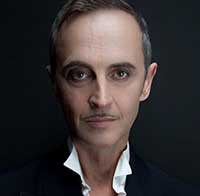 The Crazy Cries of Love: John Kelly Sings Joni Mitchell
The Metropolitan Museum, New York
February 13th, 2019
John Kelly sang a set of Joni Mitchell's music in the Met Museum's Grace Rainey Rogers auditorium on a chilly Valentine's eve, with a theme of Joni's views on love. After a rocky start (perhaps like an awkward first date?) and a few bumps, (as in any relationship) the show moved toward the sublime, with Kelly bringing thirty plus years of investigation of this music to the evening.
After an overture of recorded choral voices, Kelly entered and opened with a lovely "Cactus Tree", accompanying himself on 12-string. The vocal interpretation was somewhat reserved, but it was clear immediately that he was in wonderful voice, easily leaping into falsetto at end of each verse. Dressed in slim black pants, a long-sleeved black button-down and a floor length half skirt he looked like an asymmetrical monk.
Dulcimer in lap, he sang a strained "A Case of You", as if one of the strings wasn't tuned correctly. I've heard him nail this song. "A Strange Boy" seemed similarly off, but with some lovely vocal moments, as in: "See how the feeling comes and goes, like the pull of moon on tides"
but Kelly went back to the 12-string (and a pick) for "Both Sides Now" and delivered an early highlight of the evening. Thus ended the first mini-set.
Kelly introduced his musical director Zecca Esquibel and they went into "My Old Man" with Esquibel at the grand piano and Kelly's hands on his heart for nearly the whole song. This was glorious, with his soaring vocal matched by wonderful pianism. Esquibel stayed at the piano for "Chelsea Morning" and an especially moving "Court and Spark". Kelly then performed an amusing spoken-word "Help Me" with appropriately sparse accompaniment.
The last bump of the evening was "Amelia", where the guitar and the keyboards were clearly in different keys, as a friendly voice from the audience called out after the song. John acknowledged that there was a problem, and then later explained good-humoredly that his VG8 has started malfunctioning, and told a little of the history of the VG8 as it relates to Joni.
He stepped offstage again to put on an almost knee length blue jacket, and went into "Shadows and Light" with Esquibel drawing choruses from the synthesizer. This was absolutely fantastic; Kelly so expressive in his vocals, perfectly complemented with distinctive choreography. Such a gratifying level of artistry.
"Harry's House/Centerpiece", performed with a backing track and Esquibel back at the grand, was also marvelous, with Kelly swinging and theatrical, and Esquibel really getting a chance to shine on the piano. Truly satisfying. Continuing in the "standard" mode introduced with "Centerpiece", Kelly sang "Answer Me, My Love", a song originally written in German, but long associated with Nat King Cole. Joni recorded the song on her 2000 album of standards with orchestra. Here, the air of monkishness suggested earlier in the evening was even stronger, which makes sense since the first English-language version of the song was called "Answer Me, My Lord."
The finale of the show was Kelly's devastating rendition of "Down to You", as song that clearly has deep resonance for him (and for so many of us). He even choked up a bit and had to restart before he could get "marked by lovers" out. Only one encore, a beautifully sung "Blue".
It seems that several songs were cut, due to the VG8 problems, including the "The Crazy Cries of Love", which gave the evening its name. I was particularly sad about that; I've heard a lot of Joni Mitchell songs in performance over the last few months; very few people cover her later songs, and "Crazy Cries" is one of the strongest and most fun of Joni's late songs. And Kelly is one of the best singers of her music, so I was excited to hear his take.
This writer had a number of friends and acquaintances in the audience who had never heard John Kelly. When one admires an artist as much as I do Kelly, one hopes that others will admire him as much, and I worried early in the show, as several songs missed. I was so relieved and pleased that Kelly and Esquibel eventually achieved the incredibly high level of excellence I've experienced in the past. The second half of the show was transcendent.
Set List
- Cactus Tree
- A Case Of You
- A Strange Boy
- Both Sides Now
- My Old Man
- Chelsea Morning
- Court and Spark
- Help Me (spoken)
- Amelia
- Shadows And Light
- Harry's House/Centerpiece
- Answer Me, My Love
- Down To You (piano)
Encore
- Blue
Musician
- Zecca Esquibel , Music Director, piano and synthesizers