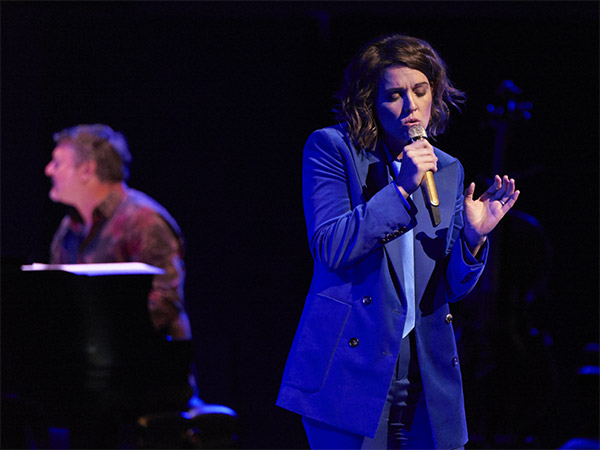 It takes a lot of courage to sing Joni Mitchell and incredible skill to do it right. Her melodies are sweeping and angular, her guitar chords from another planet, and her phrasing in lock-step with every word. It's a challenge to sing just one Joni song, let alone an entire classic album like Blue, which is forever tattooed on the souls of fans everywhere. Brandi Carlile rose to that challenge on Monday, when she performed the album front-to-back to a packed room of devoted fans. Rufus Wainwright, Bonnie Raitt, Elton John, and many more of music's elite were present, but the guest of honor was Joni herself, who'd given her blessing to put on the concert.
Carlile is no stranger to performing Joni's music. About a year ago, she performed at the Joni 75 tribute concerts at the Dorothy Chandler Pavilion, where she delivered startling renditions of "A Case of You" and "Down To You." But compare to her performance Monday, and that two-song set was just a practice run. Brandi was backed by her longtime bandmates Phil and Tim Hanseroth on bass, guitars, and dulcimer, as well as Jess Wolfe and Holly Laessig of Lucius, who occasionally provided backing vocals. Original Blue drummer Russ Kunkel was also in tow, alongside musical director/pianist Jon Cowherd, guitarist Marvin Sewell, and guest violinist Scarlet Rivera (all Joni 75 alumni). Together, they delivered the goods with stirring arrangements of Mitchell's most iconic work, never veering too far from the original but never quite a carbon copy. Brandi, meanwhile, showed off her beautifully elastic vocal qualities, somehow perfectly replicating all the intricate sweeps and falsetto runs of the original, which she admitted took practice. But Brandi was clear to point out that the night wasn't about showcasing her own talents – it was about celebrating an incredible album. And she did so with heart and humility.
"None of us get the chance to see Blue live," Brandi told us after an energetic take on "All I Want." "So, I'm listening right alongside you tonight and enjoying this classic and amazing album, just like you are. I'm not here to reinvent the wheel. I really haven't put my own spin on hardly any of this music. I've just worked my ass off to try and learn and sing it to the best of my ability. Tonight, it isn't about me; it's not about ego. It's about you getting to hear Blue live." The audience – which was just about an even split between longtime Joni Mitchell devotees and Brandi Carlile admirers – was ready to enjoy it and responded with standing ovation after standing ovation.
Before launching into "Little Green," Brandi delivered her Blue story. Every Joni Mitchell fan has one – it's that moment when the album clicks and its raw power makes that indelible impression on the listener. For Brandi, this wasn't instantaneous. "[Music producer] T Bone Burnett played 'Blue' for me in about 2005," she explained. "And I was a young girl, and I wanted to spit and swear and cuss. And I still do all that. But didn't understand how much toughness there was in femininity." While on a date with her now-wife Catherine Shepherd, Brandi had another chance to hear Blue and let her distaste for the album be known. In particular, lines like "I want to shampoo you / I want to renew you again and again" naggled at her. "She doesn't sound tough," Brandi told Catherine. Not missing a beat, Catherine put on "Little Green," where Joni reflects on the pain of putting her child up for adoption. "It changed my life," Brandi said. "It didn't just change the way I view music. It changed the way I view women, and what tough means."
For her bare-bones solo rendition of "Little Green," Brandi accompanied herself on guitar (properly tuned to the open G chord). She traded in Joni's intricate fingerpicking for a gentler Travis-style accompaniment while delivering one of the most heartfelt, goosebump-inducing vocals of the night. For most in the attendees, this marked the first time hearing the song live in concert – Joni hasn't performed the song since 1968, three years before Blue was released – and the immediate power of hearing that tale of sorrow and strength sung so beautifully left in tears as they gave a standing ovation.
For the uplifting and boisterous "Carey," Brandi brought on two special guests: Jess Wolfe and Holly Laessig of Lucius, who had the daunting task of replicating one of the trademark sonic elements of every Joni Mitchell album -- her stacks of harmony vocals. Well, Wolfe and Laessig have to be some of the finest harmony singers around, because they absolutely nailed those close-structured harmonies with spell-binding accuracy. Add to it Jeff Haynes' extended percussion and Russ Kunkel's delightful groove, and there's no way your toes wouldn't tap nor your shoulders swivel in a trademark Joni bop.
Next came a string quartet featuring Scarlet Rivera, who provided gorgeous textures to Brandi's note-perfect rendition of "Blue." As the album's standout ballad, the pressure was on to deliver. But Brandi seemed to have no trouble transfixing the audience with her emotional and gripping reading. "I was so nervous!" she said gleefully as she basked in the well-deserved standing ovation that followed.
Indeed, the challenge of nailing Blue was not lost on the Brandi, the band, or the crowd. The sparse arrangements give a vocalist no place to hide, and with her heroes in the crowd, the pressure must have been enormous. One hero even questioned her sanity for tackling Blue. "Ever since I said I'd do [this concert], I immediately regretted it," Carlile joked. "I knew I was biting off more than I could chew. I had dinner with Elton last week … I said I wasn't going to use Teleprompters, because I know the album -- it's written on my soul. And he said, 'You're a crazy bitch. You need to get those Teleprompters.'"
But there wasn't a Teleprompter in sight. Nor were there any smartphones or video cameras. Patrons were instructed to lock their phones away in special Yondr pouches so the all-too-frequent sight of phone screens in the air didn't mar this special performance. That aided the sense of immediacy and authenticity that permeated just about every aspect of the night. Whether connecting with the music onstage or telling stories, she never lost the attention of the audience.
And as a witness to at least one of Joni's legendary white wine-fueled jam sessions, Brandi sure does she have stories. "One night I got drunk at Joni's and tried to play [the song "River"]. Herbie Hancock was there, too. I wasn't prepared for that!" But onstage at the Walt Disney Concert Hall, Brandi delivered a stunning and rendition of the song that she said "gave us the right to grieve at a time when you usually can't." Though her piano work was a little looser than the original, her voice soared high and clear, and the rendition was rewarded with yet another standing ovation.
After sublime takes on "A Case of You" and "The Last Time I Saw Richard" – both of which showcased her remarkable ability to sweep from near talk-sung verses to high, angelic choruses – Brandi left the stage, leaving the crowd enraptured. With just a blank page in the program in lieu of the customary detailed setlist, the audience had no idea what might happen next.
After a few minutes, Carlile returned and reflected on the Blue album and the palpable magic of the night so far. But Brandi was sure to remind people that while Blue may be one of Joni's most influential and popular albums, "nothing Joni did started or ended with Blue." Joni continued to change and grow as an artist, creating music that was just as touching and prophetic as anything before. Her evidence? An unexpected, gospel-piano take on "Shine," from Joni's last album. Here, she takes stock of the many follies of our modern world. She warns against corrupt leaders, global warming, and an increasingly isolated society. In the end, "Shine" strikes a tone that carefully optimistic with her "Oh, let your little light shine" refrain. It's that little sliver of hope that tells us we can make it through these and any waves.
Before the end of the show, Carlile reflected on our unique opportunity to recognize the genius of Joni Mitchell's music. "We're gonna realize that we lived in the time of Shakespeare or Rembrandt," she said, "And I won't sleep eight hours until everybody in the world feels that way about Joni Mitchell." Brandi's concert Monday proved that Joni's music – Blue and beyond – is still reaching people. And there's little doubt that the thanks to her renditions, a new group of fans now have Blue tattooed on their souls. Mission accomplished.