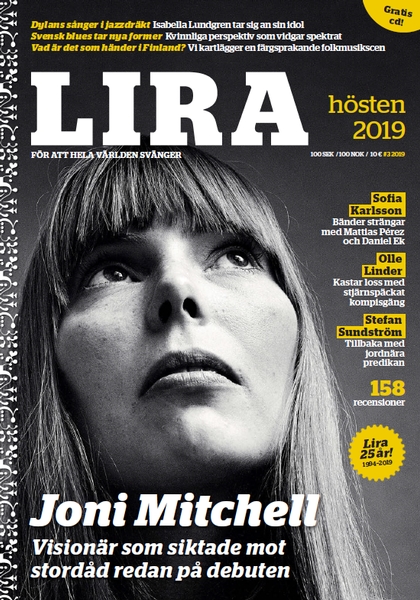 Translated from Swedish to English by Rob Argento
When Joni Mitchell's debut, Song to a Seagull, was released in March 1968, she was seen not only as the most talented female songwriter from her generation, she also had one of the most lucrative publishing contracts thanks to others' recordings of her songs. The previous year, Judy Collins had recorded her version of Both sides now and not only received a hit on the Billboard charts, she was awarded a Grammy in the category Best folk performance and also received a gold record for the sales successes.
Joni Mitchell has never made any secret of her dislike of Collins, whom she called mannered and pretentious, and her version of the song that has become a musical icon over time, but Judy Collins is in good company. The only people Joni Mitchell admitted that she has seen up to is Pablo Picasso - she sees herself primarily as a visual artist - and Miles Davis. Otherwise, Leonard Cohen and Bob Dylan may be the only contemporaries she considered to be fairly equal, at least In terms of text. Higher thoughts about their musicality, she has never had.
David Crosby once described Joni Mitchell as "modest as Mussolini" and one can be forgiven for believing that it is not primarily for the sake of alliteration he chose the comparison with the Italian fascist dictator. Crosby was very involved in the fact that Joni Mitchell received a record deal. He also produced Song to a Seagull, a service she reciprocated with comments like "he destroyed my debut", that the album "Sounds Like It was recorded under a glass dome" and that Crosby was "Hopelessly incompetent" in the studio. One can agree with her on at least at one point: Song to a Seagull doesn't sound good, even if it's not a direct catastrophe. In addition to that, the album also lacks her biggest songs, although they were already written long before she stepped over the threshold of the Sunset Sound studio. In that sense, Song to a Seagull could have been stronger, but it is a debut that lays the foundations for a lot in Joni Mitchell's artistry and for the next twelve years of productions which, in terms of variation and quality, are unprecedented. In popular music history.
Song to a Seagull consists of two parts: Side A is "I came to the city" and side B is "Out of the city and down to the seaside". One can compare it with classic singing cycles such as Franz Schubert's Winterreise or Robert Schumann's Dichterliebe than more than aspect. In all three, a comprehensive textual theme is followed by melodic and harmonic variations based on the narrative. Another typical feature is intricate accompaniment that often lives its own life, and which can be both supportive and self-contained.
v The song cycle as a format had its glory time during the early 1800 's and was as a concept hardly popular culturally relevant 1968. The equivalent will instead be the concept album, which in itself is at least as much a product of the LP format as anything else. The first time the word pops up is associated with The Beatles Sgt Pepper's Lonely Hearts Club Band in 1967. But the concept there was rather the packaging, especially the cover but also of the music, not the textual or musical themes. Afterwards came The Beach Boys Pet Sounds which has also been called concept album. But there it was the concept of Brian Wilson's groundbreaking production, not so much text or music. Rolling Stones and Small Faces both attempted 1967 with Their Satanic Majesty's Request And Ogden's Nut Gone Fake, but in view of the result and with perspective, the concept has rested on little more than weak sales figures and very costly album covers.
THREE OTHER ALBUMS released in 1968 represent different variants of the idea. The Who's The Who Sell Out was held together by imaginary advertising jingles between the songs; Frank Zappa's Lumpy Gravy, his first solo album without Mothers of Invention, contained two LP sides of unbroken streams of music and voices; and the Pretty Things S F Sorrow was based on a fictional story about Sebastian F Sorrow.
If you're going to take it to the extreme, it was only 1971 that a stylistically consistent concept album in the popular music genre reached an audience with Serge Gainsbourg's Histoire du Melody Nelson. Gainsbourg's story begins with a middle-aged man accidentally running on the teenage girl, Melody Nelson's bike, with her Rolls Royce, which leads to a love story starting after he seduced his Lolita character. Musically, large choirs and orchestrated episodes are mixed with a small messy funk-rock comp where the unifying kit is primarily Herbie Flowers ' prominent base game and Serge Gainsbourg's voice.
Seen in this context, Song to a Seagull is more a song collection than a concept album. There are also no thematic compromises: Binding to context is not so strong that songs could change location between The City... and Seaside... But, that contemporary classics such as Both sides now and The Circle Game have been omitted demonstrate the willingness to present a coherent whole for the price of a commercially weaker album.
Then there is reason to consider Joni Mitchells Blue from 1971 which is both conceptually stronger and more profound although the album has never been presented as a song cycle. The ten songs in Blue were written during a break from live performances and, unlike the predecessors, first reached the listeners in their entirety with the album's release. The lyrics make regular references to the title and to the word "blue", and the sparse instrumentation, mainly guitar, piano and dulcimer, give the album an acoustic identity thanks to a very fine production. The songs were also written after a break in a relationship, which can make Blue the first divorce album of popular music. Many artists would follow suit.
Both sides Now from the year 2000 is another Joni Mitchell album based on a concept that is a fundamental idea, and here it is also pronounced. The album features ten standard songs complemented by two of Joni Mitchell's own, A Case Of You from Blue, and Both Sides Now from Clouds. Large orchestral arrangements bring forth Joni Mitchell's voice in texts describing a relationship journey, from early flirt and stages of optimistic hopes to despair and final acceptance to the situation where the prospect of the entire cycle we resigned feel will be repeated again.
Purely thematically, we can also go 170 years back in time and reconnect with another classical song cycle, Robert Schumann's Frauenliebe und Leben, which deals with a young woman's journey from infatuation, maternal happiness and grief to the death of the Beloved.
I HAD A KING
Despite the fact that it was her debut, Song to a Seagull - The record we here will go through song by song - is not so much a start than a transit for Joni Mitchell. From hippies and Keats romantic sensual imagery to Dylan, Cohen and reality here and now. Both sides are represented, partly in the songs but also through the thematic Division on the disc pages.
In the scenography to I Had A King, which opens the first side, both images are brought forth in the first lines: Medieval kings and castles mask a modern polluted district where the apartment is the playing field for her divorce from her first spouse, Chuck Mitchell.
"I had a king in a tenement castle/Lately he's taken to painting the pastel walls brown/He's taken the curtains down/He's swept with the broom of contempt/And the rooms have an empty ring/He's cleaned with the tears of an actor/Who fears for the laughter's sting"
The weaving of rhyme is intricate, especially in the verses, and in spite the fact that the song only has two building elements, voice and guitar, Joni Mitchell has woven them together for the most possible dramaturgical effect. She plays an eighth on the top three strings at the same time with three tones in the bass that rhythmically stutters in the song under "A Tenement" and "to painting".
The pattern is broken at "Brown" where she marks heavily on the guitar. After that she plays down the guitar to let the voice take over. She releases the guitar's subordinate role in the chorus where she plays a chord alone on the top three strings in a movement against the melody.
"When I play guitar, I hear an orchestra," she once explained. "The top three strings are my wind section and the three lowest are viola, cello and Counter Bass, but a bass that is more hinted than firmly rooted." One can hear her wind section also in other songs on the album such as in Sisotowbell Lane and The Dawntreader, where the guitar, just as on I Had A King wanders between different roles.
This way of writing, very precise and coordinated, concentrated, almost through-composed, was gradually abandoned by Joni Mitchell after For The Roses, her fourth album. She began to let in more instruments, often played by jazz musicians who gave her a more malleable background with more choice in phrasing and singing style, and it also came to influence her way of writing both lyrics and music for the rest of her career.
MICHAEL FROM MOUNTAINS
Michael From Mountains, a romantic history of reality that was written in 1966, is also the opening track on Judy Collins' album Wildflowers, which has Both Sides Now opening the B side of the LP. These two Joni Mitchell compositions that only set the tone for the album but also gave Judy Collins her greatest success as an artist. But Ms. Collins was far from alone. Tom Rush had recorded The Urge For Going already in 1966 and he then supplemented with Tin Angel and The Circle Game, which also became the title of the Album he released 1967. The same year, Ian and Sylvia, the Woodstock Singers, and Buffy St. Marie each did their own versions of the Circle Game, Tigger Outlaw made Songs To Aging Children Come, country artist George Hamilton IV released The Urge For Going and Dave van Ronk recorded Chelsea Morning for the album Dave van Ronk and The Hudson Dusters, where he also recorded his version of Both Sides Now which he chose to call Clouds.
In the same year that Song To A Seagull was released, fourteen of her songs had been recorded by other artists - only two of which appeared on her own album - and in addition to these, she had written another six that she herself would be recording on her next three albums.
In terms of the material, it is a body of work that most people would be thankful to have accomplished during an entire career. Joni Mitchell wrote the songs in a period of two years while she went around playing in small clubs.
Both sides Now is recorded in the most versions, 1 292 according to the site Jonimitchell.com, and by artists such as Willie Nelson, Håkan Hellström, Herbie Hancock, Hole, Frank Sinatra and Leonard "Mr. Spock" Nemoy. In addition to a lot of bizarre instrumental interpretations in the category of easy listening intended for different geography markets including Viola Wills disco version to the even more odd.
A Case Of You, Big Yellow Taxi and River have also been recorded hundreds of times, the latter's jingle bells theme does not seldom appear in new recordings around Christmas which is peculiar given the unilateral depressing image of Californian Christmas that the text paints.
The first to sample Joni Mitchell was Prince - a fan - with Help Me. As you can hear in the Ballad of Dorothy Parker at Sign O ' The Times, but best known is undoubtedly Got till it's Gone with the Janet Jackson feat Q-Tip, which sampled Big Yellow Taxi. Common to all of these is that they come from her seventies production, especially Blue and Ladies Of the Canyon. Joni Incidentally, Mitchell, herself was a kind of sampling pioneer when she let the French field recording Musique du Burundi become the base for The Jungle Line in 1975.
NIGHT IN THE CITY
There is one on each LP: Chelsea Morning, Big Yellow Taxi, Carey, You Turn Me On I'm A Radio, Help Me, In France They Kiss On Main Street, Raised On Robbery. Songs in major keys, insignificant and, in most cases, in a fast tempo. A reason for the record companies to release a single, that is, most of what Joni Mitchell does not really represent. Help Me reached in any case a seventh place on the Billboard charts while Free Man In Paris, Big Yellow Taxi and You Turn Me On I'm A Radio did not climb higher than the positions 22, 24 and 25.
In other words, Joni Mitchell was never one to produce single hits. But others had great success with their versions of her songs, which once led John Lennon to give her the Council: "Oh, put some fiddles on it - you want a hit Don't you? Why Do you let other people have your hits for you? "
In Song To A Seagull, Night In The City stands for the pop quota on that album. Three chords in G Major that runs around an eight-bar period with a symmetrical verse-chorus structure. An exception not only because it is arranged for more than voice and guitar - Stephen Stills guest on bass - but also as Joni Mitchell is playing the piano.
As a child, she HAD taken piano lessons after hearing the music of Sergei Rachmaninov but stopped because the teacher rapped her on the knuckles when she was playing wrong. There is nothing in her effort here to suggest that Joni Mitchell would be a very brilliant pianist, but the piano, on the other hand, is so low mixed that most listeners probably never noticed it.
The piano comes back on The Ladies Of The Canyon where no less than six of the songs were written with and dominated by her piano playing. Though still undeveloped compared to her guitar playing, she has her own unmistakable style with a steady scrolling an octave of fifths with her left hand and a rhythmically independent chord play with the right hand with sounds staying pretty close to the ones she plays on Guitar. Nevertheless, she could draw a lot of emotion out of such technical limitation, as in Woodstock, where the more famous Crosby, Stills & Nash version is a pretty much superficial tribute to a rock festival while Joni Mitchell's original played on a Wurlitzer-piano becomes a song to an entire generation.
Then come a quick development. In My Old Man (Blue), she plays intricate counterpoint within the song and Judgement Of The Moon And Stars on For the Roses has an even more elaborate structure. Her collaboration with jazz musicians then blossoms in Court and Spark and The Hissing Of Summer lawn where she allows the piano to be the basis for long instrumental parts arranged for larger wind or string sections. In Down To You (Court And Spark) Tom Scott has arranged for strings, brass, bassoon, oboe, clarinet and harp.
Joni Mitchell aimed highest in Paprika Plains on Don Juan's reckless Daughter which takes up an entire side of one disk of the double album. The piece begins with a series of piano improvisations that were edited down to a Three movement suite where the first one is composed with some recurrent passages and a text with motifs from her own childhood: the Canadian prairie with its indigenous peoples, their Alcoholism, and hopeless social situation. The middle section is a long dreamlike instrumental party in where her piano improvisations were orchestrated by Mike Gibbs in the spirit of the American twentieth-century composer Aaron Copland. In the last and third, the song will return briefly and then glide over in a new instrumental part, this time played by Wayne Shorter on soprano sax, Jaco Pastorius on bass, and John Guerin on drums.
More ambitious, or even dissonant for that matter, it would never again be.
MARCIE
That Joni Mitchell learned to play the guitar with the help of The Folksinger's Guitar Guide, an instructional disc recorded by folk singer Pete Seeger, feels totally absurd given the debut's advanced harmony.
"I was a folk singer for maybe two years and that was long before I recorded an album," she later explained. That Joni Mitchell was still labeled a folksinger can only be due to two things: that she sang and accompanied herself on guitar and that people simply did not have the energy or knowledge enough to consider her music beyond that image.
There is not a hint of simple folk music harmony in Song To A Seagull. The counterpoint is rather with Bill Evans' early sixties of jazz or in the palette of the Impressionist composers Ravel and Debussy, and typically she is more focused on the timbre of the chord.
When Joni Mitchell began writing her own songs, she regarded folk and pop music as completely exhausted of opportunities. She has described her own harmonic style as unpredictable and she compares the chords she uses when it comes to questions as rarely following predetermined patterns, but rather opening new paths.
Marcie is a good example. Assuming G major is the basic key - never given with Joni Mitchell - we hear neither the first nor the second chord, Bb and A, at sitting comfortably in the key, and the halftone step between the two immediately adds a little bit of an oddity. The B-part, in which she mixes Major (Ionian) , Lydian and Aedian modality is also a challenge, not least as she accentuates the Major tones by starting each phrase on the chord's septimal 1/3-tone: "So She'll wash her flower curtains/Hang them in the wind to dry/Dust her tables with his shirt and/Wave Another Day Goodbye ". The gradual descending line effectively underlines the melancholy of the text and, despite its direction, leaves a sense unpredictability after itself.
To build music on halftone steps, chromatics, was long reserved for experimental music and jazz but even there actually quite rare. The first six tones of the bass line in Dido's Lament of Purcell and the introductory vocal phrase to the famous Habanera-Arian in Bizet's Carmen - l'a-Mour est un oi-seau re-Bel-Le que nul ne peut ap-pri-Voi-ser - are probably the most famous examples beside Richard Wagner's Overture to Tristan and Isolde, but generally you could consider the chromatic as an effect rather than a standard tools for composers.
It is certainly exceptional that Song to a Seagull contains three songs that are based on chromatics, Marcie, The Pirate Of Penance and Michael From Mountains, and yet still be considered popular music.
In terms of the entire album, there is no single song built on the traditional western major-minor harmony. In addition to the three now mentioned, the other songs are either polymodal, that is to say using several modal keys in the same, or mixolydic. The latter, more ordinarily in pop and rock, a tonality she returns to in some of her most beloved songs.
Later, in her carrier, the harmonies became more predictable in that she more often wrote on the piano. It becomes clear the times when she returns to writing on guitar where her odd moods automatically create a harmonic outside the standard template, such as in Amelia and Black Crow on Hejira or the title track of the Turbulent Indigo.
NATHAN LA FRANEER
Although the text begins with Joni Mitchell hiring "a coach" instead of saying that she takes a taxi and that she sings of "silver" instead of money, the text of Nathan La Franeer is freed from much of the romantic imagery of Song To A Seagull. Here are rear view mirrors, gangs, strip tease shows, plastic clothes, meter maids, peace marches and a disabled old person who sells Superman balloons. Joni Mitchell builds for the first time a text on observations from everyday life.
That this story with the named taxi driver is placed last on the "City side" of the LP is surely no coincidence because it so clearly points to the other side's sea theme. Joni Mitchell escapes this city with its cheap chrome gloss, its plastic flowers and its dirty trees.
Environmental commitment has followed her through her career, most famously through Big Yellow Taxi where she, among other things, addresses the use of DDT that which allowed in the United States until 1972.
Joni Mitchell was also one of the first artists to actively support Greenpeace, to which she from 1970 contributed money but, not least as much, also by performing in fundraising galas and by urging other artists to do the same.
Over time, the commitment is also more clearly expressed in her texts. In Banquet in For The Roses, she connects environmental degradation to capitalism and one step to take she in Chinese Café on Wild Things Run Fast where the situation of the indigenous people of America becomes part of the same unholy cycle: "Uranium money/Is booming in the old home town now/It's putting up sleek concrete/Tearing the old landmarks down now/Paving over brave little parks/Ripping off Indian land again/How long - how long/Shortsighted businessmen/Ah, nothing lasts for long ..."
Even if one may have differing viewpoint concerning her productions from the 1980s where ill-chosen experiments with modern studio technology and side glances to musical trends often put other qualities aside, one still has to pay tribute as she is standing up and marching against the tide in a World where shallowness was the rule. Not many mainstream artists were so pronounced in their criticism of civilization as was Joni Mitchell: "Enter the multitudes/In Exxon blue/In radiation rose/Ecstasy/Now you tell me/Who you're gonna get to do the dirty work/When all the slaves are free?"
The quote is from Passion play on Night Ride Home. Significant is also that it was her rage over the war in Iraq and environmental degradation which, after a break, led her to start making music again with Shine in 2007.
SISOTOWBELL LANE
Very little in Joni Mitchell's background indicated that she would become a celebrated lyricist and a deeply original composer. Her father was an Airforce lieutenant who began working for a vegetable wholesaler, her mother a teacher and she, herself, at a young age was most interested in dancing and described herself as completely uninterested in literature. There is, however, a purely physical key to why her music sounds as it does.
As a nine-year-old, Joni Mitchell fell ill with polio, which led to a weakening of muscles, and, among other things leaving her with an impaired grip ability in her left hand.
Her first stringed instrument was a baritone ukulele, a four-stringed instrument - incidentally, the only thing she could afford - that she could handle without much trouble. A guitar sets other physical demands, and for those who think that the simplest chords are banal and have other and larger visions for their music creation, a polio-damaged left hand is a poor platform.
Folk singer Eric Andersen was the one who opened the door to a world different than that of well-worn chords. He showed Joni Mitchell open G tuning. Originally a banjo tuning that was used by many country-blues guitarists who used it for playing slide guitar, it was also the starting point for many of Keith Richards' songs.
On the basis of the Open G, she began experimenting with her own moods, which emanated from her own emotional state, not from any established system, and could, theoretically, create very own musical rules that also allowed for simpler grips that better suited her physical handicap. Emotional chart, she has called her various guitar moods.
A guitar is normally tuned E A D G B E. You can compare it with a Swiss army knife. Versatile but limited, it provides the conditions for playing many different types of music but lacks its own distinct identity. An open tuning is, in its basic mode, a separate chord and is usually played with many loose strings, which gives a larger and more complex sound, which in turn can generate new original ideas.
In an interview, Joni Mitchell compared this to painting with complementary colors. It can be a beautiful day, a major chord, but at the same time we live under the threat of a nuclear war which adds a dissonance to the first chord, and it is that complexity that makes her tune her guitar in chords that almost always contains one or more notes that contributes more questions than statements.
Sisotowbell Lane is based on a mood that can be described as a Cadd11 (C Major Add 11 or C11 chord.) Actually, there are two chords at the same time, a C and a G7, or a C and a D minor, or... And that's exactly where the interpretation comes in. Neither here nor there, nor as the section of the text: "We always do, yes sometimes We do" - we do it all the time, yes we do it sometimes.
The song is based on three basic chords, C, Am and G, but because each chord also has with it two, three or four loose strings in tow, the sound is widened and avoids being locked into a tonality or definite chord sound, usually balancing on a modality more than Clearly major or minor.
By Joni Mitchell's use of over 60 different guitar tunings, she uses six on Song To A Seagull: Open G in Nathan La Franeer and Marcie, open D in The Pirate Of penance, Night In the City, The Dawntreader and Cactus Tree, an unusual F-tuning in Michael From Mountains, and other variations of the D and C tunings in I Had A King. The guitar is tuned D A D E A D, which has given rise to the name "Freudian tuning" because it contains both the words DAD and DEAD.
THE DAWNTREADER
The Dawntreader is the ship on which Edmund, Lucy and cousin Eustace sail out onto the seas beyond the lonely islands to help King Caspian find seven lost Knights in C S Lewis's fifth book on Narnia.
Although Joni Mitchell certainly did not identify with the often-said image of her as a hippie goddess - on the contrary, she denied it categorically - it, in any case, prevented her from quoting C S Lewis. And in The Dawntreader she mixes alliteration with internal rhyme in scenes reminiscent of a Pre-Raphaelite painting.
The first verse begins," Peridots and periwinkle blue medallions/Gilded galleons spilled across the ocean floor".
One can compare with Blue where she uses the same technique but with a completely different bottom: "Acid booze and ass/Needles guns and Grass/Lots of laughs." In the text of the Dawntreader there is yet another detail that runs like a red thread through Joni Mitchell's entire production, most evident in Blue, and it's the line in the last verse's "and the dream of a baby".
In 1964 Joni Mitchell, then Joan Anderson, enrolled in an art school in Calgary. She was the last virgin in the class and decided to do something about it, immediately becoming pregnant. The father, Brad MacMath, who was not much more than a good friend, did not intend to figure in any more chapters in this history, and Joan Anderson became a single mother on February 19, 1965, giving birth to a girl who was named Kelly Dale Anderson.
Joan Anderson had no way to support herself and a small child - she couldn't even afford the dues for The Canadian Musician's League - and had to make do with playing for tips in small clubs. At first, she first left Kelly Ann to the care of a Foster family, and then, when no other options were possible, let her daughter be adopted.
Joan filled in the adoption papers without entering the names of the parents but sneaked a couple of clues that might allow the girl to find her one day: that she, Joan, was born and raised in Saskatchewan and that she had polio as a child. The adoption authority noted: The mother moved from Canada to the United States to work as a folk singer. I Little Green on Blue she sings:" Child with a child pretending/Weary of lies you are sending home/So you sign all the papers in the family name/You're sad and you're sorry but you're not ashamed/Little green, have a happy ending"
That Joni Mitchell had a daughter was a well-kept secret for thirty-three years, but just as she did at the adoption agency, she put small clues into her texts. It started already during pregnancy with Day After Day, which was never recorded on vinyl, where she describes how the clock is ticking. "So, this must be my fate/To sit and weep and wait/And pray my Darlin' comes before too late."
In Banquet on For The Roses she comments: "Some watch their kids grow up", and she does it in The Chinese Café on Wild Things Run Fast: "My Child's A Stranger/I bore her, but I could not raise her ". In Little Green not only is the entire song only about Kelly Ann, the title itself also becomes a clue as Kelly is the name of a dark green shade of color, Kelly Green, PMS 3425 on Pantone's color scheme. In 1996, they were reunited. Kilauren Gibb had read about Joni Mitchell's search for her daughter on Jonimitchell.com when she was looking for information about her own roots and in that way understood how everything hung together.
By 1996, Joni Mitchell had written music and lyrics for thirty years and was honored as one of the absolute greatest songwriters of her generation, but the moment she met her daughter, she dropped interest in all that had been in her life and career. She saw that her daughter's birth and her inability to take care of her connected with her own will to begin to express herself through text and music.
In an interview for National Public Radio in 2004, she explained: "I wrote songs from the fact that I lost my daughter until she came back. Since I regained my family, I no longer write. I just stopped, and whatever it was that made me start writing, there was no longer. "
THE PIRATE OF PENANCE
In The Pirate of Penance, the title alluding to Gilbert and Sullivan's 1800-voice opera The Pirates of Penzance, is a story in which two women are linked together through the death of a common Lover. Penance Crane is the 'good' protagonist, not least marked by the name, Penance = contrition, while the Dancer is the 'evil' one. The fact that the song fits into the second side of the LP, the sea theme, with the pirate that anchors on a Wednesday feels logical even if the story itself is all but that. A murder was committed but who is it who was actually murdered and who is the killer? The song ends in a sort of repeated question and answer where Penance Crane sings "Go Ask the dancer, she knows the answer" and the dancer replies "I don't Know".
Later Joni Mitchell returned to the technique of portraying other people's voices in this choral voice. She is the antagonistic chorus of the replies with the Deity in The Sire of Sorrow (Job's Sad Song) on Turbulent Indigo, and the same thing though wordlessly in Slouching Towards Bethlehem on Night Ride Home. She has not been foreign to using this voice in many different instances. As "the upstairs choir" she forms major chords in Rainy Nights House on Ladies of The Canyon, making herself part of the ambitious Instrumental arrangement in Car on A Hill (Court and Spark) ) and Let the Wind Carry Me (For the Roses ), and she is also happy to use the voice to place the music for a certain time, in a certain place, or a particular situation. In Raised On Robbery (Court And Spark) by a clearly Andrews Sisters-pastiche, as a three-voiced advertising jingle in the consumerism-critical Reocurring Dream on Night Ride Home or deliberately unflattering in Ethiopia on Dog Eat Dog.
The latter was criticized at some point because the song was too ugly. "You can't sing parallel seconds. It's not neat. " Whereupon Joni Mitchell replied: "Do you seriously believe that these Ethiopian women with their dried-up dried up breasts and cadaver-like babies in their arms would burst out in three voiced harmonies in a major key?
Like most of the songs on her debut, The Pirate Of Penance is also an example of Joni Mitchell's impressive vocal range. At most three octaves but usually an octave plus a fifth, and at this time in a rather high soprano mode, which she herself, in retrospect, characterized as a bit whiny. "I was never really a soprano, I'm naturally an alto or mezzo. That I sang in such high pitch from the beginning was because I imitated folk singers and they were all sopranos. "
Her voice as a creator of characters had not yet been refined 1968 but there still was a certain breadth. I Had A King is solemn in a classic traditional way, in The Dawntreader the voice is monotonous and romantically secretive, in Marcie it is descriptive and distanced, in Nathan La Franeer engaged and in The Pirate Of Penance she sings with a voice that is overly dramatic.
On the Ladies of The Canyon, her third album, Joni Mitchell has begun utilizing her voice more consciously and the sound has matured, although she can still sound very girly like as in Morning Morgantown.
On the sequel, For The Roses, are both new depths and a warmth in sound that hasn't been there before. You hear this not least on Woman of The Heart and Mind. That Joni Mitchell is here thirty years of age may also play a roll, but three or four packets of cigarettes a day are hardly unnoticed either. On Hejira from 1976, she still retained her high soprano, although it starts to sound a little pressed on the few occasions, she uses it.
In the 1980 's, Mitchell's voice gradually loses its high tones. Before the 1982 tour, her older songs had to be transposed to lower keys, and in 1988 she sang My Secret Place together with Peter Gabriel, in a kind of scratchy alto mode. On the other hand, she had never been able to make the more politically and socially commenting texts of the 1980 's with her young soprano voice.
When Mitchell returned to Both Sides Now and A Case Of You in Vincent Mendoza's orchestral arrangement on Both Sides Now, both were transposed quite substantially because if she was to get through the melodies now with a voice marked by age and nicotine. Nothing remained of the balanced vocal acrobatics of the original A Case Of You, but, on the other hand, she had, 33 years after the song was written, achieved a more appropriate age for the text of Both Sides Now. To quote the last verse: "Well Something's lost but something's gained".
SONG TO A SEAGULL
In August 1967, David Crosby's career was in between The Byrds and the super-trio Crosby, Stills & Nash. Geographically, he was on his sailboat, The Mayan, in The Coconut Grove, Florida, where he heard Joni Mitchell play at a club. He fell in love with her and her music and eventually also participated in her signing with the record company Reprise. In connection with this, he also suggested himself as the producer. At the record label it was believed that this would guarantee that one of the folk rock's inventors would give Joni Mitchell's debut LP a sound similar to the of The Byrds.
In 1968, the train had left the station for lonely voices accompanied on guitar. Folk singers and troubadours were quite passé and term "Singer-Songwriter" had not yet been invented.
Crosby's plan was quite different. He had realized that the unique combination of Joni Mitchell's songs along with her voice and guitar playing, would be lost in a pop production and the only way to produce her was not to produce her at all but rather let the voice and guitar stand for themselves.
On YouTube there is a filmed CBC recording of The Dawntreader from 1967 which confirms every thought David Crosby may have had. The arranges completely misses the chance to seize upon Joni Mitchell's unique harmony and, unfortunately, also unleashes an overly enthusiastic flautist who makes the process short destroying that which with the strings had not managed to ruin.
The problem was that David Crosby was a beginner when it came to production and technology. One of Crosby's ideas was to record the song's resonance in the strings of the studio's grand piano, but he used too many microphones and placed them so poorly that they recorded as much noise as song, and in trying to wash off the noise, important parts of the treble disappeared. It didn't help that the budget was a very modest 2 500 dollars. When it turned out that the printing service had made a mistake and cut off half the G and the L in the title, Song To A Seagull, a cartoon bird flock, they chosen to rename the album Joni Mitchell rather than to redo the printing process.
When the sequel, Clouds, was recorded, the label gave the production to Paul Rothchild, who worked with the Doors and Janis Joplin, but the dynamic between him and Joni Mitchell did not work. When Rothchild took a holiday, she and the technician, Henry Lewy, completed the LP on their own. Henry Lewy was then involved in all of Joni Mitchell's productions up to 1982, either as co-producer or technician and even later, until 1991, in smaller roles.
Despite Lewy's and Mitchell's solid collaboration, her productions from 1980 are generally pulled down by an overloaded soundstage, most of it being burdened by very long tone duration. That her melodies at the same time tended to meander more and more made it only worse. She would have needed clearer harmonics and clearer underlying sound structure.
There are exceptions on Night Ride Home and, the at times excellent, Turbulent Indigo. However, Dog Eat Dog was an album that was totally wrecked in attempting a modern digital production. An example of the importance of not losing the link between her voice and the instrument on which the song was written, while the melody and voice are given a firmer backing to stand on, can be found in Man from Mars. The original on Taming the Tiger from 1998 sinks into an elusive sound mass while the piano version found on YouTube reveals that the good music in there after all.
CACTUS TREE
Song to a Seagull ends with Cactus tree, where the theme of the text is freedom, something that is in direct opposition to that expected of female performers in the 1960 's who would at sit around waiting for the "right one" to appear, not rejecting one after the other the other in search of one's own freedom.
Joni Mitchell compares the heart of the main character of the text with a cactus, a picture she will later return to on the album Hejira, where her alter ego in Amelia checks in at the Cactus Tree Motel to shower off the road dust. One could say that the use of this word pair frames her first seven albums. These the most successful years before she seriously challenged her audience with Mingus.
Cactus Tree is written in third person, but it seems obvious that it is Mitchell's own longing for freedom of which she is singing. The introduction opens a meta-perspective for the album where a man takes her to his sailboat and presents her with beads from California, a thin rewriting of how she and David Crosby met in Florida.
The song is then a modern aria where the woman meets lover after as on a conveyor belt. After the sailor comes a mountaineer, one who works in offices and a third who writes letters full of calculations: Joe Boyd, Nick Drake's and Fairport Convention's producer, who tried to get Mitchell to sign a contract for Elektra. In the final verse's introduction, there is a man who has been injured in the war and sends his medals to her. This soldier is then followed by a knight, a fool, a drummer, a dreamer "and perhaps there are even more". Here one can assume that the joy of alliteration replaced the documentary: "A Jouster, a jester, a drummer, a dreamer..." The woman has abandoned them all for the reason is that they have asked her to stay forever while she has been busy with being free.
Joni Mitchell's image of the heart as a cactus, "full and hollow", is effective but the connection to Amelia goes even deeper than the actual pairing of the words. The title refers to Amelia Earhart who was the first female pilot to fly across the Atlantic. A pioneer engaged in women's emancipation, she retained both her maiden name and continued to fly after she had married. In the text, Mitchell does not only put herself into Earhart's story, she also becomes the subject as in "like me she had a dream to fly". But Amelia also contains other element of flight, escape and freedom, as in Icarus' vanity and Amelia Earhart's own death, lost somewhere while flying across the Pacific Ocean.
Musically, it's also about a kind of escape as Amelia wanders between two keys, creating a tonal independence as the music never takes ground and lands. Amelia is constantly in motion, all the time Independent.
The song was written on guitar, as was the entire album, the first since Song to a Seagull. The reason was that all the music came into being during three journeys where the guitar was the only instrument to which Joni Mitchell had access. And in the journey is also the key to the title: Hejira. Joni Mitchell was looking for a word that included escape while retaining dignity and found it in Arabic's words for emigration, most often referred to Muhammad's pilgrimage from Mecca to Medina 622.
The first trip was the Bob Dylan tour in the fall of 1975, Rolling Thunder Revue. The plan was for Joni Mitchell to participate in one concert, but she stayed and accompanied the tour throughout the last month. Meanwhile, she also developed a cocaine addiction that took several years to get rid of, and she herself described the fuel to Hejira being a combination of petrol and cocaine.
Trip number two was her own tour, the following year, after the album The Hissing Of Summer Lawns. This was the tour that got interrupted halfway due to the argument between Mitchell and John Guerin, her then-husband, who also played drums in the band. The reason was that she had begun a love affair with playwright and actor Sam Shepard, who she met during the Rolling Thunder Revue tour. It is Shepard who is the main protagonist of Coyote, the opening track on Hejira.
The third trip was by car from California to Maine, across the United States, together with two former lovers. The returned alone via Florida and the Gulf of Mexico, where she constantly made sure she stayed behind different trucks because she lacked a driving license and trusted the truckers' habit of always warning of police checks.
Afterwards, Joni Mitchell has said that while many of her songs could have been written by others, that only she could have written Hejira.
Song to a Seagull is no one's favorite Joni Mitchell album. It never occurs on any lists of 500 albums that changed the world, it is not on anyone's deserted island list and commercially it was a failure achieving on the Billboard album chart placing 189 at the highest. It is with good margin the worst of all her albums.
People have tried to put Joni Mitchell among folk musicians, singer-songwriters, jazz musicians and pop singers. And although she has been close to all of these, she has never really belonged to any of them. She has been an independent genre migrating, a stylistic misanthrope, impossible to place into any established description.
In a very early review, she was already compared with Schubert, probably because other comparative material was lacking. Because when it comes to making art of supposedly simple music, she - if we exclude Schubert - is quite unique. Today, there is hardly seen anything similar her wayward harmony, her melodic ingenuity, her associative flow in text craftsmanship and her skill in performing the music. There is also no living artist who can present eight consecutive albums of the same high quality.
And it started with Song to a Seagull.