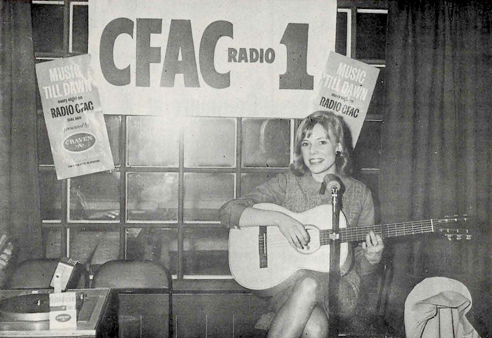 This bio appears in the 28-page program booklet for the "Hootenanny Sing Out" held on April 16, 1964
Joni Anderson's interest in Folk-Music began last winter while working in the Louis Riel Coffee House in Saskatoon. Here, while listening to the entertainers on and off stage, Joni decided that she wanted to be more than just a passive folk-addict and in March purchased a ten dollar ukulele. A month later she bought the baritone uke and at the present time plays a classical guitar. By August of the year, Joni's accompaniment, although still very elementary, was sufficient for her to be asked to do a half hour T.V. show in Prince Rupert. Joni says, "My Mother was mortified, my Father indifferent, while I was petrified."
Besides playing in Saskatoon, Joni has playing in Calgary in the newly opened Depression. Here, she feels is where she really began. Her accompaniment took great advances under the guidance of fellow singers and her voice developed greater power. She has played in several Allied Art Center Hootenannys sponsored by CFAC, the U. of A. Hoot, which was video-taped, private banquets, at the Press Club, a local hotel and is now at a new club which has opened called the "Folk and Blues". While in Edmonton, Joni has played the Yardbird Suite and expresses her thanks to the very appreciative audience found there.