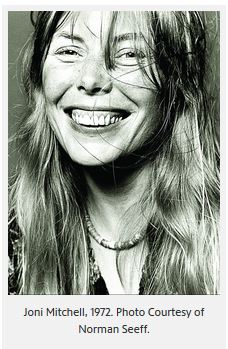 What is it about Joni Mitchell that connects so deeply with audiences? Perhaps it's because her songs can express things within ourselves that we sometimes struggle to put into words. We listen to her music and we understand. Whatever quality it is that grants a sense of clarity on both reality and the imaginary, Joni's got it.
The daughter of a Canadian school teacher and flight instructor, her journey from the prairies of Saskatchewan to the hills of Laurel Canyon produced some of the 20th century's greatest music.
Joni Mitchell Live at the Isle of Wight Festival 1970 premieres tonight at 9:30 on Wisconsin Public Television.
Read on to learn more about this upcoming special!
When Joni Mitchell took the stage Saturday afternoon, August 29, 1970, the Isle of Wight Festival had already seen its share of drama. A crowd of more than 600,000 was attracted to the event by a stellar lineup of artists, but a radical group was pushing to declare the venture a free festival. Skirmishes broke out and fences were smashed.
Bands playing through what Joni termed "mountains of amplifiers" could easily drown out an unruly audience. Joni, however, had only an acoustic guitar, a dulcimer, a piano and her own singular voice.
This special captures Mitchell's incredibly emotional and triumphant performance, including her iconic masterpieces Chelsea Morning, Woodstock, Big Yellow Taxi, and Both Sides Now.