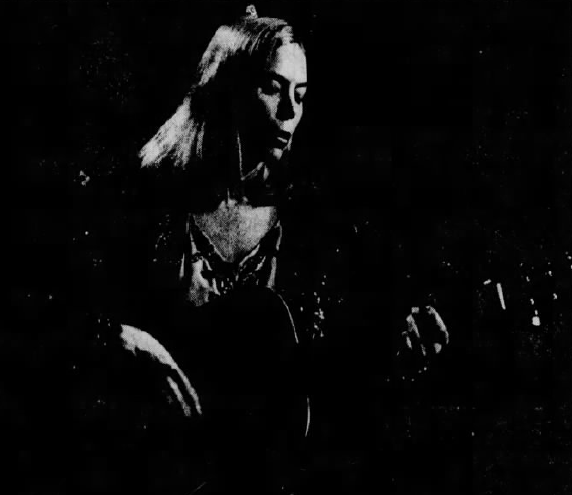 Joni Mitchell, one of pop music's premier singer-songwriters, kicked off her 1976 concert tour with an uneven, less-than-satisfactory and often less-than-professional performance Friday night at Northrop Auditorium.
The poorly produced concert before a sell-out crowd of 5,000 was thoroughly disappointing, especially after Mitchell's flawless Twin Cities debut in 1974, which was arguably the most satisfying and fulfilling evening of music I've ever experienced.
Mitchell, who had aspired for a career in commercial art in her native Canada, surfaced as a timid folksinger in the United States in the mid-'60s. She quickly gained a reputation as a songwriter as such established artists as Judy Collins, Tom Rush, Gordon Lightfoot and Johnny Cash began performing her songs.
MITCHELL'S "Both Sides Now" and "The Circle Game" became folk-music standards, and by the late '60s she was widely recognized as a songwriter, performer and recording artist. Today, Mitchell, 32, has few peers.
Several factors accounted for the miserable failure of Mitchell's concert Friday.
Foremost, she failed to establish rapport with the audience. It was the opening night of her concert tour, which is usually a testy and trying occasion, and the singer was obviously nervous. The aplomb, eloquence and charm and the unimpeachable professionalism Mitchell demonstrated in 1974 was not evident Friday. She seemed insultingly ice cold, rarely smiling and never talking to the audience except for one-line, acknowledging retorts to shouts of affection and praise from her worshipful fans.
Mitchell showed little energy and enthusiasm. Her detachment was especially disconcerting because her songs, which primarily deal with the anxieties of growing up female in a middle-class world, are so deeply personal.
FURTHERMORE, the pacing of Mitchell's 90-minute show was poor and the song selection dubious. The singer and her band, the L.A. Express, opened with "Help Me" and "Free Man in Paris" from Mitchell's landmark '74 album, "Court and Spark," and followed with a few lesser-known, older numbers. Then she offered a dozen new songs, most of which were gleaned from her recently released eighth album, "The Hissing of Summer Lawns."
After listening to three or four rather unfamiliar songs of great lyrical depth and pessimistic tone, the crowd seemed to become uneasy if not bored. The response dissipated from enthusiasm to politeness as Mitchell clearly began to lose touch with her audience. She encored with yet another new number, "Talk to Me," which was so unfamiliar that she had to perform it with sheet music.
Mitchell offered none of the songs closely identified with her: "Both Sides Now," "Chelsea Morning," "Clouds" and "Woodstock." Perhaps she has outgrown them, but her audience hasn't: certainly a performer of her stature has a degree of obligation to her audience. Friday she was seemingly insensitive and disrespectful to her legions.
Another factor contributing to the inadequacy of the concert was the playing of the L.A. Express. While backing Mitchell, the quintet sounded rusty, missing the tightness and spirit of an ensemble. John Guerin's drumming was flat and unimaginative, Robben Ford's electric guitar fills were annoyingly loud and newcomers David Louell on reeds and Victor Feldman on keyboards were so unfamiliar with the material that they had to use sheet music. Moreover, the band often overpowered Mitchell's singing.
THE LA. Express opened the show with an uninspired, unmoving 45-minute set of uninteresting instrumental rock. The reconstituted group clearly lacked the chemistry of the original L.A. Express led by Tom Scott, which backed Mitchell in '74.
The concert, though, was not without its rewards. When Mitchell performed solo accompanying herself on acoustic guitar or piano, the beauty and strength of her singing was striking. Her performance of "Cold Blue Steel and Sweet Fire" was absolutely stirring. It was one of the few glimpses of the kind of greatness she demonstrated consistently in her '74 appearance.