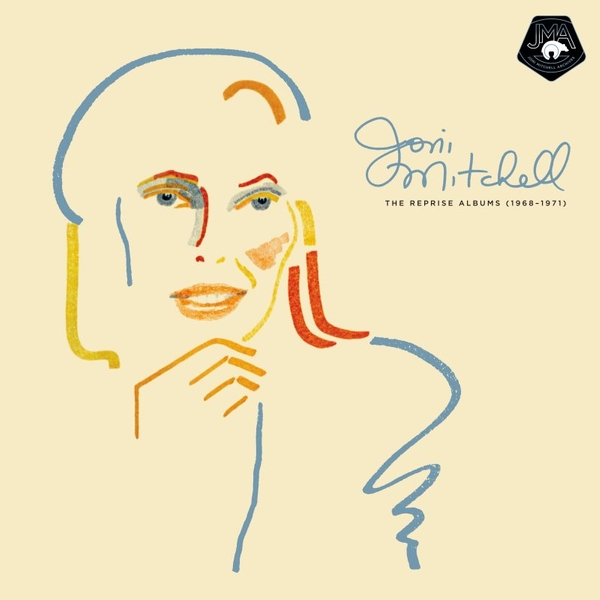 JONI MITCHELL ARCHIVES SERIES CONTINUES WITH REMASTERS OF HER FIRST FOUR ALBUMS IN CELEBRATION OF BLUE'S 50TH ANNIVERSARY
The Reprise Albums (1968-1971) Debuts Newly Remastered Versions Of Song To A Seagull, Clouds, Ladies Of The Canyon, And Blue
4-CD, 4-LP, And Digital Versions Available June 25 From Rhino Following The 50th Anniversary Of Blue On June 22
Newly Remastered Version Of "A Case Of You" Available Today Digitally
The First Ever Line Of Official Joni Michell Merch Is Available Today Exclusively At JoniMitchell.com Including Apparel And Home Goods
LOS ANGELES - On June 22, 1971, Joni Mitchell released Blue, concluding her prolific four album run for Reprise Records with an album considered by many to be one of the greatest of all time. Its stirring, confessional songs have been celebrated by music lovers and critics alike for decades while inspiring a wide variety of artists as diverse as Prince and Taylor Swift. Even today, its stature as a masterpiece continues to grow. Just last year, the album was named #3 on Rolling Stone's list of the "500 Greatest Albums of All Time."
To celebrate the album's 50th anniversary, Rhino is releasing THE REPRISE ALBUMS (1968-1971), the next installment of the Joni Mitchell Archives series, featuring newly remastered versions of Blue (1971) and the three albums that came before it: Song To A Seagull (1968), Clouds (1969), and Ladies Of The Canyon (1970). In the case of Song To A Seagull, the original mix has been recently updated by Mitchell and mixer Matt Lee. "The original mix was atrocious," says Mitchell. "It sounded like it was recorded under a jello bowl, so I fixed it!"
THE REPRISE ALBUMS (1968-1971) will be available on June 25 in 4-CD ($49.98) and 4-LP 180-gram vinyl ($109.98, Limited Edition Of 10,000) versions, as well as digitally. The newly remastered version of "A Case Of You" from Blue is available today on all digital download and streaming services. Click HERE to listen now.
The cover art for THE REPRISE ALBUMS (1968-1971) features a previously unseen self-portrait Mitchell sketched during the time period. The collection also includes an essay by Grammy winning singer-songwriter Brandi Carlile, another artist who's been influenced greatly by Mitchell. She writes: "In my opinion Blue is the greatest album ever made. Blue didn't make me a better songwriter. Blue made me a better woman... No matter what we are dealing with in these times we can rejoice and know that of all the ages we could have lived through, we lived in the time of Joni Mitchell."
Fans that pre-order the CD or LP version of THE REPRISE ALBUMS (1968-1971) from JoniMitchell.com will also receive an exclusive limited edition 7" x 7" print of the self-portrait featured on the cover art. The first ever line of official Joni Mitchell merch has also launched today, exclusively at the official website, including apparel and home goods.
THE REPRISE ALBUMS (1968-1971) brings together the albums that helped establish Mitchell as one of the most-talented songwriters of her generation. It includes essential tracks like "River," "Chelsea Morning," "Both Sides, Now," "Big Yellow Taxi," "Woodstock," and "The Circle Game." Clouds, her second album, was certified gold and won the 1969 Grammy (her first of nine) for Best Folk Performance. Ladies Of The Canyon and Blue were both certified platinum, while the latter was inducted into the Grammy Hall of Fame in 1999.
THE REPRISE ALBUMS (1968-1971) will be followed later this year by JONI MITCHELL ARCHIVES VOL. 2, the second installment in the extensive archival series that began last year. Each one promises a deep dive into unreleased studio and live recordings from different eras of Mitchell's storied career. VOL. 2 will focus on the timeframe when she recorded the albums included in THE REPRISE ALBUMS (1968-1971). Mitchell continues to be intimately involved in producing these collections, lending her vision and personal touch to every element of the projects. Future releases in the archive series will arrive in a similar manner, with a boxed set focused on studio albums from a specific era, followed by an official "Archives" release looking at unreleased audio from the same period.
THE REPRISE ALBUMS (1968-1971)
Track Listing
Song To A Seagull (1968) - New Mix (Produced By Joni Mitchell, Mixed By Matt Lee)
I Came to the City
1. "I Had A King"
2. "Michael From Mountains"
3. "Night In The City"
4. "Marcie"
5. "Nathan La Franeer"
Out of the City and Down the Seaside
6. "Sisotowbell Lane"
7. "The Dawntreader"
8. "The Pirate Of Penance"
9. "Song To A Seagull"
10. "Cactus Tree"
Clouds (1969)
1. "Tin Angel"
2. "Chelsea Morning"
3. "I Don't Know Where I Stand"
4. "That Song About The Midway"
5. "Roses Blue"
6. "The Gallery"
7. "I Think I Understand"
8. "Songs To Aging Children Come"
9. "The Fiddle And The Drum"
10. "Both Sides, Now"
Ladies Of The Canyon (1970)
1. "Morning Morgantown"
2. "For Free"
3. "Conversation"
4. "Ladies Of The Canyon"
5. "Willy"
6. "The Arrangement"
7. "Rainy Night House"
8. "The Priest"
9. "Blue Boy"
10. "Big Yellow Taxi"
11. "Woodstock"
12. "The Circle Game"
Blue (1971)
1. "All I Want"
2. "My Old Man"
3. "Little Green"
4. "Carey"
5. "Blue"
6. "California"
7. "This Flight Tonight"
8. "River"
9. "A Case Of You"
10. "The Last Time I Saw Richard"