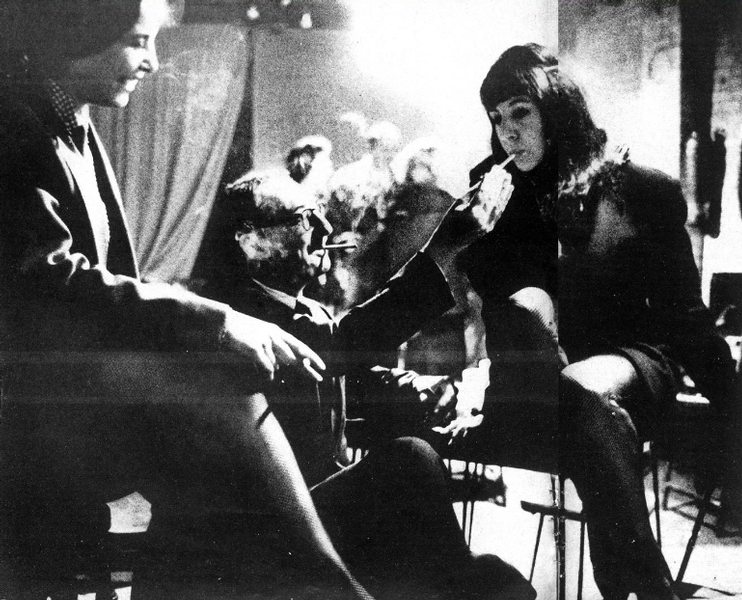 Ed Note: No Joni content here, but a good round-up of the Canadian coffeehouse scene circa-1963 that Joni was soon to enter.
Not since he upstaged a duchess in Romano's, the most glamorous night club in the world, has Porter struck a gayer way of night life. How did these boozeless bistros with names like Dante's Inferno spring up? Bored youngsters had to invent them
DURING THE EARLY Thirties I was an outstanding figure at such famous London night clubs as Ciro's. Brummell's and Romano's. My distinction in these haunts of rich, elegant, well-bred revelers arose from my post-adolescent pimples, my gauche comportment and my dinner jacket of palpably provincial cut. An old society-magazine photograph shows that I looked as anxious as Oliver Twist at Little Lord Fauntleroy's birthday party.
I frequented night clubs in those days to pick up gossip paragraphs for the newspaper that employed me. I therefore found it inconvenient to be sent lor cigarettes by customers who mistook me for a passing bus boy. And so. like the African donkey that evolved into a zebra. I had to adapt to my environment by finding a better tailor.
Eventually, heavily disguised as a gentleman. I passed almost unnoticed in night clubs. To relieve the resulting loneliness I employed an old social climber's trick. I gazed unblinkingly at a member of the nobility until I caught his eye. Then I nodded gravely. Almost invariably I received a polite if puzzled nod in return. Once, within a period of about ten days, I exchanged grave night-club nods on three occasions with Princess Marina, Duchess of Kent.
This solemnity had a remarkable effect on the attitude toward me of the head waiters. Flattered by their rising deference I began night-clubbing for pleasure rather than work. The habit became chronic.
Since then I have caroused in nearly all the best night clubs of London, Paris, Rome and Berlin, and of New' York. Chicago. San Francisco and Los Angeles. My dissipations have carried me into many night clubs east of Suez and into several south of the Limpopo. There is not a good Canadian night club between the Atlantic and the Pacific in which I have not pandered to the flesh. Even on Baffin Island I managed to find a night club full of Eskimo girls.
My weakness for night clubs explains why the income from all the stocks and bonds I own would not keep a rabbit in lettuce. It also accounts for the large number of people who stop dead in the streets, and catch their breath, when they behold the havoc etched in my face. I am, in fact, almost as great an authority on night clubs as King Farouk or Hal Banks.
Therefore I can afford to use a cliché, and to be dogmatic, when I avow that a good night club must be naughty but nice. If a night club % is naughty without being nice, or nice without being naughty, it is not good.
Romano's, of the Strand, London, one of the first and finest of the great night clubs, preserved naughtiness and nicety in such a well-balanced degree that it attracted the patronage of that congenial old voluptuary King Edward VII. Within the baroque, gilt-and-red-plush confines of Romano's the owners offered superb food, vintage wines, intoxicating music and spicy entertainment imported from the Moulin Rouge and the Bal Tabarin in Paris. Romano's was the sort of place in which many a chorus girl became a countess by serving her escort a slipperful of champagne.
Black or white tie. of course, was the obligatory dress. During the late Thirties, when the imminence of war produced a munitions boom, night clubs everywhere began admitting egalitarians in business suits. Romano's, rather than cater to such artless parvenus, closed down. Unfortunately it was during this epoch that most Canadian night clubs took root.
Throughout the Fifties I tried forlornly to recapture the magic of Romano's in Canadian night clubs that seemed to be run by a cabal of beer parlor licencees. hash-house proprietors, truculent waiters, boorish bouncers, venal taxi drivers and corrupt politicians. The interior decorations of these premises reminded me of the Gnomes' Grotto in the Tunnel of Love at Coney Island.
Understandably, the first post-war generation of adult Canadians, the healthiest and best educated fledglings in the history of the nation, wrinkled their noses at this esoteric entertainment. Yet they wanted somewhere to go. after the movie or the play. So they had to settle for the kind of night life that was offered in the cathedral-like dining rooms of the big hotels. Here there was wholesome food, reasonable wine, chummy service, a roomy dance floor, a swoony band and a cabaret calculated to enchant a Mennonite. Among the predominating customers were large family parties, dining joyfully on minced steaks and glasses of milk. The festivities often were enlivened by ladies' bowling teams out on an end-of-season saturnalia.
Many night clubs of the types I have described still struggle to lighten Canadians' leisure hours. Some of the naughtiest, like Lou Jack's Living Room in Montreal, feature the sort of belly dancers that are much admired in the Levant by water-melon vendors, goat herders and mendicant lepers. Others, like the Panorama Roof in the Hotel Vancouver, have remained so nice that were it not for the absence of paper hats you'd think every night was gala night in the cabin-class ballroom of the Empress of Britain.
A revolt of the young was inevitable. It began in Canada about five years ago with the establishment of the coffee houses. These cellars and garrets, cluttered with broken furniture, festooned with cobwebs and registered by such Left Bankish names as the Womb, Dante's Inferno and the Tender Trap, were frequented at first almost entirely by beatniks, the earliest and most manifest of the rebels.
It is true that the beatniks, especially in their fashions, showed immaturity and affectation. Many of the men wore rags most carefully cut and most cunningly dyed to simulate penury, drabness and dirt. And nearly all the women wore bulky black sweaters, sexy black leotards, and the pale, haggard expression of an underground heroine on her way to the gallows.
But at least the coffee-house beatniks tried to paint pictures, compose music and recite poetry. They stimulated the development of a more sophisticated popular music named cool jazz. They also stumbled onto the folk songs of long ago, the delicate, amusing, poignant or robust ditties and descants of our peasant forefathers, airs that needed no more expensive accompaniment than a guitar. Some sang the folk songs "straight" and others adapted them to the beat of cool jazz.
To the coffee houses the beatniks rallied our grown-up sons and daughters by the thousand. But having failed to spread their shabby costume cult, they abandoned it themselves. Today the beatnik dress is old hat. The male leaders of coffeehouse life have switched to high-cut jackets and tight cuffless trousers after the style of Whistler, Burne-Jones, Aubrey Beardsley and other more dandified representatives of late nineteenth-century art. Dutifully keeping in sartorial step, their girl friends ransack the junk shops for the heavy fake jewelry that once went with bustles, lace anti buckram. If their skirts are incongruously short, and given to revealing an ample expanse of naked thigh between stocking top and panty hem, it is perhaps because they are ready, at the drop of a billycock hat, to dance the cancan.
In other words, coffee-house society, probably because of its economic restriction to tumbledown Victorian buildings, has revived much that was naughty but nice about the Nineties.
The interior of a typical coffee house, the Purple Onion on Avenue Road in Toronto, suggests a Victorian parlor that was blown up by a gas explosion during a whist drive. The customers sit at rickety card tables and look at the remains of a fretwork-fronted upright piano, fragments of bombazine sofas and aspidistra pots, fractured specimens of spelterware and bits of stuffed birds. Beyond the wreckage is a tiny kitchen painted indoor-swimming-pool green, and in the most prominent position is a shaky dais, so littered with microphones, record players and dusty loud-speakers that it looks like the backroom workshop of a bankrupt radio repairman.
Yet the Purple Onion is packed every night by patrons between the ages of fifteen and fifty. They enjoy sandwiches and coffee, exchanges of jazz jargon, table hopping and unrestrained flirtation.
When I was last in the Purple Onion the entertainers were Eon Henstridge, a double-bass player, Lenny Breau, a guitarist, and Don Francks, a widely publicized young actor-singer-entertainer. The trio was dressed in suits of glossy black leather material, and Henstridge and Breau wore Dr. Fu Manchu whiskers and beards. Henstridge was as lean as a broomstick. From time to time he stooped, listening intently, almost as low as the belly of his double bass, and once his glasses skidded down the sweat on his nose and fell off. Breau, by contrast, was as plump as an eggplant. His raven-black hair was styled in what high school girls used to call the pixie cut. As he played his guitar he squirmed on a high stool, kicking his legs and rolling his head like a happy infant.
Don Francks, a shortish young man, showed exceptional poise and confidence. I was told by Jacqueline Mackenzie, a British TV personality on tour over here, that he had "tremendous sex appeal." She said: "All that energy and tension - like a coiled spring, like a tiger. Brrr-ugh!"
Francks recited rather than sang a number of jazz songs, the usual laments for lost or unrequited love, but occasionally he let rip an earsplitting bay of hound-like lust. Most of his interpretations of later folk songs were also rendered in a talking tone. But in his pièce de resistance, Four and Twenty Blackbirds Baked In a Pie, he made sudden brief jumps onto the tune and varied the lyric to strengthen double meanings. Francks gave his excellent voice full range only in a skit of a Sunday-school concert tenor singing There are Pansies Growing Up My Garden Wall. He was at his best in skits.
The most skittish Canadian coffee house is the Bohemian Embassy, a dark barn-like room which, save for some interesting abstract paintings and slightly bawdy notices around the walls, resembles the sort of weaving shed in which despots of the industrial revolution chained child labor to the looms. It's located at the top of a long, eerie staircase, on the second floor of a dingy brick warehouse, up a pot-holed back alley called St. Nicholas Street, in mid-town Toronto. Customers collect their own coffee at a counter at one end of the room and keep their eyes on two stages at the other.
The two stages are required for quick changes of scene in periodic revues staged by the two owners, Peter Oomen and Don Cullen. In the last show. The Village Revue, a company of six lampooned the fundamental Christian sects of the middle west, Trafalgar Square orators, TV panel shows, the Coronation ceremony, divorce Canadian style, English pantomime and many more customs and institutions.
The performers compensated for occasional amateurish lapses with youth and zest and I doubt if you'd find in the chorus line of the CNE grandstand show two longer or more shapely pairs of legs than those displayed by Julie Rekai and Carol Robinson. These damsels were also healthily uninhibited in their use of strong language and low' comedy to milk several sacred cows. They could handle, without stifling laughter, an intermingling of such prickly themes as rape, religion and racism.
On another night at the Bohemian Embassy I caught the entertainers and customers collaborating in what seemed at first to be a highly bewildering antic. I learned that it was called "A Happening." In the middle of the floor there were assembled an old bathtub with eagle's claw feet, a plunger for clearing blocked drains, a buckled child's tricycle, a battered cabin trunk, a vase of paper roses, a rusting refrigerator door and several other large objects obviously recovered from a town dump. At the crack of a starting pistol a pack of captive painters, poets and composers was released from a locked room. They sprang out like racing greyhounds from a starting trap. They had to contemplate and derive inspiration from the Dali-esque collection. Then, within a time limit, they had to create poems, paintings and compositions on the spot. The quality of the creations? Hum . . . well . . . not bad. The fun? Terrific!
There are about a dozen similar coffee houses in Toronto. They usually are run on a part-time basis by students or working youngsters with aspirations to show business or the catering trade. They cover their expenses, and sometimes make a profit, in three ways: charging first-time customers between twenty-five cents and five dollars for a year's club membership: selling coffee and sandwiches at slightly higher than restaurant prices; and making special charges of a dollar or so for unusually costly entertainment.
Despite a tendency of police forces to suspect their proprietors of operating death traps for hopheads. sex-deviates and pyromaniacs, coffee houses have built up a determined following in many other Canadian cities and towns.
Howie Bateman, the twenty-five-year-old owner of the Inquisition, a Vancouver coffee house, has just won a two-year fight for favorable modification of the provincial regulations governing licensing of catering establishments and places of entertainment. Occasionally Bateman is troubled by patrons who smuggle liquor into the Inquisition and hide it in the hymnal holders beneath the chairs - which he bought from a baptist chapel. His countermeasures are vigorous. Recently he held up the entertainment for twenty-five minutes until he found a hidden liquor bottle and. with the willing help of other customers, ejected the offender.
For entertainment Bateman concentrates heavily on folk singers who are becoming famous and demanding high fees. Recently he presented Peter, Paul and Mary, an American folk singing trio which is inching up steadily toward the top bracket.
A good example of a coffee house that is attuning itself to the more commercial aspects of night life is the Fourth Dimension in Winnipeg. Modeled after a similar establishment in Regina, its walls and ceilings are painted mat black and appear to be braced by ghostly ivory ribs. The waitresses wear skin-tight black slacks and revealing black sweaters and serve espresso coffee and ice cream. One ice-cream sundae, intended for four people, and costing $4.50, is listed on the menu as the Suffering Bastard. The menu advises customers: "Don't ask why - just eat it."
Besides charging for food and drink, the Fourth Dimension imposes human parking fees. Each customer receives a ticket stamped with the time of his arrival. His bill includes twenty-five cents for every hour and fraction of an hour he spends inside. Between nine p.m. and midnight many of the customers are university students. From midnight until closing time at six a.m. the Fourth Dimension is full of musicians from Winnipeg's newly licensed night clubs. This is why some visitors to the Fourth Dimension pay twenty-five cents an hour just to sit in a small grandstand and watch the customers. The Fourth Dimension engages from the U. S., however, folk singers, comedians and jazz combinations that now make a good living touring the more elaborate coffee houses.
Foremost among these is the Fifth Peg in Toronto which is more expensively decorated and operated than many night clubs licensed to sell liquor. The Fifth Peg's architectural motif suggests delicately a wild-west saloon. Customers dine by candlelight on full-course meals within white brick walls supported by heavy oak beams. The walls are hung with western saddle tack, American civil war posters, showboat billboards and "Wanted" notices for stage-coach robbers.
At the Fifth Peg I saw Grecco and Willard, two low-key American comics who rely for laughter on a ridicule of television entertainment; The Catch Club, a male trio which has unearthed exhilarating catches, or glees, or round songs that were sung in Restoration England to many exclamations of "Zounds!"; and Bob Grossman, a nineteen-year-old folk singer who draws on an international repertoire of great historical interest.
Grossman sang, for example, two American civil-war songs which somebody, at some time or another, had adapted to the tunes of The Forty Second, an old Scottish regimental song, and The Wearing of the Green, an early Irish revolutionary song. He introduced La Quinta Bripada - a stirring song sung by the International Brigade during the Spanish civil war - with a dramatic monologue. To the accompaniment of ominous strokes on his guitar, he evoked vivid imagery of the darkening social and political events that led up to Franco's attack.
Grossman changed his mood by swinging into a fragile ballad about a cockney who earns his living as the hind legs of a two-man carnival elephant. I was deeply moved by this number because the last time I heard it was thirty-two years ago when, in company with half a dozen other choristers, I sang it myself, at five o'clock in the morning, in an all-night Covent Garden pub, and was almost throttled by my own white tie as a barman carried me outside and tossed me into a skip of tomatoes. This costly humiliation - I had to borrow money to pay for the squashed tomatoes - arose from many hours spent earlier in Romano's. It could never have happened after an evening out in Canadian coffee houses. Sooner or later, however, coffee houses in the class of the Fifth Peg will realize their ambition to get a licence. Very soon we'll be stepping out again in evening dress and then night life in Canada will really have come of age.