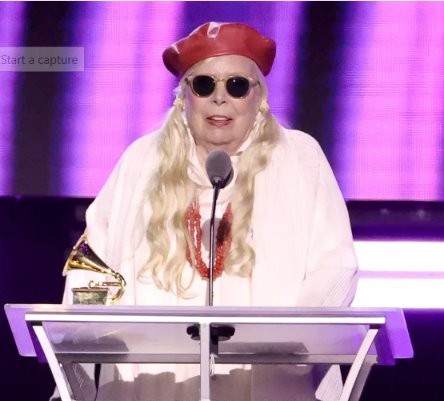 Joni Mitchell's Joni Mitchell Archives, Vol. 1: The Early Years (1963-1967) won the award for Best Historical Album at the 2022 Grammys. It won over several collections, including Prince's Sign o' the Times (Super Deluxe Edition). Mitchell herself was on hand during the afternoon's Grammy Premiere Ceremony to accept the trophy, and she delivered a short speech thanking her label team, liner notes writer Cameron Crowe, her physical therapist, and several other collaborators. Read it in full below.
Mitchell was honored as MusiCares' Person of the Year during this week's Grammy proceedings. Her appearance at the April 1 ceremony in her honor was one of her only public appearances since she had a brain aneurism in 2015. She's also set to present during the main Grammys ceremony. The Early Years is the first installment of archival releases from the singer-songwriter, containing some of the earliest known recordings of Mitchell as a young performer.
Joni Mitchell:
Thank you! Much thanks to the Academy for this nomination and for this win. I didn't expect this. I'd like to thank my dream team that help me put it together. The folks at Rhino, Patrick and Dorian, Lisa, and to Marcy, who's my assistant in all of this and she keeps me on schedule, thanks very much. And to Sultoon here, who is my physical therapist and who is my angel. And to Cameron Crowe, who wrote the liner notes on this project and is also a dear friend. And to Frank, my manager, thank you, Frank, for all your assistance in this thing. And everybody at Rhino who made the package so beautiful. Thank you.