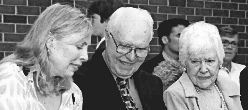 SASKATOON - It's a good thing Joni Mitchell is not a vegetarian because, in many ways, the singer-songwriter owes her newly revealed "career" as a visual artist to a wealthy and somewhat eccentric Saskatoon family of cow killers by the name of Mendel.

Fred "Papa" Mendel was the art-loving patriarch of Intercontinental Meat Packers, one of Saskatoon's mainstay industries for much of the 20th century.

As a child growing up in Saskatoon in the 1950s, Roberta Joan Anderson, as Ms. Mitchell was then known, was a regular visitor to the Mendel household because of her friendship with some of Fred's grandchildren.

It was at that house that Mitchell first saw the masters -- Picasso and Matisse from Europe, the Group of Seven from Canada -- and developed a desire to follow in their footsteps.

A sketchbook became young Joan's constant companion.

Now, fast forward half a century to the opening this weekend of Joni Mitchell's first art exhibition in Canada. She has had small shows before in Los Angeles, Tokyo and London but never in Canada and certainly not in hometown Saskatoon.

The summer-long retrospective of 85 paintings and photographs can be found at the Mendel Art Gallery, the public gallery founded in 1964 in large part by donations from the Mendel family.

The master of ceremonies for the opening was Camille Mitchell, one of Fred Mendel's grand-daughters (no relation to Joni Mitchell) and one of the main sponsors, along with some corporations, of the exhibition entitled Voices.

Upon arriving at the podium, Camille led the crowd of about 2,000 standing on Spadina Avenue outside the Mendel's front door with a rousing cheer: "Welcome home, Joni," they shouted in unison as tiny raindrops started to fall.

Joni looked touched, as she sat on the Mendel's front steps beside her parents, the premier and the mayor. This was the moment she had wanted for years. She wanted her first big show to be in Saskatoon, she said, so that her aged parents, who still live in that city, would be able to attend.

She also wanted to pay tribute to the art teachers from Queen Elizabeth School and Aden Bowman Collegiate who had encouraged her artistic drive.

Left unsaid was that Saskatoon's Mendel was probably the only significant public art gallery in Canada that would have dared risk its excellent reputation as a highly popular centre for daring, important and cutting edge contemporary art by mounting a show of what will surely be dismissed in many quarters as "celebrity art" better exhibited in some rock'n'roll hall of fame.

In Vancouver, the director of the Vancouver Art Gallery resigned earlier this year rather than exhibit a series of photos taken by rocker Bryan Adams.

The gallery's board wanted to show the photos as part of a fund-raising campaign.

Likewise, some elements of the art community is enraged by astronaut Roberta Bondar's generous access to federal tax dollars to mount an exhibition of nature photographs this summer at the Canadian Museum of Nature in Ottawa.

Fine art curators have a tendency to be snobs.

The only celebrities they usually care to exhibit carry names like Monet, Renoir and Picasso.

Bryan Adams and Joni Mitchell just don't qualify.

As much as Gilles Hebert, the Mendel's director, likes to talk about the superb qualities of Joni Mitchell's art, the fact is there never would have been a show if Ms. Mitchell was not a world-famous singer who just happens to be the biggest celebrity this town has ever produced.

Joni Mitchell could have crocheted doilies and the Mendel undoubtedly would have had a show and the crowds would have been lined up like on Friday evening.

Saskatoon takes its celebrities seriously.

The Mendel is directly across the South Saskatchewan River from the grave and elaborate memorial to former prime minister John Diefenbaker.

The gallery is also just a few blocks north of a statue to former governor general Ray Hnatyshyn. And he's not even dead yet.

Ms. Mitchell outranks them all. Everyone from Premier Roy Romanow on down was waxing eloquently about the old days, back in the 1960s when Mitchell was a folk singer at the old Cafe Louis Riel on Saskatoon's Broadway Avenue.

Everyone in town has a Joni Mitchell story. They once attended a party she did. Or she was a friend of a friend. Or she shared the same classroom.

Or as one exhibition sponsor, Bill Doyle, an executive from the Potash Corp., confessed rather astoundingly, Ms. Mitchell produced album covers that transfixed him for hours in his youth. All the aging potheads in the audience chuckled knowingly.

As Celine Dion is to Quebec, Joni Mitchell is to Saskatchewan: The local girl who made it big on the international stage but still returns home frequently, still talking the local lingo, still calling herself a "flatlander" and creating art that often places a self-portrait of Joni Mitchell in some prairie setting.

Such is Joni Mitchell's fate. The artist will forever be more famous than the art.

Camille Mitchell says "Papa" Fred would be pleased with Joni Mitchell's exhibition.

But really, we can only wonder what this benevolent, cultured gentleman of Old World charm who lived with Picasso and Matisse on his living room wall -- and sometimes took the cherished canvases to the walls of his meat-packing plant -- would have thought of Joni Mitchell's art.