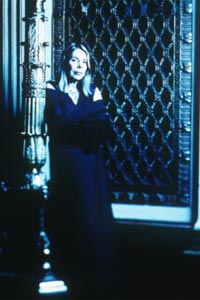 From the Stage: The Greek Theatre, Los Angeles

Musical hibernation must be a strange state. To watch the pop landscape from afar as it swirls in its restless pool, tossing aside today while it seeks out tomorrow, invariably seeking its inspiration from yesterday. Over the last few years, Los Angeles has been privy to the 'live' reawakening of two of its most treasured musical icons -- Brian Wilson and Joni Mitchell. While Wilson's music still retains his soaring genius, his 'live' shows are more of a 'presentation' than an actual concert; it being enough that the reclusive and tragic Wilson has actually quelled his demons enough to reappear in the public eye.

On the other hand, Mitchell, easily L.A.'s greatest pop music artist (and you could argue all of music's for the latter half of the 20th century), appears to be entering a new state of grace, if her performance at the Greek Theatre is an indication. Mitchell has been a scant presence on the concert scene for the past 20 years, with her last appearance being her 1998 mini tour with Bob Dylan and Van Morrison. This time out, Mitchell's alone, in a manner of speaking, as she presents her latest release Both Sides Now (mainly a collection of jazz standards) backed by a 70-piece orchestra (arranged and conducted by Vince Mendoza). Set against a starry backdrop and in the night air of the Greek's hillside, Mitchell welcomed the audience with her invitation to take them on a "romantic journey through love," as she successfully delivered the goods in her new role as a stylist. The voice, weighted with years of cigarette smoke, sounded more world-weary than ever before, and is not the pristine high-end instrument it once was. And genius that she is, Mitchell effectively utilized that instrument for every ounce of emotion it could wrench.

While her interpretations from Both Sides Now (she performed the concert in the album's sequential order) sliced through the evening's chill, the fires that burned most brightly were when Mitchell reinterpreted her own material in this orchestral setting. Using her husky voice to its full dramatic advantage, during the first set she adeptly delivered "At Last" (presenting it as a warm look back, as opposed to Etta James' raw ache of intensity), "Comes Love," "Don't Go to Strangers" (the latter two with Mark Isham performing horn duties) and a joyous rendition of "Sometimes I'm Happy," complete with the sweet ivory tickling of Herbie Hancock (who would also join Mitchell later for a bouncy version of "I Wish I Were in Love Again"). The highlightof the first set, though, was when Mitchell dusted off her own "Case of You." Although she seemed to be genuinely enjoying herself throughout the show (the audience was absolutely fawning), it was here that she crawled inside every nuance, instinctively caressing her own words. It also brought to bear Mitchell's gift for writing; although she's playing time-celebrated standards, her own master craftsmanship paled those compositions. Mitchell is every bit the poet that any of her celebrated compatriots (Bob Dylan included) are, and on top of that, she is also an expert musician.

The second set began with two more covers ("Stormy Weather" and the aforementioned "I Wish"), before she finished out the night with her own material. A wiser and more somber "Both Sides Now," the groovy, subway-romantic "Be Cool," the sublime "Hejira" (with ex Larry Klein on bass) and a show-ending torch version of "For the Roses," were all passionately delivered, before Mitchell closed down the store with her best cover of the night -- an on-the-mark rendition of Marvin Gaye's "Trouble Man," that she scat-sang for all its worth. Mitchell's foray into the past was a pretty place, but listening to her inhabit every syllable and vowel of her own writing in this context, and done in her jazz vocal styling, was an even more precious experience. Welcome home Joni, and don't stay away for so long next time.