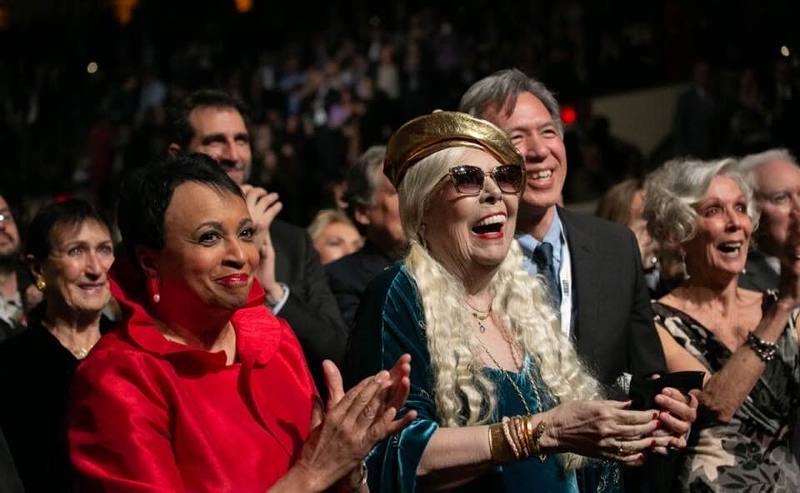 Originally posted to Facebook
After the glorious Gershwin Prize ceremonies, I believe it is now good to share this text. If only for the hope it can give courage to those who survived an aneurysm.
The first time I visited Joni, after she was released from the hospital, it was heartbreaking. She had short grey hair. She looked like Annie Lennox. She barely recognized me. She barely moved, leaning sideways in her wheelchair. Sometimes her gorgeous blue eyes looked straight into yours for a fleeting moment.
The irony was that she never looked better, having not smoked for over a year. Her skin was radiant, her eyes bluer than ever. We barely spoke. I brought her her dulcimer. She looked at it for a long time. She passed her hand over it once, stroking it four times, I remember distinctly. It made a magical harp-like sound. That was it. I whispered-sang Both Sides Now to her. I said "you wrote that song". She said it was a beautiful song. My heart sank.
Near the end of my visit, I lay my two hands over her hand on the table. My eyes were watering and so to hide this, I laid my head on top of my hands. To my surprise, I suddenly felt her free hand pass through my hair, as if to say, don't worry, I'm still in here. I told her very softly, "Joni, more than anyone, you have a deep sense of purpose. It will get you through this". I could tell, by her reaction, she had understood me.
But this firmly rooted prairie girl had rolled up her sleeves quite a while ago already. She has faced the mighty Saskatchewan winds since age 4 and polio by age 9.
It was time to leave. Her nurse had brought her outside, she was seated in her stunning gardens, which she groomed herself over decades. She looked up to say a sweet goodbye, her mostly expressionless face suddenly round and warm. Underneath her brimmed straw hat, her two piercing blue rooms, like the eyes of an eagle or of an old Indian chief, seemed to say "Just give me a little time".
I left weeping, all the way back to my hotel room. But you see, no one has a deeper sense of purpose than Joni Mitchell. No one I ever met or ever will. With every subsequent visit or phone call, I realized how she had made extraordinary improvements and then one day I called her, and it was like Joni was fully back at the other end of the line. She spoke as she used to, she remembered everything down to the color of the shoes you wore, nine years ago, on a given day.
It was like one of those moments in life when you are pretty certain you witnessed a miracle occur - and ironically, Lazarus was often a subject of conversation during the creation of our ballet.
Last month Joni Mitchell was in Washington receiving her Gershwin Prize. She is writing songs again. She has never been more famous.
This is the antidote to hate. Keep believing in the heart of love, reason and decency. It still beats.