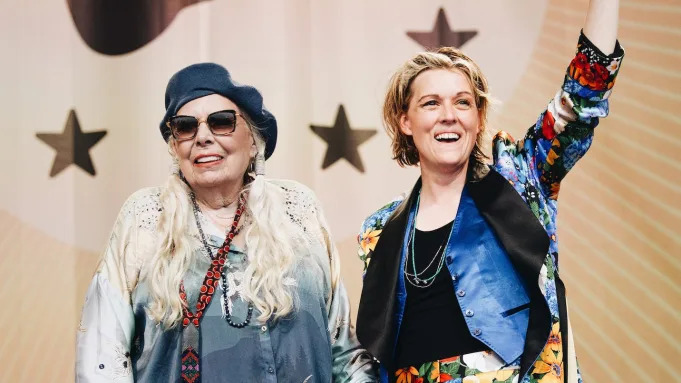 The FOMO of having missed Joni Mitchell's appearance at the Newport Folk Festival last summer no longer needs to be so strong. Most of that comeback set, which as augmented by an all-star cast, is being released as a live album in July, "At Newport," produced by Mitchell and Brandi Carlile.
The album will be released by Rhino on July 28, four days after the one-year anniversary of the surprise show at the Rhode Island Festival. The guest stars who shared lead vocals and instrumentals with Carlile during the "Joni Jam" will all be represented - including Carlile, Marcus Mumford, Dawes' Taylor Goldsmith, Lucius, Celisse and Wynonna Judd. Other players included Phil and Tim Hanseroth, Allison Russell and Blake Mills.
Mitchell bestie Cameron Crowe is writing the notes, as he has for Mitchell's recent collections of unreleased material on Rhino.
A single, the Newport version of "Both Sides Now," is being released today to all major DSPs for streaming. The late July release of the full collection will be available digitally, on CD, on two-LP black vinyl and (as a Barnes & Noble exclusive) clear vinyl.
The show last July - her first substantial one in public since 2013 - came as a partial, if not total, surprise even to diehard Mitchell fans. It was no secret that she had been regularly participating in "Joni jams" at her central California home in the last couple of years, but her devotees might have become resigned to the idea that she would only sing an isolated line here or there in public - as she had a few months earlier at a starry MusiCares benefit in Las Vegas. At Newport, Mitchell not only sang what were described as robust lead vocals, but picked up an electric guitar with a solo instrumental, "Just Like This Train." It was a happy outcome after a 2015 brain aneurysm had rendered prospects for future performances unlikely.
The live album includes 13 performances, out of 15 that took place last July 24. The only omissions are two covers of oldies that have been favorites of Mitchell's over the years, "Why Do Fools Fall in Love" and "Love Potion No. 9"; a third cover, of George Gershwin's "Summertime," has been widely viewed in video form and is included in the album track list. The other dozen songs that populate the setlist are Mitchell classics. Although individual artists who performed with her are not identified in the track listings, setlists from the Newport date note the primary guest singers on some of the selections - like Mumford being featured on "A Case of You," Goldsmith as primary singer on "Come in From the Cold" and "Amelia," and Carlile, the jam's organizer, being at the forefront for "Carey" and "Big Yellow Taxi."
Fans may hope that another upcoming performance might be recorded for posterity. Carlile has the Gorge in Washington state booked for a three-night stand June 9-11, and the middle night will be devoted to another Joni jam, a la Newport. That show quickly sold out as soon as it was announced. It's being characterized as Mitchell's first pre-announced, ticketed show in 20 years.
The track list for "At Newport":
Introduction by Brandi Carlile
"Big Yellow Taxi"
"A Case Of You"
"Amelia"
"Both Sides Now"
"Just Like This Train"
"Summertime"
"Carey"
"Help Me" - Celisse
"Come In From The Cold"
"Shine"
"The Circle Game"