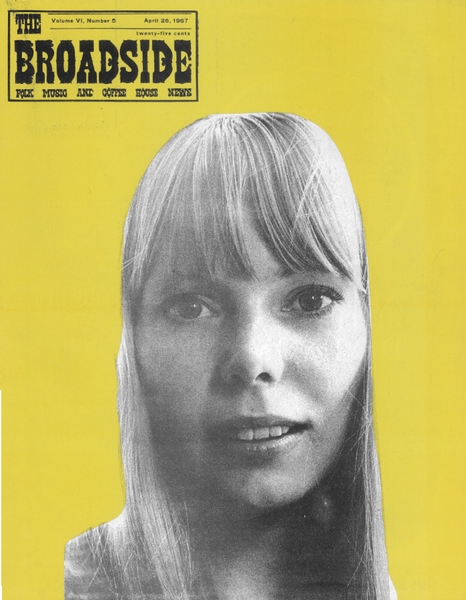 Hailed by the folk underground for over a year now, Joni Mitchell is just beginning to receive the acclaim due to her as a performer and songwriter from the general folk community.
Although now based in Detroit, she was born in Alberta, Canada, and raised in the great northern prairielands of Saskatoon, Saskatchewan. Joni Anderson went to art school in Calgary and then went off to the Mariposa Folk Festival. Although she intended to return to art school, she found that she could get gigs in Toronto and decided to stay. She met Chuck Mitchell while she was working at the Penny Farthing; and a short time later, after a visit to his home and family, they decided to get married.
They became an institution at the Chessmate Gallery in Detroit, where they met Tom Rush when he came to town. They put him up; and when Tom left he took with him a tape with a number of Joni's compositions. "The Urge For Going" soon became one of the most acclaimed songs in Tom's repertoire, and people began to ask who was this Joni Mitchell.
"Urge..." is now number 9 on the C & W charts, as recorded by George Hamilton IV, and interest is running high in a number of other of Joni's songs.
As a performer also, Joni Mitchell has been creating a good deal of excitement. Stunning performances at the Mariposa Folk Festival and at major folk clubs from Toronto to Miami have resulted in a growing audience.
Her performances in Cambridge this month will be shared with Chuck Mitchell, who's exceptional versatility and unusual approach to material ranging from simple ballads to Brecht theatre songs should be one of the highlights of this season.