Lead Balloon
Guitar chords transcribed by Howard Wright
Tuning: DACFGC (other transcriptions in this same tuning)
"Joni" Tuning: D73525
Tuning pattern: x73525 (others in this same pattern)

Download/View Transcription (PDF)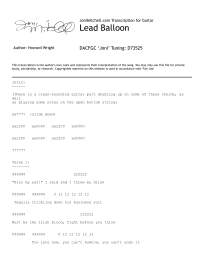 Author Notes:
There are quite a few different guitar parts on this track - I've written out the chord
shapes for the main, distorted guitar part.

Also, in the verses with the chords Dadd9: 099999 and Bm11: 999999 it's possible that
Joni plays just the Bm11 shape and lets the bass guitar play the changing bass note. If
you're playing it on just one guitar, I think it sounds better to include the changing
bass note in the guitar chords, so that's how I've written it out.