All I Want
Guitar tablature transcribed by Chad Preston and Glenn Siegel
Tuning: EADGBD (other transcriptions in this same tuning)
"Joni" Tuning: E55543
Tuning pattern: x55543 (others in this same pattern)

Download/View Transcription (PDF)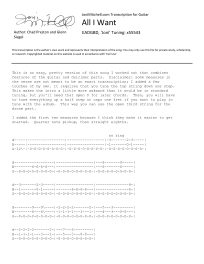 Author Notes:
This is an easy, pretty version of this song I worked out that combines
features of the guitar and dulcimer parts. Disclaimer: some measures in
the verse are not meant to be an exact transcription; I added a few
touches of my own. It requires that you tune the top string down one step.
This makes the intro a little more awkward than it would be in standard
tuning, but you'll need that open D for later chords. Then, you will have
to tune everything up a half step or capo one fret if you want to play in
tune with the album. This way you can use the open third string for the
drone part.

I added the first two measures because I think they make it easier to get
started. Quarter note pickup, then straight eighths.