The Windfall (Everything For Nothing)
Guitar chords transcribed by Mark Domyancich
Tuning: AAEGCE (other transcriptions in this same tuning)
"Joni" Tuning: A127354
Tuning pattern: xo7354 (others in this same pattern)

Download/View Transcription (PDF)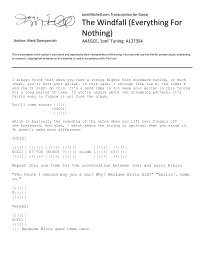 Author Notes:
I always think that when you tune a string higher than standard tuning,
or much lower, you'll hurt your guitar. In this case, 3 strings (The low
A, the lower E and the C) might do this. It's a good idea to not keep
your guitar in this tuning for a long period of time. If you're unsure about the
strumming pattern, it's fairly easy to figure it out from the album.